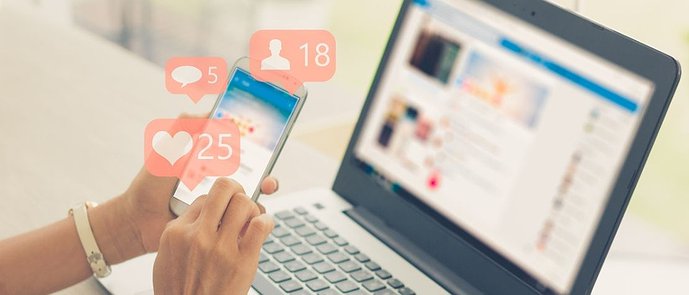 IG meaning: why you should be an IG user in 2021
Last updated: August 8, 2021

Social media changed our world. We're living in a new era of communication, video calls from any part of the world, constant texting, tweets and social media posts, blogging, vlogging, live streaming, and influencer marketing. How many social media accounts does each of us have? A decade ago we started with Facebook and well, it was a big deal. 
Creating a new social media account is easy. However, it takes time to show the audience your content is worth their time. Today, we'll have a look at one of the most popular social media platforms of all time. What does IG mean?
Instagram. 
What is Instagram: IG meaning
IG stands for Instagram - a social media platform acquired by Facebook, Inc. back in 2012. 1 billion people use Instagram each month, it's the second most downloaded free app on the AppStore, and 37% of Americans are Instagram users.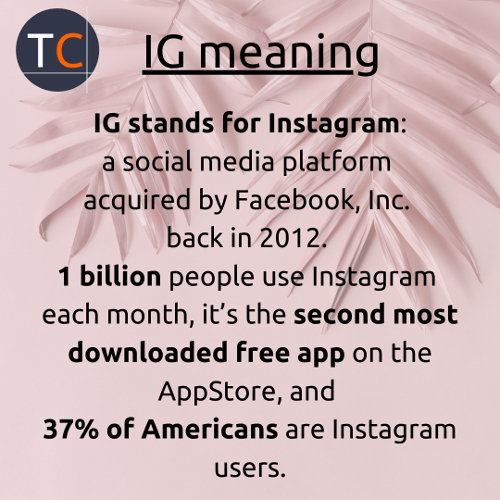 Instagram is used mainly for artists' portfolios, business accounts, brand promotion, influencers' business profiles, and of course personal photo and video sharing. The platform is also famous for changing its algorithms for any account that reaches 20K followers. 
Instagram is an image-oriented platform - you can reach basically any type of content through an image search. The Instagram hashtag system helps users browse quickly and efficiently though the millions of Instagram images, view the ones they like, follow the creator (and sometimes get followed in return) and/or visit an online store and make a purchase. 
Instagram addiction
It is no coincidence that Instagram has around 500 million Instagram daily active users. Once you get started, you simply can't get enough. The feeling is much different than Facebook - if you're looking for some glamorous images, Instagram is the place to look. According to the latest Instagram demographics statistics 2020, the majority of Instagram users are female, in the age group 25 - 34, and in general - 72% of teenagers are Instagram users. 
An IG addict is anyone who visits Instagram multiple times per day. Every day. Those could be of course social media influencers whose work involves their constant presence on the social media of their choice. Instagram influencer marketing is how thousands of users and businesses keep in touch with their audience.
The photo-sharing social network offers more than meets the eye of the newcomer. The more people you follow, the more interesting your feed would be. For example, drone photography is viral on Instagram nowadays - drone images and videos are a gorgeous addition to any feed and we simply can't get enough of them.
Most followed IG profiles 2020
Instagram - 380 million
Cristiano Ronaldo - 235 million 
Ariana Grande - 208 million
Dwayne Johnson (The Rock) - 205 million
The top three most followed Instagram accounts as of December 2020 are those of Christiano Ronaldo, Ariana Grande, and Dwayne Johnson (The Rock). According to Statista, the world's top football player currently has 235 million Instagram followers. In the top 10 we can see Kylie Jenner, Selena Gomez, Kim Kardashian West, Leo Messi, Beyoncé, and Justin Bieber. However, the MOST followed account on Instagram is… Instagram. With 380 million followers the social media's account is at the top of the top 10 chart.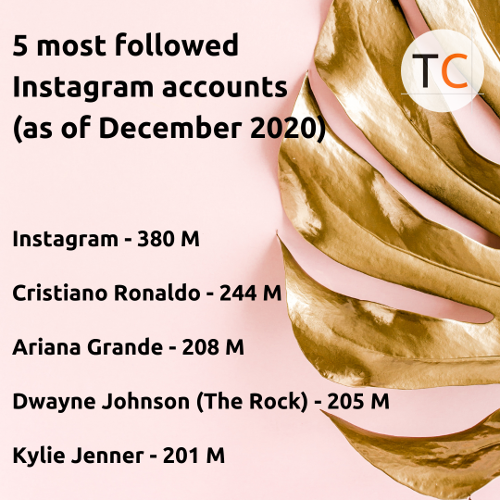 Following (and connecting with) our favorite celebrities on Instagram is more popular than ever in 2021. This is definitely something we didn't have before - if only Freddy Mercury had had an Instagram feed to let us know what he was up to. Sigh!
Instagram filters
Applying Instagram filters to a single or multiple photos is one of the things that makes Instagram so popular. How to use Instagram filters? Go to New post, select your image (or images), click Next, and there they are. Needless to say, you can apply different filters to the images in your carousel.
There are 23 preset Instagram filters to choose from and if you don't find exactly what you need you can always manage the settings manually. Users can also make corrections within a filter itself - you can adjust the brightness, contrast, structure, warmth, saturation, color, fade, highlights, shadows, vignette, tilt shift, and sharpen. As you can see, for a free app this is quite the list. 
Another way to access Instagram filters is when you go to Your Story. You can use other filters than what we already mentioned there. Some of them are live Instagram filters and they can add all sorts of objects and effects to your stories or live videos. 
Instagram search: how do I search on Instagram?
In other words, how to search for images on Instagram? You need to start using hashtags for that. Instagram photos and videos are not that hard to find if you know what to search for. Once you get how hashtags work - you'll know how Instagram search works. 
The more hashtags people use in a post - the better. They say you can use as much as 30 hashtags in a post and that's a good thing actually. The more you describe your post with hashtags - the more people would be able to find it and appreciate it. 
Now, in order to spot an Instagram trending hashtag, the only thing you need to do is check THE list:
Top Instagram hashtags 2020
#love - 1.835 B posts
#instagood - 1.150 B posts
#fashion - 813 M posts
The most popular hashtag on Instagram is #love. 🎵Love is in the air, everywhere I look around… (You can see the top Instagram hashtags at the moment here.) And needless to say, if you wish to strike big with your post - you need to be careful when selecting your hashtags. Choosing one of the top Instagram hashtags will definitely help you with your campaign in 2021. Tried and true!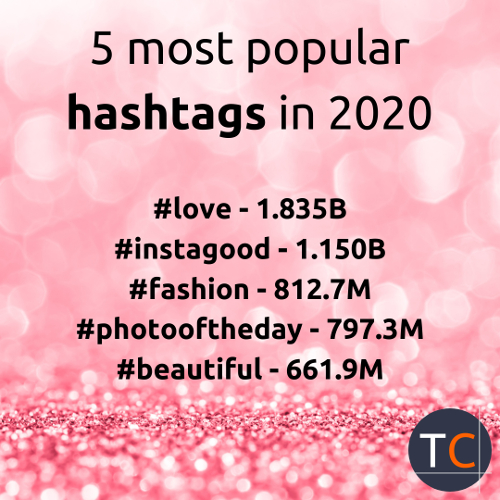 You can search with hashtags on Facebook as well, but it's definitely not the same. However, TikTok search also uses hashtags and discovering popular videos on the fastest growing social media in the world is actually quite fun. Using hashtags is a very ingenious way of sorting image content on a platform with so many users. 
Instagram colors
Almost everything on the internet is blue - Facebook, Ikea, VKontakte, Twitter and so oooooon. Now, as usual - things look different on Instagram. The most popular color and the one that gathers THE MOST likes on Instagram is without a doubt - pink! The color is associated with #love (yes, we all get it now) and people are naturally drawn to the calming effect of everything that's pink. 
However, Instagram is not only about the pink palette. If you're wondering which colors are going to attract the most likes to your post - think about golden and turquoise blue, as well as natural tones and skin colors. Some influencers even go as far as sticking to a color scheme (e.g. grey and orange) and use it on every post and story they upload.
Wrap up
Instagram is a global phenomenon in the world of social media. Should you be an IG user in 2021? Oh, yeah. Following our favorite celebrities and trends has never been easier. Join one of the hottest social media if you haven't already and enjoy the goods. Learning how to use trending hashtags will make all the difference for your Instagram stories and posts. Just remember that with great power comes great responsibility! 
Now that you know the IG meaning, you can explore the platform with more confidence. We here at TechACake.com love sharing trending content with you every week. Follow us on Facebook for more!
Enjoy IG, everyone!