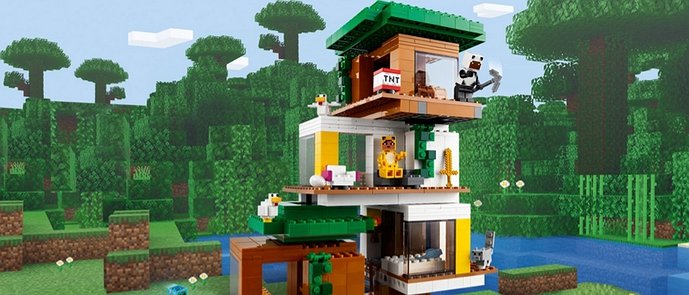 11 Best LEGO Minecraft 2022 [which is the best Minecraft LEGO set?]
Last updated: January 7, 2022

Featured image © LEGO
Discover your next favorite Minecraft LEGO set 2022 today and enjoy! Make sure to check out the best Minecraft gifts 2022 for even more Minecraft magic! This is one of the most creative games of all time and when combined with the power of LEGO - the experience is nothing less than LEGENDARY! It goes without saying that any Minecraft LEGO set goes perfectly well in addition to another one.
The new Minecraft LEGO is here! The new sets were released in August 2021 and we here at TechACake.com decided to create a list of the best Minecraft LEGO sets to buy this year. 
Your next favorite LEGO Minecraft is on this list:
Best Minecraft LEGO 2022
One important thing before we get started:
Minecraft was released back in 2011 and there have been more than 60 Minecraft LEGO releases so far. Naturally, many LEGO Minecraft sets are not available for sale anymore. Just as the best Harry Potter LEGO sets, there were new sets that came up in 2021 and we decided to focus on those sets that are actually available for sale online. 
Minecraft fans, enthusiasts, fanatics… our list begins with a Minecraft toy house:
LEGO The Modern Treehouse
Best Minecraft House… ever!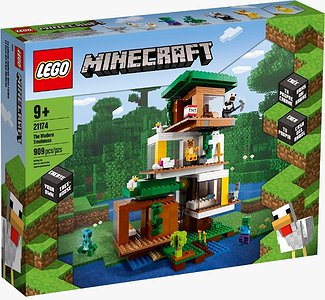 Minifigures:
4 + 3 animals
Product dimensions:
11 in. (29 cm) high, 7 in. (20 cm) wide and 6 in. (17 cm) deep
NEW Minecraft LEGO set 2021
Breathtakingly beautiful design
A myriad of figures (including 2 chicken and an egg)
4 reconfigurable rooms
You can remodel the rooms as you like
Goes great with Minecraft Village
If you're looking for a Minecraft LEGO house, this new LEGO set is the perfect option for you. There used to be a Minecraft LEGO The Jungle Tree House but it's not available for sale in 2022 (or it's more difficult to find anyway).
As you know you can do pretty much anything in Minecraft - the only limit being your imagination. In that sense, building structures in Minecraft is something every architecture enthusiast might find their safe space in and unleash their creativity (the other one is Terraria - a 2D sandbox game which is a must-play if you love Minecraft!). 
Adding this Minecraft Jungle treehouse to your collection is a must!
The unique design of this LEGO set is one of the reasons why we included is as #1 on our list - the rooms of the house can be rearranged anyway you like. That's why this Minecraft LEGO set is great for play dates! 
Stimulating the creativity of your child has never been easier.
LEGO The Bee Farm
Best value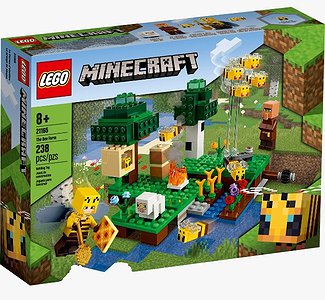 Product dimensions:
7" (19cm) high, 6" (16cm) wide and 5" (13cm) deep
Affordable - under $30
Amazing design
Great for play dates
2 Minecraft trees included
A myriad of figures
Any Minecraft fan will tell you that the game offers a unique cosy experience of Minecraft terrain - there are ponds and rivers, meadows and forests, caves and rocks. However, one of the most recognizable symbols of Minecraft are Minecraft trees. This LEGO set includes two big Minecraft trees which would go great with other Minecraft sets in your collection. And of course, the Bee Farm is one of the most famous Minecraft LEGO sets ever. 
The set came out in December 2020, so it's one of the relatively new Minecraft LEGO sets out there. It's one of the smaller sets as well - less than 300 LEGO pieces. The friendly bees are put on a moveable poll - they gather honey from the flowers on the little meadow and the beekeeper is gathering their honey. There are no villains in this set - just the good guys. Which is actually kind of awesome!
LEGO The Illager Raid
Best action-packed set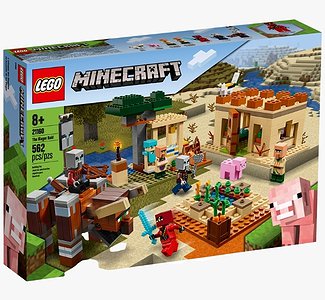 Minifigures:
6 + 2 animals
Product dimensions:
18" (46cm) long, 13" (34cm) wide and 10" (26cm) high
Action-packed set
Moveable Ravager beast included
3 Minecraft locations
Great for play dates
Relatively easy to assemble
This LEGO Minecraft set was released in January 2020 and it's an awesome action-adventure journey kids would love to dive in. The one-storey Minecraft house comes in beautiful colors and would fit perfectly with any other Minecraft buildings in your collection. The roof of the building is easily removable so you can see what's inside the house. 
There's a lot going on in this LEGO set - the Minecraft Kai figure comes in to terrorise the village alongside with the Vindicator arriving on a movable Ravager beast - talk about bringing Minecraft to action in real life!
LEGO The Crafting Box 3.0
Best Minecraft gift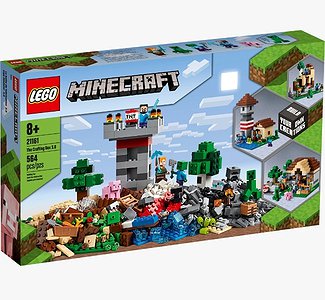 Product dimensions:
the castle measures 7" (18cm) high, 10" (27cm) wide and 10" (26cm) deep
Diverse LEGO set
The set provides maximum freedom to create
Build a Minecraft castle or a Minecraft farm
5 minifigures
2 Minecraft trees
Instructions for different constructions
If you're looking for a Minecraft gift but you have no idea which Minecraft LEGO to choose - this is your chance to shine. This set has it all - it's a fail-proof choice for Minecraft fans of all ages. 
How to build a castle in Minecraft? 
You can get a LEGO set and do it in real life. 
Or build a Minecraft farm - the choice is up to you!
The set comes with instructions to guide you build different LEGO constructions from the same set of bricks which is what makes this set so awesome! You get Steve, Alex, a Creeper, a pig and a zombie with this set which is more than enough for an awesome Minecraft play date. 
With the 564 LEGO construction bricks you can either build a LEGO castle or… do whatever you want basically. The price might seem overwhelming at first, but what you get more than makes up for it. Building different Minecraft castles and farms from a single Minecraft LEGO set is just awesome!
LEGO The Creeper Mine
Best versatile set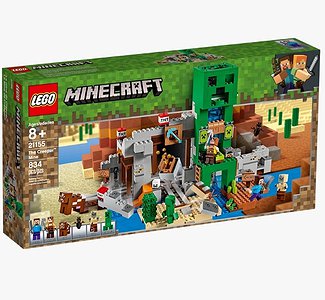 Product dimensions:
mine dimensions are 8" (22cm) high, 14" (38cm) wide and 8" (22cm) deep
Cool Minecraft mine design
More than 800 LEGO pieces
Working rail track
Multiple compartments
Expensive
No LEGO trees included
This is one of the few Minecraft LEGOs with a Minecraft mine as a part of the setting. (The other one is LEGO The "Abandoned" Mine but it's a small LEGO set.) The Creeper Mine came out in 2019 and it really catches the eye with its unique design. The giant Creeper statue is a super collectable item and the fun thing is you can put things inside that big LEGO head of his. 
The Creeper Mine is one of the big Minecraft LEGO sets we're reviewing today. The fact that it includes a working rail track with a mine cart is one of the coolest features of the set. And if you're into Minecraft Monsters, this set would be a perfect addition to the collection.  
LEGO The Jungle Abomination
Best set featuring Minecraft monsters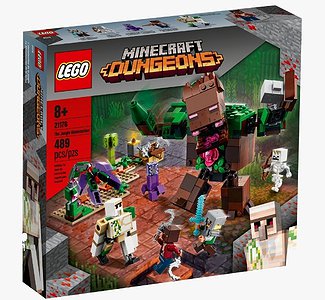 Minifigures:
4 + Iron Golem
Product dimensions:
the Jungle Abomination is over 5 in. (15 cm) tall
NEW Minecraft LEGO set 2021
Awesome Minecraft monsters
Minecraft Iron Golem figure included
Relatively affordable
Great for role-playing/play dates
No Minecraft buildings included
This is one of the coolest new Minecraft LEGO sets 2021. There are no Minecraft houses or buildings in this set but the huge Jungle Abomination is a monster many Minecraft fans would love to have in their collection. 
If you've lost yourself in the jungles of Minecraft chances are you will meet the Jungle Abomination - a monster who would be SO COOL to play with or just display as a part of your LEGO collection. The set also includes a Mossy Skeleton, Nuru, an Archeologist, an Iron Golem, an Enchanted Creeper, and a huge plant with grabbing petals. SO you see, if you're on the lookout for a set with many Minecraft minifigures, villains, and malevolent plants - this one's the right choice for you.
LEGO The Village
Best design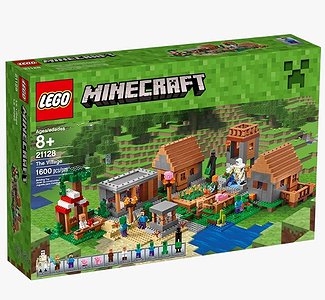 Product dimensions:
5" high, 19" wide and 17" deep
More than 1,500 parts
11 LEGO minifigures (it's a village after all)
Large number of LEGO planks included
Variety of biomes
Variety of Minecraft houses and constructions
Collector's value
Could be difficult to find
Expensive
This is one of the most beautiful collectable LEGO Minecraft sets and unfortunately it's also not so easy to find these days. Basically, if you want to have only one Minecraft LEGO set ever - let it be this one. 
The LEGO Minecraft Village is AWESOME!
The set includes 11 minifigures (humanoids and animals) as well as a library, blacksmith, and a marketplace. With its 1,600 LEGO pieces it's the second biggest Minecraft LEGO set ever msde and its design is absolutely gorgeous. It goes great with literally any other Minecraft LEGOs and it would make a wonderful LEGO display in any collection. A must-have!
LEGO The Sky Tower
Best playable set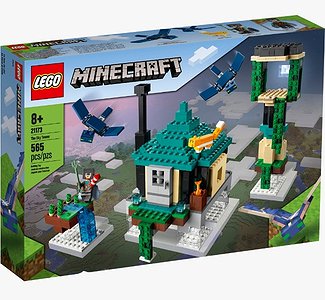 Product dimensions:
over 7 in. (18 cm) high, 6 in. (15 cm) wide and 5 in. (12 cm) deep
NEW Minecraft LEGO set 2021
Unique design and color scheme
Moveable parts
Cloud adventure (unique setting)
Great for play dates
Only one minifigure (pilot)
Pricey
The Sky Tower seems to be floating in the sky and that's not something we've seen in a Minecraft LEGO before. The two phantoms are cool to play with (did you see the orange tabby LEGO cat?) and the hanging vines make the set look even more stylish. Speaking of style, this LEGO set boasts a unique palette which would definitely stand out among your collection. 
This is one of the most aesthetically pleasing LEGO sets on our list for sure!
If you're looking for a set with many LEGO Minecraft minifigures, this one is not for you. But The Sky Tower has much to offer - the diverse range of buildable elements makes this set great for play dates (you can always purchase several minifigures to make things more fun). 
LEGO The Pig House
Best for play dates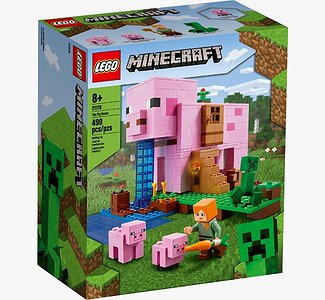 Product dimensions:
5.5 in. (14 cm) high, 8 in. (20 cm) wide and 7.5 in. (19 cm) deep
Famous Minecraft LEGO set
Familiar Minecraft characters
Beautiful design & awesome color pallette
Accessible space in and under the pig house
Two pigs minifigures included
Great for role-playing
Which is the cutest Minecraft LEGO set ever?
The Pig House, of course.
This beautiful set is still one of the most popular sets of all Minecraft-themed LEGOs. Why? Minecraft animals are the first creatures we encounter in the video game - chicken, cows, sheep, and pigs. This LEGO house in the shape of a Minecraft pig would make the perfect Minecraft gift for fans of all ages (wink). 
Combining The Pig House with any other set from the Minecraft universe is a match made in heaven. It's great for play dates because it offers enough Minecraft minifigures - there's Alex, a Creeper, and two pigs (a pig and a baby pig to be precise). The house opens up so you can access the interior. And there is an area under the pig which is also accessible - you can keep the pigs there so they don't escape.
Awesome! 
LEGO The Horse Stable
Best affordable new Minecraft set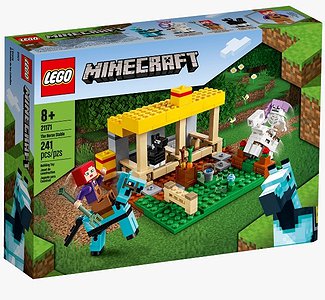 Product dimensions:
3.5 in. (9 cm) high, 5.5 in. (14 cm) wide and 5.5 in. (14 cm) deep
NEW Minecraft LEGO set 2021
Unique diamond armour horse and a golden carrot (!)
Three Minecraft horses included
Affordable - under $30
Goes great with Illager Raid
Small set - under 300 pieces
This new Minecraft set features three horses and two minifigures (one of which is a skeleton which is pretty cool). Minecraft fans can't wait for the diamond armour horse and with this set they'll get two additional horses as well. It's a small and affordable set but it would bring value to your Minecraft collection for sure. 
The doors to the Horse Stable open so you can take care of your horses inside the stable and out. The skeleton horseman is a wonderful addition to the set - you can battle him on your diamond armour horse as if you were a medieval knight. 
A must-have affordable set!
LEGO The Ruined Portal
Best innovative design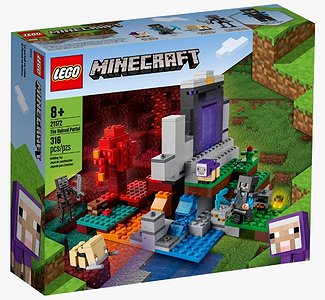 Product dimensions:
5 in. (13 cm) high, 8 in. (21 cm) wide and 5.5 in. (15 cm) deep
NEW Minecraft LEGO set 2021
Hand-activated portal
Awesome crimson forest
Minecraft portal included
Relatively affordable
Does the fiery Nether feel closer to you already?
Teleport yourself into the Minecraft world and enjoy a battle with a wither skeleton (he's mean!). Join Steve with his netherite armour and sword in this portal adventure and discover what lies on the other side. The set includes a baby sheep and a baby hoglin to spice things up. 
This is another set which would make a great Minecraft gift for fans! Enjoy!
Wrap up
The endless creative possibilities that we get from LEGO combined with the potential of Minecraft makes for one of the most popular LEGO series of all time. Minecraft is one of the most popular games of all time and people keep playing it across all platforms possible. 
The Minecraft-themed LEGOs are just a feast for people of all ages!
With the new LEGO Minecraft that came up in August 2021, there is a good chance that many of us will add a new generation of Minecraft toys to our collections. Today we shared with you the best LEGO Minecraft 2022 and we're sure there was at least one set you loved best of all while you were rummaging through our page. 
Treat yourself, you deserve it!
Visit TechACake.com for more awesome LEGO sets in 2021!
Now, check out the FAQ section for more curious facts about Minecraft LEGO:
FAQ
Now, while we were researching for this article we stumbled upon some LEGO facts that we'd like to share with you as well. Here we go:
Which is the biggest Minecraft LEGO set?
The Mountain Cave is the biggest Minecraft LEGO set on the market - 2,863 pieces. It's also the most expensive Minecraft LEGO but it's no longer available on the LEGO store.
Top 5 biggest Minecraft LEGO sets?
Minecraft The Mountain Cave - 2,863 pieces
Minecraft The Village - 1,600 pieces
Minecraft The Ocean Monument - 1,122 pieces
Minecraft The Fortress - 984 pieces
Minecraft The Mine - 922 pieces
Which was the first Minecraft LEGO set ever?
The oldest Minecraft LEGO set ever produced was LEGO The Micro World: The Forest. It came out back in June, 2012. The set has less than 500 pieces and is not available for sale anymore.
How many Minecraft LEGO sets are there?
According to the Minecraft fandom, there are currently 68 Minecraft LEGO sets including the new ones that came up in summer 2021. Minecraft-themed LEGO sets have become so popular since the first Minecraft LEGO release in 2012 that some of the oldest LEGO sets are quite difficult to find.
Best sets with LEGO Minecraft monsters?
The Jungle Abomination (# 21176)
The End Battle (# 21151)
The Creeper Mine (# 21155)
The Redstone Battle (# 21163)
Which are the newest Minecraft LEGO sets 2022?
The five Minecraft LEGO summer sets 2021 are: 
Minecraft The Horse Stable (# 21171)
Minecraft The Sky Tower (# 21173)
Minecraft The Modern Treehouse (# 21174)
Minecraft The Jungle Abomination (# 21176)
Minecraft The Ruined Portal (# 21172)
Which are the best LEGO Minecraft sets 2022?
The Modern Treehouse (# 21174)
The Bee Farm (# 21165)
The Illager Raid (# 21160)
The Crafting Box 3.0 (# 21161)
The Creeper Mine (# 21155)
The Jungle Abomination (# 21176)
The Village (# 21128)
The Sky Tower (# 21173)
The Pig House (# 21170)
The Horse Stable (# 21171)
The Ruined Portal (# 21172)
Which is the best LEGO Minecraft set 2022 for you?