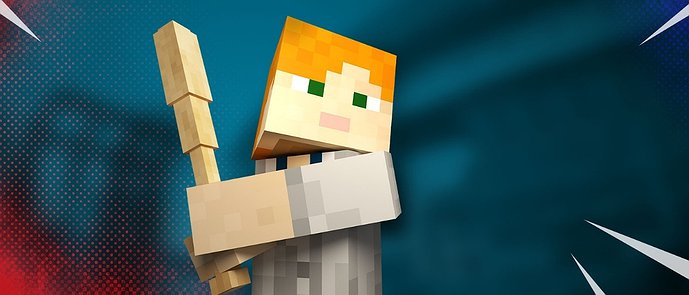 54 Best Minecraft gifts 2022 [Minecraft gifts for kids, wearables, LEGO & more]
Last updated: January 5, 2022

*Featured image © Xbox
Here's our list of the best Minecraft gifts 2022. There's so much Minecraft merch to choose from that it might be difficult to decide - we recommend you check out the best LEGO Minecraft 2022 for example and discover the new Minecraft LEGO sets released in summer 2021 - it's totally worth it! Today we'll review the best gifts for Minecraft gamers which are available on online stores. It's going to be a wild ride! 
We are great fans of Minecraft and for the purposes of today's article we selected the best and coolest Minecraft gifts for fans of all ages. It is our pleasure to come up with lists of the best gamers gifts for our audience, to select and review the best items according to their quality, price, and customer reviews. Let's get started:
NB: If you're looking for more gamer gifts, check out our selection of the best Overwatch gifts 2022. 
Best Minecraft merch 2022
Millions of people all over the world LOVE the game. How many people play Minecraft exactly? 
According to the latest Minecraft player count, around 126 million people play the game monthly. The Minecraft player base includes people of all ages and today we'll recommend Minecraft gifts for kids and adults. 
We'll start our list today with the best licensed Minecraft merch to buy in 2022. That doesn't mean that the only licensed product on the list would be in this category, but we chose to start with the absolute best of the best. We'll add some age-based recommendations along the way so you have a better idea of what gift would be appropriate for kids as well. 
The best Minecraft merch 2022 is full of surprises - there's Minecraft LEGO, swords, board games, backpacks, and lunch boxes, and well… consoles and video game extensions.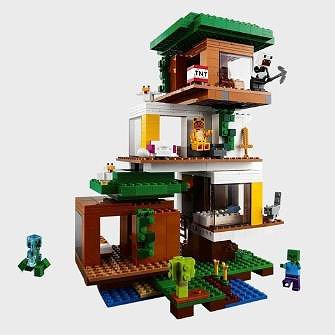 LEGO Minecraft The Modern Treehouse #21174
There's no wrong answer when it comes to LEGO - they make the perfect gifts regardless of the franchise. LEGO Minecraft is no exception of course. This awesome treehouse is a new LEGO Minecraft 2021 - the model just came out in the summer. The fun thing about it is that you can rearrange the floors of the treehouse any way you want and that the set includes seven minifigures of Minecraft characters. This set is for 9+ years of age and it's rather large - almost 1,000 pieces, and it's great for play dates and for display in a collection in a mint condition or not.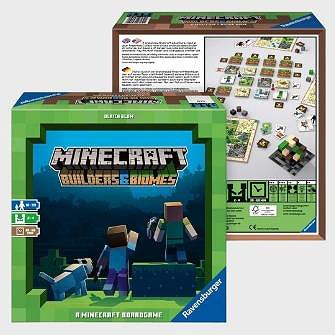 Ravensburger Minecraft Board Game (10+)
Creative and fun - just like Minecraft! This is a Ravensburger board game that uses the Minecraft biomes, characters, and items together in a way that's fun both for children over 10 and adults as well. The game includes high-quality pieces which players need to gather and create structures of their own. Monsters need to be defeated along the way of course so players can gain experience points. Whoever has the most of those - wins the game.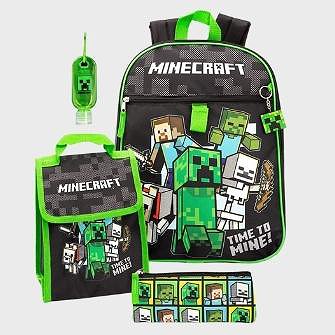 Minecraft backpack and lunch box (5-piece)
How awesome does that sound: a Minecraft backpack with a lunch box, pencil case, and a hand sanitizer dispenser. This 5-piece backpack is a thoughtful back-to-school gift for any young Minecraft fan. Boys and girls alike can show up at school with this awesome Minecraft backpack - it's cool and practical at the same time.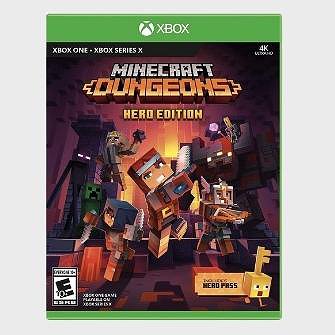 Minecraft Dungeons Hero Edition - Xbox One
How to get started with Minecraft? Give Minecraft to your friends and family in this awesome master collection. What does it include? There's the Minecraft base game of course that comes with a Hero Pass DLC content, skins, and a chicken pet. Help your loved ones discover the game on Xbox One and unleash their creativity and imagination.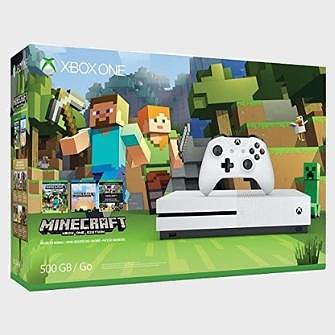 Xbox One S 500GB Console - Minecraft Bundle
Minecraft is huge on console - with millions of people playing the game on various platforms we can safely say that this Xbox One Minecraft bundle will provide your loved one with the best Minecraft experience ever. This set includes awesome features like the Minecraft Builder's pack, Greek Mythology Mash-up, full game downloads of Minecraft for Xbox One and Windows 10, Xbox Wireless Controller. You can also stream movies in 4K Blu-ray quality with this console. The Xbox game library is huge which makes this a fail-proof gift.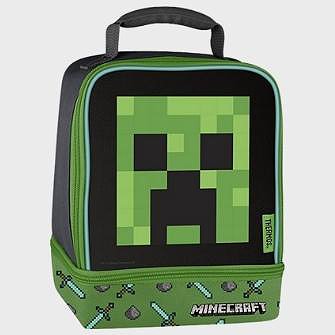 Minecraft thermos dual lunch kit - Creeper
This high-quality lunch kit features the Creeper and it's so cute! The item measures 5 x 7.5 x 9.5 inches and it's perfect for preschoolers. It can fit a water bottle and a lunch box in the two separate compartments and there's still room for a treat. Foods and drinks keep their temperature inside while the Creeper is watching from the outside. Awesome!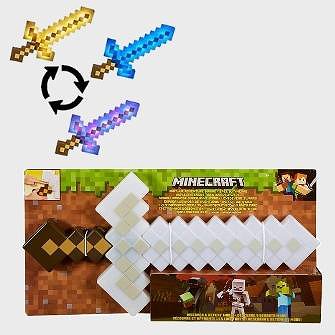 Minecraft light-up adventure sword
Minecraft swords and axes come in such a wide variety of products that it's almost impossible to choose. This one, however, is one of the best! It measures 2 x 21.5 x 11 inches and it changes the light's color and the authentic Minecraft sounds. The adventure sword is perfect for playdates and recreating scenes from the game. It's a bit pricey but it's totally worth it in terms of what you get.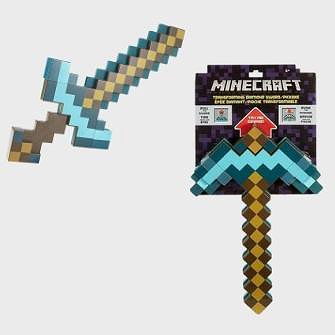 Minecraft transforming sword & pickaxe
"One of the best-selling Minecraft toys in recent years, the transforming Sword/Pickaxe is a wonder in the world of mining. Now you can play Minecraft and keep your trusty dual-functioning Sword/Pickaxe with you at all times to enjoy the game more realistically. One moment you can be mining and the next you can be ready to switch your axe into a sword, ready for battle. Its pixelated design adds to its already famous background, it can also serve as a decorative asset in your room." - says Brandon Walsh from DadsAgree
Best Minecraft gifts 2022
This is the coolest category on our list of the best Minecraft gifts 2022 today. Here you'll find a variety of items, each and every one suited to become an awesome gamer gift in 2022. Arguably, some products would be better suited for kids than adults, like the kids bedding sets we'll see in a minute, or the Diary of a Minecraft zombie series. However, most of the products we included on our list would make cool gifts for adult fans of the game. Let's have a look: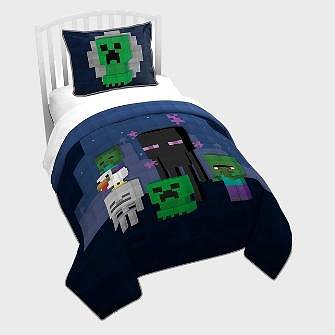 Minecraft super soft kids bedding
Personalizing a kid's bedroom with items from their favorite franchise is so thoughtful. Millions of kids play Minecraft on mobile devices, PC, and consoles and some of them are quite in love with the game. This multicolor bedding features some of the scariest Minecraft characters invading the realm at night. The twin-sized quilt measures 66 x 88 inches and it will add an enchanted element to any kid's room.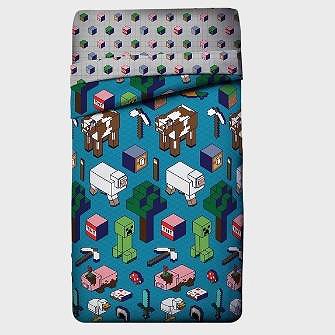 Minecraft reversible bedding sheets
Decorating a kid's room can be so much fun! Buying a Minecraft gift that will add an awesome gaming element to their room would win you some extra credit for sure. This comforter measures 76 x 86 inches and features the most beloved Minecraft animals and items. The super-soft microfiber fabric and beautiful design make this Minecraft gift simply irresistible.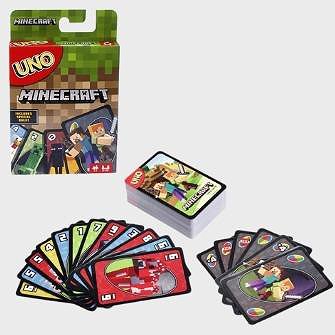 UNO Minecraft card game (multicolor)
UNO is one of the most popular card games ever - basically, everyone knows the rules of UNO (which are not that hard to learn in the first place.) That's one of the reasons why so many kids all over the world play UNO from an early age. The game is fun for people of all ages and if they happen to be Minecraft fans - this Minecraft UNO is just an awesome low-budget gift.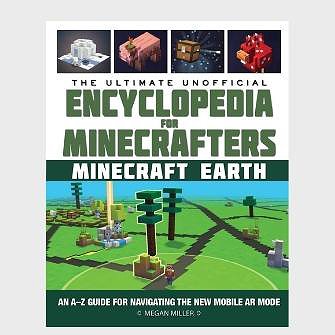 Encyclopedia of Minecrafters (new edition 2021)
"Are you a Minecraft fan who wants to learn more about the game? Would it make you happier if you discovered tricks that aren't easily accessible on the internet? If you answered yes, this is the book for you! It will teach you how to become a better Minecrafter by answering your "how-to" questions and providing you with the best tips and strategies not covered in the official guide. It will also make you appreciate the game more because it will take you to a new level by stimulating your imagination and allowing you to bring Minecraft characters to life." - says Caroline Lee from CocoSign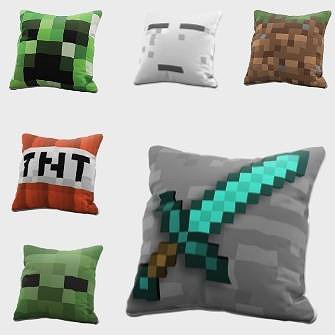 Minecraft decorative pillow Jay Franco
Personalize your bedroom or sofa with this beautiful Minecraft decorative pillow - stylish and comfy at the same time. The pillow comes in several different Minecraft images - Diamond Sword, Creeper, Dirt Block, Enderman, Ghost, TNT, and Zombie. Combine this pillow with a set of Minecraft bedding sheets or a Minecraft poster and the kid's room would become legendary immediately.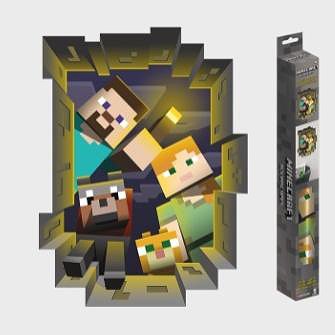 Minecraft poster "hole in the wall"
Posters are an important part of a kid's cave...bedroom. This one is particularly cute since you can put it on the ceiling as well as on the walls. The poster is not super large so it could fit in a room filled with other posters easily - it measures 18x24 inches. The poster is officially licensed and the bright colors are just fascinating. Kudos!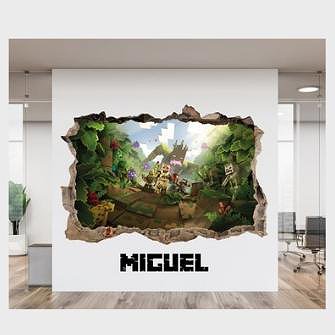 Minecraft-inspired 3D effect poster
If you decide on that poster, have it in mind that you can select the image. The poster comes in three sizes (regular, large, and bespoke) and the price varies according to the size. A poster is a great way to contribute to a kid's bedroom decorations and makes a beautiful and out-of-the-box Minecraft gift.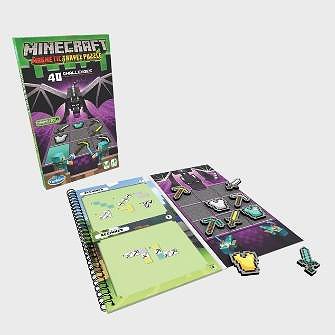 Minecraft magnetic travel puzzle
If you're about to go on vacation with the kids, the best way to keep them engaged during the journey is with a board game. This Minecraft travel board game includes magnetic parts which make it perfect to play in the car or on the plane/train. There are 40 increasingly difficult challenges to overcome and the goal is to get past the dragon. There are visual clues and players need to place their iron, gold, or diamond armor on the board in order to proceed to the next challenge. This is definitely one of the most interactive board games for young Minecraft players and a great Minecraft gift for kids.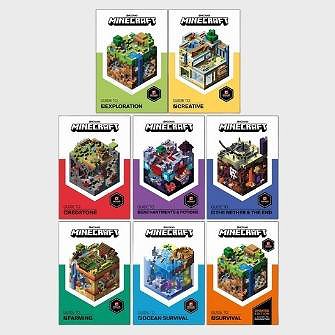 Minecraft guides series
Farming is one of the most enjoyable activities in Minecraft. However, there are 8 Minecraft books in this collection and we recommend them all. The Minecraft guides aim at improving the player's creativity, exploration, farming, enchantments and potions, and more. It's a must-have collection for a devoted Minecraft fan.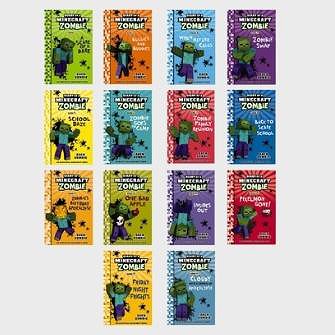 Diary of a Minecraft Zombie
This is yet another Minecraft book collection - they are recommended for readers in the 7-10 reading age. Each book is about 150 pages long and reviewers compare the collection to the Diary of a Wimpy Kid book series. And parents who just peeked to see what the kids are reading couldn't stop until they finished all of the books. So yeah, a must-have!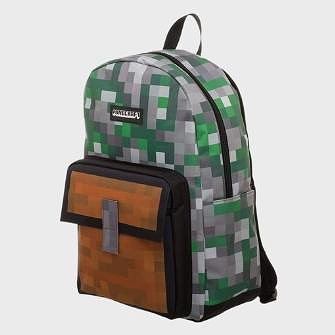 Minecraft backpack
This high-quality Minecraft squares print backpack is perfect for preschoolers and young Minecraft fans. The front compartment has a cool magnetic closer which makes it more durable than most bags. There's enough space inside the large compartment for a lunch box and school books and maybe a Minecraft pencil case (scroll down)?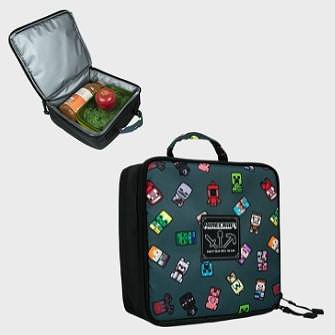 Minecraft school lunch box
This is one of the best Minecraft gifts for kids 2021 - a cute rectangular bobble mob characters lunch box. It measures 9.06 x 9.06 x 3.74 inches which is more than enough for a sandwich box, snacks, and a water bottle. It goes perfectly with a Minecraft backpack. The lunch box is officially licensed and parent-approved. A must-have!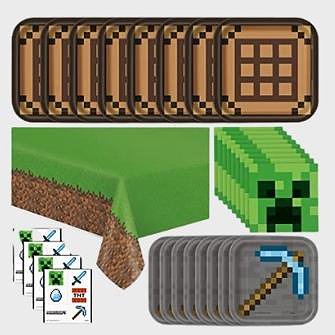 Minecraft party supplies
If you're throwing a kid's party, you can go with a Minecraft theme and surprise the crowd. Let this be the best birthday party on the block this year! Give your children the gift of creativity with Minecraft - the sky's the limit with this 3D sandbox game. This Minecraft party supplies set includes Minecraft-themed supplies like a table cover, two types of paper plates (7" and 9 "), paper napkins, and Minecraft temporary tattoos.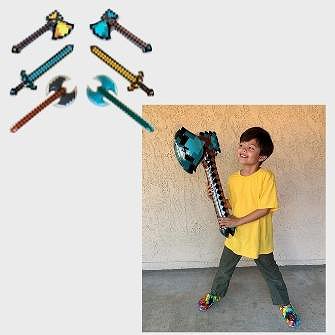 Pixel hatches, swords, and axes
Speaking of Minecraft-themed parties, how about a 6-pack of inflatable Minecraft hatches, swords, and axes to play with? Bouncy and safe, they measure between 27" and 37" and are absolutely kids-friendly. A battle with those feels real enough! What a play-date that set would make!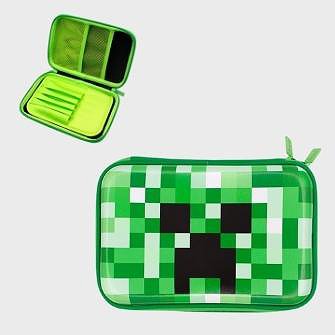 Green Minecraft pencil case for school
This Minecraft pencil case with a zipper goes great with a Minecraft backpack. It's not a particularly big one and will store only the most necessary pencils and pens but its size makes it perfect for preschoolers and smaller backpacks.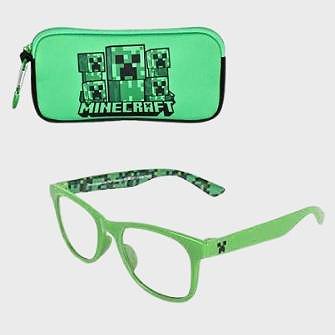 Minecraft blue light blocking glasses (age 2-10)
As far as practicality goes, these Minecraft glasses go the whole nine yards. The Minecraft blue light blocking glasses come with a cool green Creeper case. If your kid spends hours in front of the computer, this Minecraft gift will be perfect. Blue light protection is important for everyone and a pair of Minecraft glasses is just so thoughtful.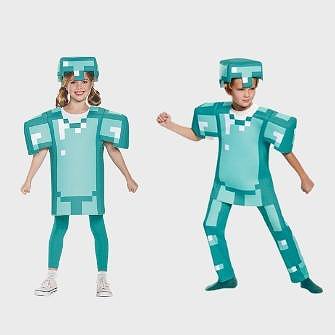 Minecraft kids costume
A Minecraft-themed play date would be so much more awesome if the kids dressed up. Minecraft costumes are not hard to find and they add so much to the fun. This diamond armor Minecraft costume is made of 100% polyester so it's super easy to clean - it should only be hand washed but it won't retain any stains.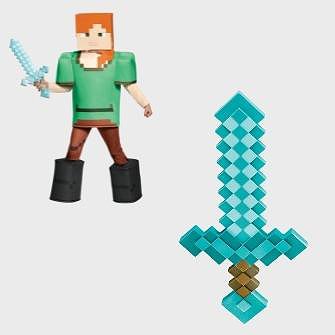 Minecraft sword
A Minecraft diamond sword for a playdate… a dream come true! It's an officially licensed Minecraft product that is made of 100% injection molded plastic. The sword goes great with a Minecraft costume - kids love role-playing games and Minecraft weapons are part of the fun! This item goes great with a Minecraft costume.
Best Minecraft lamp 2021
A Minecraft-themed room is never complete without a Minecraft lamp. Our unique collection of Minecraft lamps is everything you wished for - we included some best-sellers and some handmade lamps for those of you who already have the classic ones at home and/or wish for something more out of the box. Let's have a look: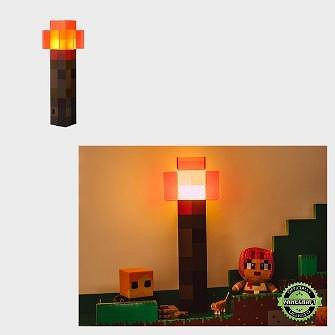 A Redstone Minecraft torch
The Minecraft torch is a powerful symbol in the Minecraft world - it's one of the first items players need to create in the game. "Being a huge fan of Minecraft, I think this nightstand light in the shape of a Redstone Torch is the ideal present for a child that doesn't want to sleep with all lights out. It is a LED lamp, rechargeable through a USB connection and it can double as a roleplay gimmick to set the mood in the room!" - Joe Flanagan from 90s fashion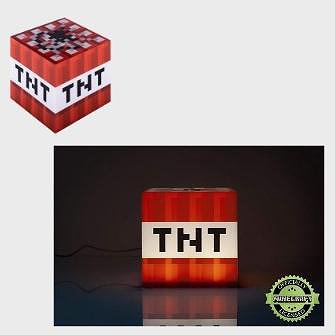 A TNT Minecraft night light
"The Minecraft TNT Block is a great gift idea for your little one (or adult one) at your home if they are into Minecraft. Since the Minecraft cube has USB output you can easily add it as a LED light to your gaming setup to enhance the game experience in your room at night. However, it could also be used as a night light for your kids that have a hard time sleeping in the dark. Its usage can also be extended as a small light for reading a book before bed since its light will create a cozy environment and will help you sleep easier." - says Jason Walker from Gamequarium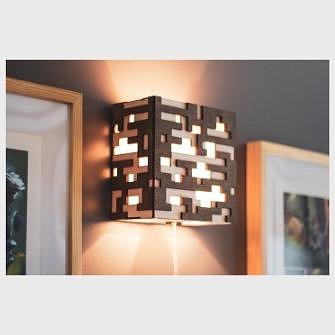 Minecraft ore lamp for more ambience
If you're looking for a Minecraft lamp that will add this sense of comfort to your bedroom or living room - try this beautiful handmade baltic birch plywood lamp. It measures 8x8x4 inches and the top and bottom of the lamp are open to let more light enter the room.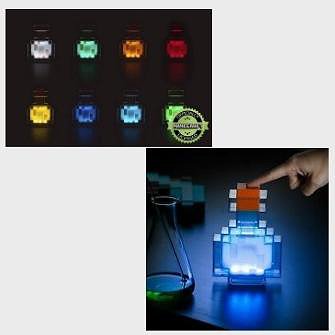 Minecraft potion bottle LED lamp
This pixelated Minecraft potion lamp would add so much ambiance to any Minecraft-themed room. It also changes colors - red, green, two shades of blue, white, indigo, pink, and yellow, so eight colors in total. The lamp is battery-operated so you can change its place frequently. Awesome!
Best Minecraft Funko Pop 2022
If somebody you know collects Minecraft figures or is just a fan of the game, then a Minecraft Funko Pop is an awesome way to show them you care about what they like. The figures are charming and they come in such a wide variety of characters that no two collections could be the same. A Funko Pop collection is also the perfect way to add to the Minecraft-themed area in a kid's room. 
We chose the best Minecraft Funko Pops for you today - don't forget that some of the older pops are no longer available online and that's the reason they weren't included on our list. Have a look: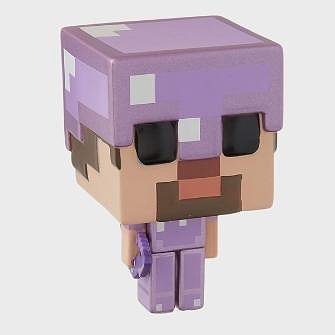 Minecraft Funko Pop Steve in enchanted armor
Steve is one of the playable Minecraft characters assigned to each player in the very beginning. Of course, there are many skin variations and armors to personalize your character. This Funko Pop features Steve in enchanted armor - helmet, chest plate, leggings, and boots.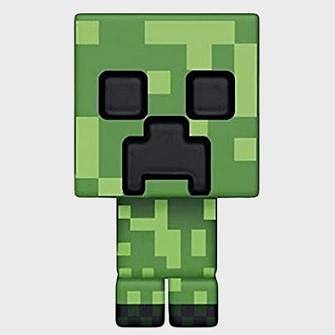 Minecraft Funko Pop Creeper (green)
The Minecraft Funko Pop Creeper comes in regular green and charged blue style. It's one of the most recognizable Minecraft villains and a Creeper Funko Pop is just a treat for any fan.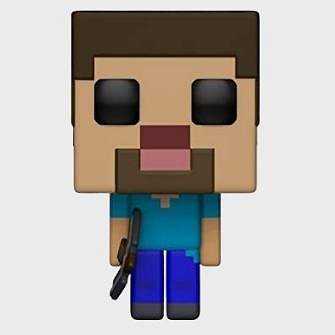 Minecraft Funko Pop Steve
Classic Steve! This is a must-have Minecraft Funko Pop and if you're buying a gift for someone who's never owned one - this is the one to go with. Steve is one of the protagonists in the game and no Funko collection is complete without him.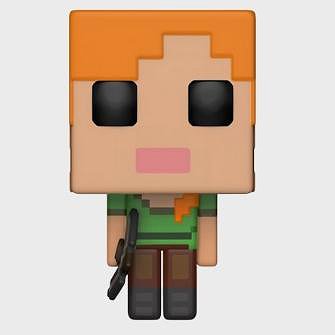 Minecraft Funko Pop Alex
If you decide on Steve then you should probably get Alex as well. The two Minecraft characters are loved by millions and they are just adorable in their Funko Pop styles.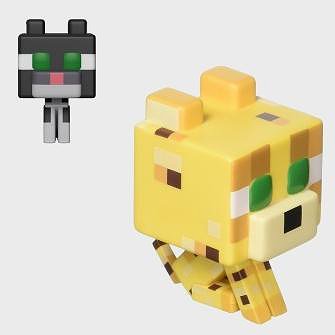 Minecraft Funko Pop cat
The Minecraft Funko Pop cat measures 2.5 x 2.5 x 3.75 inches and it makes for a very cute collectible Minecraft figure. Minecraft cats come in several various skins and this Funko offers two of them - black and ginger.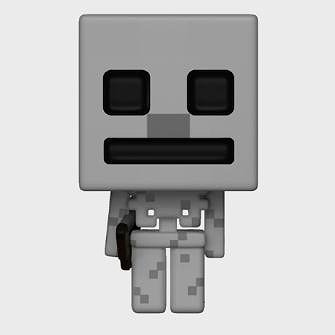 Minecraft Funko Pop Skeleton
Minecraft skeletons are vicious with their bows. This pop would go great with the Funko Pop Creeper - they are both the bad guys in the game and who doesn't love a good villain.
Best Minecraft shirts & wearables 2022
When it comes to graphic t-shirts, we can never have enough of those. Minecraft-themed clothes and accessories are a phenomenon just like the game itself - people of all ages wear them and pay homage to their favorite video game. If you're buying a gift for a Minecraft streamer - a Minecraft shirt or hoodie (depending on the season) is a must!
Minecraft clothing is a treat that's hard to beat! When it comes to Minecraft presents - a shirt or a hoodie goes a long way. Or you can just treat yourself or the kids with a cool item from their favorite game. On our list today we included a number of t-shirts for kids and adults, Minecraft hoodies, and pajamas. Our team read reviews and compared prices so you don't have to. Let's have a look: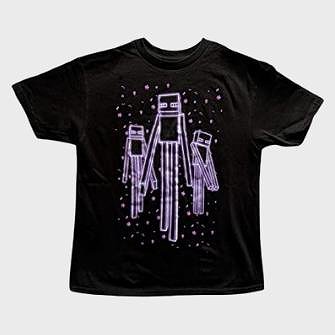 A glow-in-the-dark Minecraft t-shirt
This officially licensed Minecraft t-shirt comes in 5 sizes - from super small to XL. The glow-in-the-dark feature makes it a perfect addition to a kid's wardrobe. You can't go wrong with a t-shirt from a favorite franchise.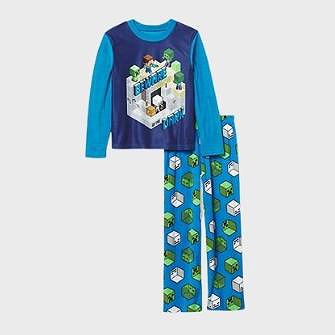 Minecraft boys pajamas set (13 types)
The 100% polyester machine washable pajamas come in various colors and sizes. The durable colors and the soft fabric makes this an excellent choice for a Minecraft gift for kids (sizes 6-12). The great thing is that they come in a set so you don't have to buy the parts separately.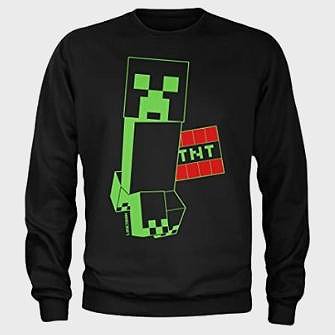 Minecraft sweatshirt
The minimalistic design of this jumper might be just what you were looking for. Black goes well with everything which is perfect since most Minecraft wearables are green. The Creeper comes hand in hand with a Minecraft TNT - enemies, beware!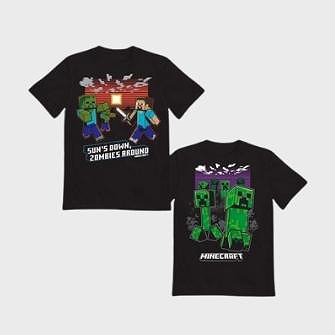 Two Minecraft graphic t-shirts
One can never have enough shirts so let's have a look at a 2-pack of Minecraft t-shirts. You get two shirts at a great price so if you're looking for a bargain, this is your chance. The t-shirts are 100% cotton and the color of the graphics is vibrant and durable.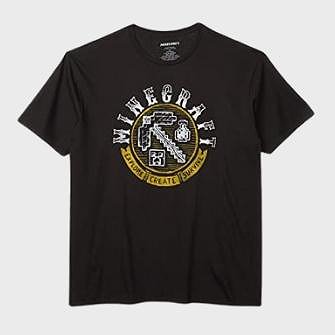 Minecraft Explore Create Survive men's t-shirt
If you're looking for a Minecraft t-shirt for grown-ups, you just found the best choice out there. It's made of premium materials - 100% pre-shrunk cotton, so it would make a great man gift. It's beautifully designed, extra comfortable, and comes in five different sizes - from S to XXL.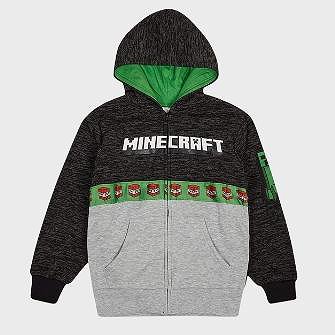 Minecraft black & green TNT sweatshirt
Hoodies, hoodies, hoodies! This one comes with a cool Minecraft logo at the top and a series of TNTs in the middle. It's suitable for sizes 4 to XL, and it's made of 100% cotton. It's an officially licensed Minecraft product that features a cool crew-cut neck and long sleeves. Perfect for a chilly day.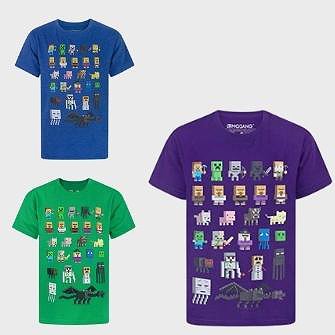 Minecraft t-shirt multiple colors
This green/blue/purple Minecraft t-shirt comes in a variety of sizes and is made of 100% cotton. It showcases a number of Minecraft characters - from Steve to a Minecraft dragon which in addition to the soft material makes a very cool Minecraft gift.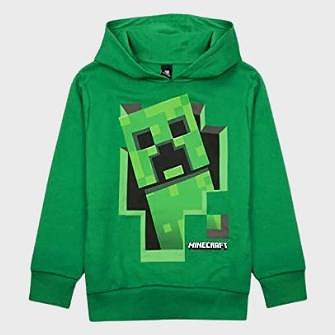 Minecraft green hoodie
Doesn't the Creeper look adorable on that hoodie? Well, as adorable as it can get, I guess. This green Minecraft hoodie comes in sizes fit for different age groups - from 5-6 years to 14-15 years. Kids and teenagers who play the game would love this whimsical 100% cotton hoodie.
Best Minecraft toys 2022
Now, if we're talking Minecraft presents for kids, you've come to the right category. What could be better than a Minecraft toy to play with and bring with you on playdates? We already saw a number of plastic Minecraft swords and axes but the plushies are just irresistible for the younger fans, aren't they? Let's see:
Minecraft baby pig/cow/sheep plush
Here's an amazing gift for the younger Minecraft fans. The Minecraft baby animals plushies are relatively small so don't expect a huge toy for that price. You can combine the baby pig with the Minecraft LEGO The Pig House and you'll have an awesome playdate experience.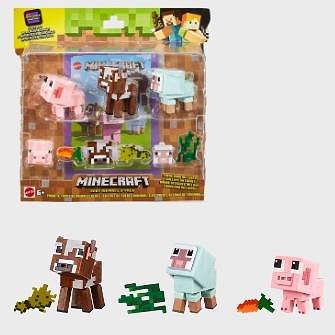 Minecraft baby animals plastic 3-pack
Add some Minecraft atmosphere to a kid's room with this set of Minecraft baby animals. Each of them comes with their own food - cow with hay, pig with carrot, and sheep with grass. The 3-pack includes a little comic book and if you download a free Minecraft app you can start creating a digital comic book.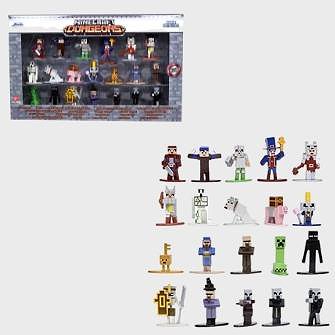 Minecraft Dungeons Nano Metalfigs
"These metal figures are perfect for imaginative play and involving other siblings. My kids create their own Minecraft scenes and games outside with dirt, leaves, and rocks. I'm happy to see them bring their Minecraft play outside. We also bring them to restaurants for the kids to play with while waiting for our food. They are high-quality and durable." - says Candice Criscione from The Tuscan Mom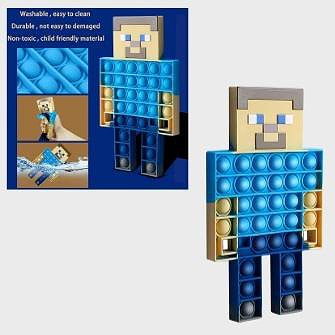 Minecraft pop fidget Bubble Sensory Toys
This Minecraft washable pop fidget is a great squeeze toy for Minecraft fans of all ages. It could be a collectible item or a multipurpose kid's toy. It's not easy to damage and it's made of child-friendly materials.
Wrap up
Today we shared with you the best Minecraft gifts 2022. From Minecraft shirts and wearables to Minecraft merch, from toys and collectibles to Minecraft lamps and LEGOs. Regardless of the age of the person you'd like to buy a Minecraft present for - you have spotted that perfect item just for them on our list today, haven't you?
Make sure you check out our Reviews category for even more gifts for gamers. There you'll find several awesome selections of LEGOs that are just irresistible. Regardless if you're buying a gift for friends and family members or if you're looking for a treat for yourself - have a look at our reviews. It's worth it!
Visit TechACake.com for more amazing gamers gifts in 2022. 
User-generated content
We'd like to give a huge thanks to the people who helped us select the best Minecraft gifts 2022. We included the best pitches in this article. Here's the list of websites they pitched from: