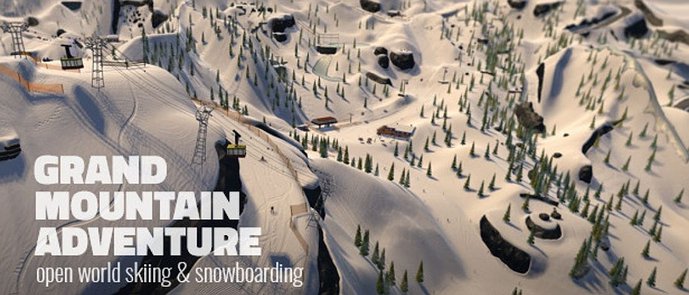 Discover an open-world mobile ski game: Grand Mountain Adventure
Last updated: March 14, 2021

Featured image © Toppluva
Discovering new mobile games is always a pleasure… if you know where to look. The game we have for you today is incredibly beautiful, with a soothing soundtrack, and actually, more difficult than it looks at first. Try Grand Mountain Adventure - an open-world ski game for every mobile gamer in 2021. 
Discover the best mobile games on TechACake.com every week. Today we decided to make a short review about a skiing game which you won't be able to let go. There is a reason why this game has more than 2,000,000 downloads on mobile devices. 
About the ski game
Exploring snow-covered mountains in an open-world map is what Grand Mountain Adventure is all about. You enter as a skier or a snowboarding enthusiast and the player starts navigating the character pressing their left and right thumb consequently to make the character move. The first slalom is always a challenge.
The gameplay seems easy at first, but after a while the level of difficulty starts to increase and the game gets more challenging. The goal is to keep skiing as long as you can without hurting your character. There are some general rules to follow, but the skier can go offroad and basically choose the way to go themselves.
The game is a cross-device multiplayer which offers more than 100 different challenges. There are seven mountains to conquer, the first one being free for all users. The characters are dropped at an amazing ski resort called Hirschalm and they start
Skiing & snowboarding 
Characters in the game can either choose skiing or snowboarding. The busy slopes and avalanches make it interesting regardless if you're on ski or snowboard though. Sometimes you can become a victim of an avalanche (or manage to run away from one if you're lucky!).
In order to unlock all of the mountains players need to purchase the entire game. If you only want the free version you should know in advance that it only includes one mountain challenge. There was a Winter 2021 expansion which added new mountains to conquer in three different locations - Canada, the US, and Scotland. Whenever you choose to go skiing, this game will provide you with beautiful views and an amazing mobile gaming experience. 
Grand Mountain Adventure on Steam
Tha game is already available on Steam as well as on smart devices. It was released on Steam in winter 2020/2021 and users with Steam accounts can explore entire mountains on ski or snowboard. 
Wrap up
Grand Mountain Adventure is one of the games we recommend for every mobile gamer who's into mobile adventure games. Players can ski in the forests of Canada, or to pass through farm land (with many obstacles to overcome), or choose the groomed long pistes in a US resort. Enjoy an awesome day skiing in this beautiful ski game. You can play on your smartphone or tablet, or to use your Steam account and try different mountain challenges there. 
Visit TechACake.com for more awesome mobile games every week!