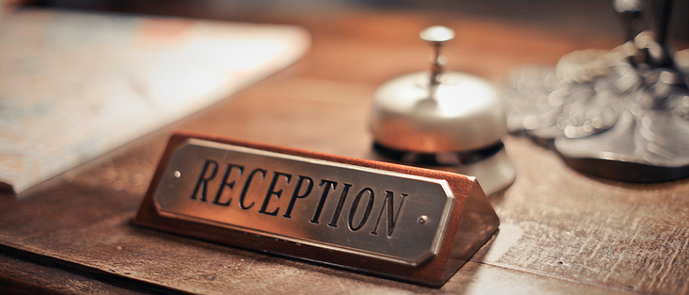 What is a smart hotel: do we travel smart enough in 2021?
Last updated: January 4, 2021

Where would you rather be? (Careful! Trick question!) Two choices: a cabin in the Seychelles or in a smart hotel. Listen, the Seychelles are not going anywhere. Transparent water, luxury resorts, palm trees, sea garbage and bloodthirsty sharks are overrated, but that's not why we're here. We're here, because you chose to be in a smart hotel…  (You did! No backsies!) What is a smart hotel? You'll know in a minute! 
Now, if you think about it: smart hotels…  Smart hotels? Seriously? Do they have a will of their own? Thanks for the nightmares, by the way. Maybe now's a good time to rewatch The Shining movie. Uncle Steve may smile at you through the window. (He's walking the Thing of Evil, that's all.)
One thing is for sure: when you know what a smart hotel is, you'd definitely choose to book a room. (Or a room with a book in it. I recommend that Shining stuff.) TechACake.com is all about being smart in 2210. Oops! 2021.
In this sm-article (wink) you'll learn:
Everything you need to know about smart hotels in 2021.
Smart hotels around the world and best features of each. 
Are you a smart hotel person or a luxury resort guest at heart?
Long story short: nothing scary about a smart hotel. Well, maybe a couple of stuff but you'll figure that out in the process. 
Come on in, let's have a look around:
What is a smart hotel?
A smart hotel designates a technologically advanced establishment in the hospitality industry. They are manpower lean hotels which offer their guests a unique travel experience. Traditional hotels are transformed into smart hotels via increased automation and artificial intelligence. 
In most smart hotels registration desks are either operated by robots, or guests can register online. Smart hotel guests can control many aspects of their rooms via phone apps. In the more technologically advanced smart hotels, food and drinks are brought to customers by robots and booking and registrations is done either via a mobile app or by a robot. 
Smart hotel technology brings forward the benefits of a human-robot interaction and if you're into testing the latest and greatest of tech, IoT smart hotels are the best deal for you. In 2021, it's not an easy task to surprise a customer with an awesome customer experience. If you're really craving the extraordinary - a smart hotel experience is what you want. Experience smart technology at its best: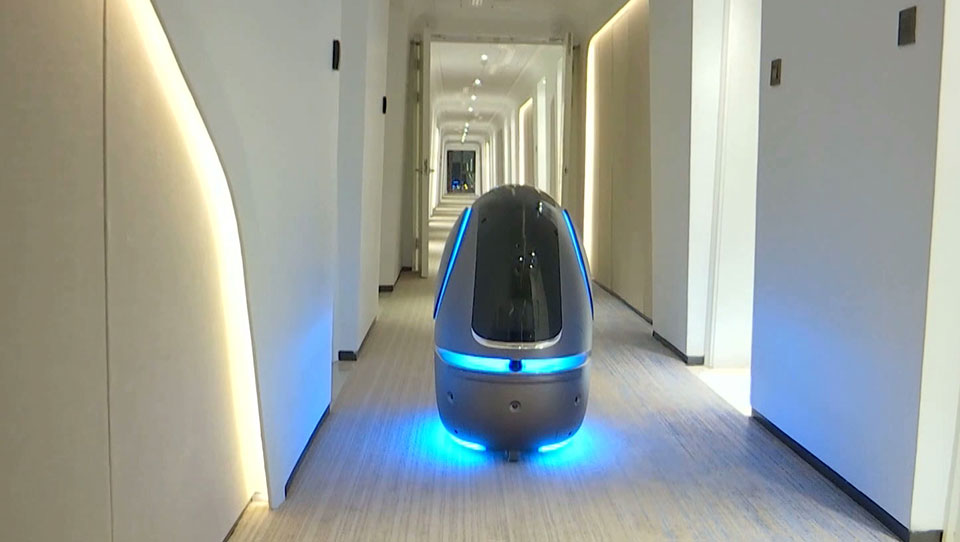 Image © CGTN America / a robot employee at a smart hotel
The global hospitality industry is witnessing the dawn of a new type of service. Robotic services spoil the guests of smart hotels all over the world. While robots are busy with repetitive tasks, the hotel employees can be more efficient. This is how the hospitality sector will go back to a people-first industry.
Checking in and out of a smart hotel is the easiest thing nowadays. Of course, meeting a robot concierge is just the beginning. In some smart hotels, robots will bring you the room service and will mix up your Cuba Libre at the bar. 
What is a smart room?
The smart hotel room concept designates a modernized hotel room different from a traditional hotel room by its futuristic design, implementation of IoT technology, and increased automation.  
Smart hotel bedroom design is always unique. Home smart devices are gradually making their way into the hospitality industry. In our age, smart room hotels are a perfect illustration of what our homes will look like in several years - smart electronic devices being the main attraction. 
There are several smart hotels in the world in 2021 and we'll cover three of the most outstanding in a minute. First, let's answer the big question: 
Why choose a smart hotel over a regular hotel?
Most of all - for the customer experience. Staying at a futuristic hotel where the room service is being brought to you by a robot which takes the elevator by itself, is quite the treat (Flyzoo Alibaba hotel). 
In 2021, the hospitality technologies have changed as well as the profile of the habits of the digital-savvy traveler. A room with a view is not all people care about anymore. 
Experiencing futuristic design is one of the great things about smart rooms. The space inside a smart hotel is very different from a regular one. For example, a smart hotel room is more open-concept oriented, meaning there are no closets and just a few drawers. Everything is out there, arranged in a more minimalistic style. Also, in many smart hotels, the rooms may be smaller than usual, in order to save some space, so don't be alarmed if you get a smaller-than-usual room. It's worth it!
Internet of things in the hospitality sector is gaining momentum as we speak. Travelers who are used to smart interior design at home, will easily get used to a smart hotel room as well. 
In some smart hotels, customers can adjust the height of their bed and also switch between lying down and sitting up (that's called a smart bed, by the way: see the image down below), or they can write on the bathroom mirror which will send them what they wrote (or doodled) on their email later. Or just use the mirror as a touch screen. Such kind of (weird) qualities of a room might be a tad difficult to process at first, no doubt.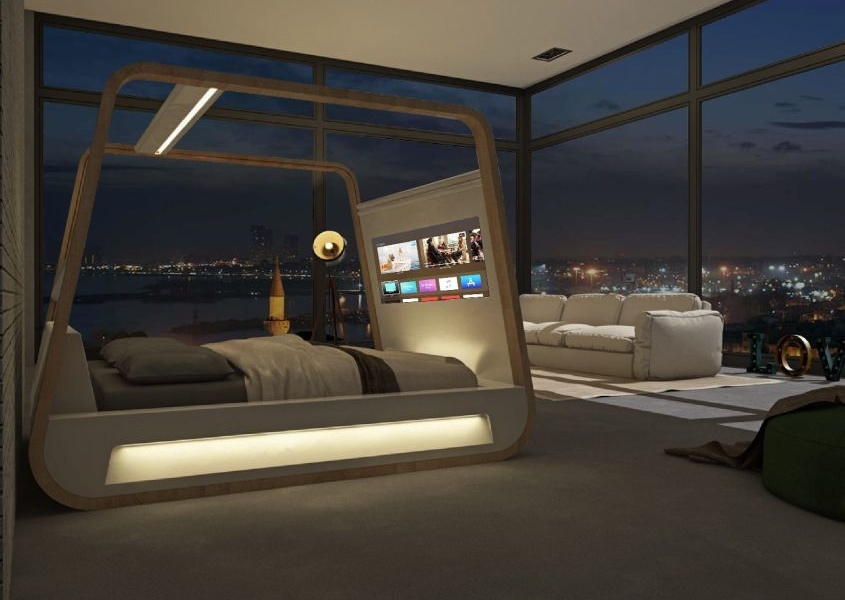 Image © Homecrux / smart bed
We call that progress, and it will get us to the next millennium in no time!
Smart rooms are a technological miracle that has to be explored. (Well, again, 2020 is not the best year to make travel arrangements, so yeah, just read on.)
What are the features of a smart hotel?
No registration desk, you do everything via your smartphone.
Face recognition everywhere - you pay and open your room with your face, so to speak.
Guests at smart hotels use voice recognition to control the TV, lights, temperature in the smart room, blinds, even room service. 
Room service brought to you by a robot. 
Paying with your phone on vending machines. 
The important thing to remember is that no two smart hotels are the same. Let's take elevators in smart hotels for example. Guests need to access their floor. What do they do? Guests would either tell the elevator your floor (voice command), or the elevator will scan their face and automatically get you to the floor where your room is (facial recognition), or it will just ask you to scan your room card. Long story short, smart hotels provide customers with unique experience, so keep an open mind at all times. 
The big question is: 
Are you ready for the customer experience of your life? All that personalisation may be a tad overwhelming. Voice commands and paying for your drink at the lobby with a QR code, no bartender. Those still feel awkward in 2021. Yet, embracing the futuristics technologies is the best way to adapt to the present, isn't it? 
While booking a regular hotel room is still available in our days, keep up in mind that you have a choice.
Also, have in mind that smart hotels take in-room entertainment to the next level. Hotel guests get to choose from a variety of TV shows, which will automatically turn off when the guest falls asleep. No worries though, the show will resume from the point when you stopped watching when you wake up. 
Smart amenities of a modern hotel room
Besides the traditional razor, toothbrush and some 3-in-1 washing gel, you will see other things that belong in a smart hotel room. The amenities of a smart hotel room include smart technologies like:  
Smart mirror systems - mirrors with touch screens
Voice-activated digital assistant - Amazon Echo or Tmall genie 
Smart concierge services
Large flat-screen smart TV, controlled by voice commands, connecting the customer's devices
Temperature and lights control
Electric curtains
(The 3-in-1 washing gel seems pretty dull and archaic right now, doesn't it?)
Now, those amenities you can find in different hotels, not necessarily in one hotel altogether. (Although for sure, there are hotels that provide all those features for their guests at the same time.) As you can see, responding quickly to the needs of every guest is what a smart hotel is all about. 
If you want to have a sense of what the houses of the future would look like - book a smart room. 
One of the most popular amenities of a smart hotel room is a smart speaker, of course. In the English-speeking world you'll see Amazon Echo, and in China - Tmall genie. 
What is Tmall genie?
The Chinese voice-activated digital assistant, like Alexa. Tmall genie is an AI voice butler which controls your smart home (or a smart room in a hotel). It's a product of Alibaba, the Chinese tech giant. What does Tman genie do? Well, users can use the smart speaker for controlling home appliances, placing orders online, shopping on ecommerce platforms. 
The future of voice commands is getting closer and closer! Now, let's have a look at what you can do with your phone in a smart hotel:
Smart hotels & mobile devices
What can you do with your phone in a smart hotel (guests & staff)?
Use your smartphone to check in (a.k.a. express check in)
Place orders via the mobile menu in the restaurant/bar (guests will also enjoy the updated menu every day and fewer mistakes with the orders will be made)
Pay with your phone (using Alipay, WeChat, etc.)
Scan QR codes (again, for payment)
Use an e-housekeeping app - for hotel staff to know when a room is empty so it can be attended to.
Use a mobile dashboard - so the kitchen staff know what inventory they can rely on at every moment.
Staff may use a cloud-based food safety digital platform - so they track the expiration date of products.
Use your smartphone as a key to your room.
Use your smartphone to check out (a.k.a. express check out)
(Source: Smart Hotel Technology Guide 2019)
And now the question we've all been asking ourselves:
Smart hotel prices: how much does a reservation cost in a smart hotel?
If you have caught the travel bug and wish to experience a smart hotel for a change, you need to make sure you can afford one. Surprisingly enough, booking a room in a smart hotel is more often than not cheaper than booking a regular one. The time has come when cutting the costs for staff and using robotised labour reflects the costs of hotel rooms as well.
Our research of prices and locations led us to the conclusion that registering in a smart hotel is certainly the smart thing to do in 2021. We compared prices in other hotels in the same locations as the smart hotels you'll see on our list, and the difference is remarkable. 
Smart hotels are affordable as well as practical!  
One thing is for sure: a high-tech room will provide you with a one-of-a-kind experience. In 2021, the occupancy in hotels all over the world may not be what it used to and the hospitality sector has suffered a great deal. In the long run, this might lead to lowering the hotel pricing. 
Luxury resort or a smart hotel?
One thing we should make perfectly clear: customers who are used to receiving a lot of attention from hotel staff should not consider booking a smart hotel room. Why not? Let me paint you a picture. Imagine a millionaire from Dubai who is used to booking thousands-of-dollars-per-night hotels entering a lobby where they won't be received by a concierge but instead will have to check themselves in by using a mobile app. Sounds highly unlikely, right?
Upscale hotel rooms are very different from smart rooms, and so are their guests. Most smart hotel guests are millennials and businessmen and that's not surprising at all in 2020. The more hospitality technologies they experience, the better. It's a brave new world!
Now that we know that a smart room will not cost you more than a regular room in a traditional hotel, we need to face reality. Modernized hotels are technologically advanced, but they will be more appreciated by a customer who is more tech-savvy. It totally depends on what kind of service you are used to (and at what price), and whether or not you're open to trying something new and futuristic. 
Managing a smart hotel
Turning traditional hotels into smart ones is a huge step for hotel management all over the world. It's also a very wise step. Why? Having that much control over individual rooms, automatic reservations and robotised labour, gives much more freedom to hotel employees and reduces costs. The benefits of smart hotel technologies are yet to be examined.  
Smart rooms and smart technology go hand in hand. Adding IoT devices to a room will result in cost savings and revenue opportunities for smart hotel owners. Not only will hotel employees be able to entertain foreign guests by using chat-bots to improve service requests, but that will enhance customer loyalty. Smart hotel robots are the future employees of many establishments. 
Hyper-personalized experience in travelling is the new black! The tourism industry has a new type of hotels to offer and that's awesome! 
Smart hotels and privacy concerns
Of course, with that kind of data, cyber security experts are pushing the red button. Do I really want to let a hotel data center know what kind of coffee I like? Well, to be honest, I don't mind the coffee thing. But what other data do they collect during a visit at a smart hotel? 
What kind of security measurements have the authorities taken to protect the personal information of the clients?
On the one hand they offer customer service that will blow your mind. On the other hand, there's the personal data violation issue. (Let me just say that if you don't mind people and corporations collecting data on you, you'll be fine.) 
In 2021, some customers express trust issues with the raise of technology. Well,we recommend you make sure you have all the information you need before you book a smart hotel room. 
Now would you like to see what kind of robot innovation is there and what can we encounter as guests at a smart hotel: 
Robotics in travelling
Before we go on to our list of top 3 smart hotels in 2021 (editor's pick), let's have a good look at what's new in the world of travelling (besides smart hotels, of course). Artificial intelligence in robots is not very sophisticated yet, as you'll see. But all three innovations are super cool. We start with a good one: 
Travel suitcase that moves on its own
Just imagine never having to drag your suitcase around anymore. Ever! A suitcase that follows you is one of the best travelling ideas ever. You control it with an app and it can follow you in a vertical or horizontal position. You can even put a smaller carry-on bag on top of it, it will take care of that as well. 
Smart robot cleaners
Now, a robot that vacuums can be found in many households already. But how about larger ones that clean entire hotels or airports? Intelligent floor cleaning robots can be seen in Asian airports already: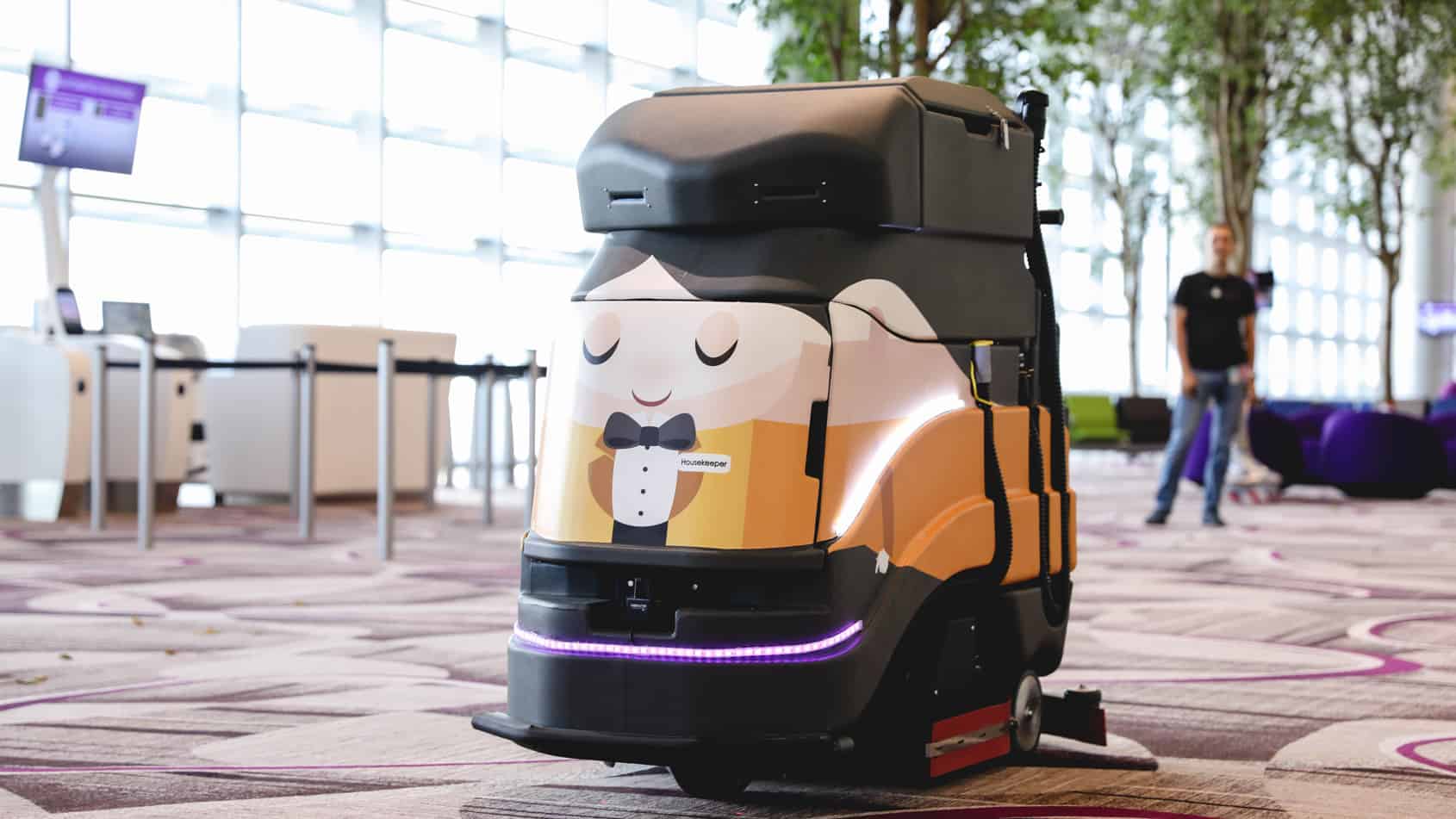 Image © Avidbots / a smart robot cleaner at the Singapore Changi Airport
Let's face it, robot vacuuming can be seen in almost every smart hotel in the world. And in most advanced airports as well. 
Security robots
Smart security robots can be spotted among us in 2021. Security managers use robots in malls or parking lots, doing repetitive tasks over and over again. Having a robot in a dangerous situation instead of a human is the future of security. 
Those robots can be used indoors or outdoors, they charge themselves, can detect weapons, and use AI technology to move around without accidents. 
And now the wait is over, we can finally get to the best and finest of smart hotels in the world:
TOP 3 smart hotels around the world (editor's choice)
More and more smart hotels emerge every year. During our research for this article we checked out many of them. Some only provided the voice control features in smart rooms. Others boasted with online check in and check out. We picked only those smart hotels which are really outstanding in more than one way. 
We'll visit the three most famous smart hotels in the world, so don't go anywhere. Not only that, we'll rank them so you get the full picture!
We'll start the countdown backwards. Here is Number 3: 
3. Henn-Na Hotel Tokyo
Best features: 
Robots at the reception desk
Guinness certificate: first hotel where robots work as staff
Dinosaur theme park restaurant
Quirky experience
A robot-staffed Japanese hotel, one of the first to implement robot employees, is an attraction in Ginza - one of the most expensive neighbourhoods/shopping areas of Tokyo, Japan. Here, customers meet robots at the reception desk, which looks super weird at first. 
In the past, there were two robot dinosaurs at the reception instead. They wanted to boast their staff-less reception desk. In 2021, the robot dinosaurs are already replaced by human robots (a little creepy, to be honest). So, don't go there for the dinosaurs.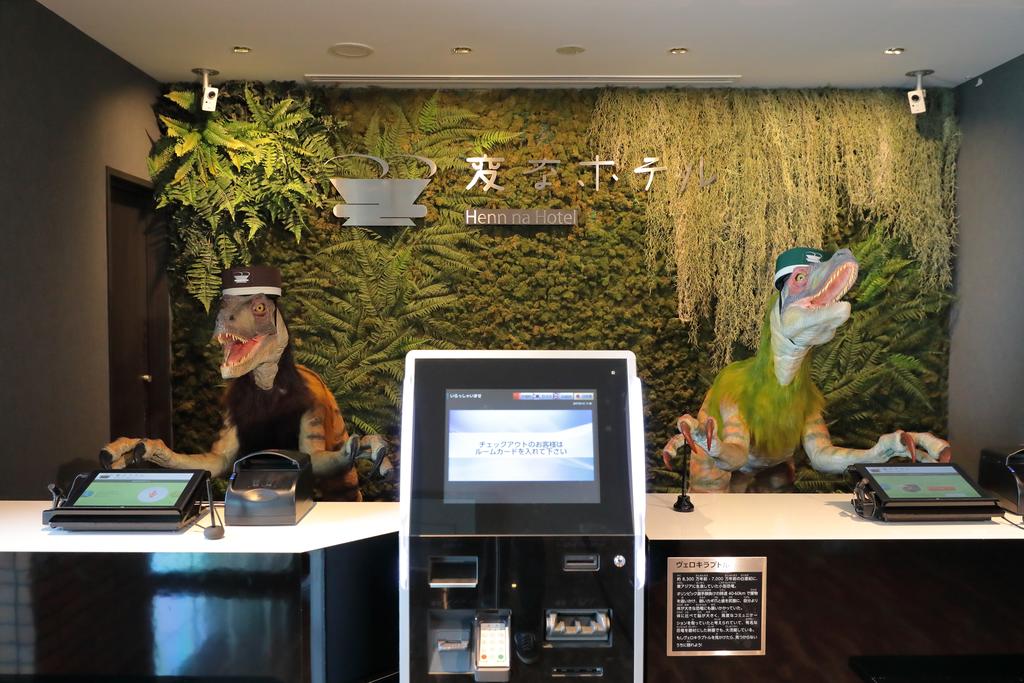 Image © Henn-Na Hotel Tokyo / robots at reception
This is not a very traditional choice and from all the reviews and videos out there, the hotel sure feels weird. However, it is situated just 1.5 km from Tokyo Disneyland, so you may want to combine both experiences. 
Here comes number 2: 
2. Yotel New York
Best features:
Luggage robot (Yobot)
Adjustable smart beds
Smart TV connecting your devices
Awesome outdoor terrace
Enhanced customer protection (disinfection during the pandemic)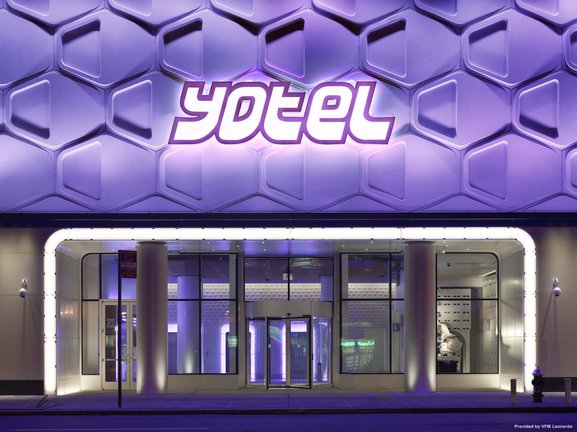 Image © hrs
Located three blocks away from Time Square, one of the most popular smart hotel chains offers an affordable, smart room environment. On entering the hotel, customers can leave their suitcases with Yobot which has been there for almost a decade. (Yes, as you can see, hotels using robots is not a new concept at all. Also, Yobot was the world's first robotic concierge, ever!) In addition to the smart room amenities, Yotel guests will enjoy an amazing view of Manhattan, so make sure you pick a room at a higher floor.
Get ready for number 1:
1. Flyzoo Alibaba China
Best features:
Online check in and check out
No registration desk at all
Mobile payments only
Robot labour
Voice and facial recognition 
Automation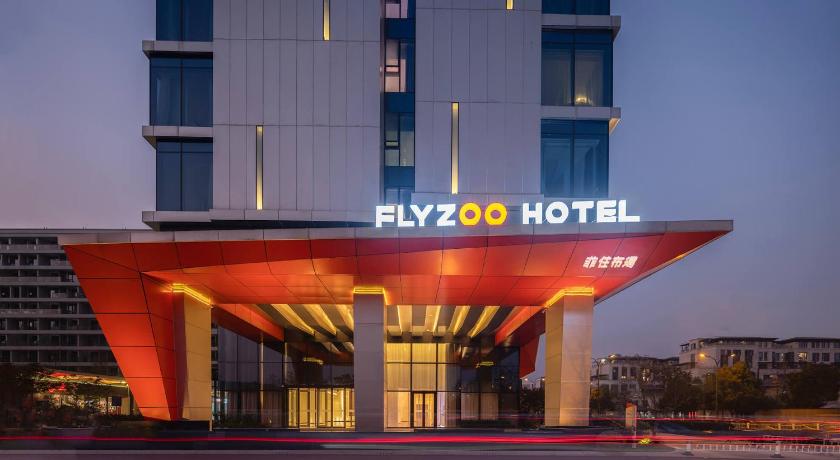 Image © Agoda / one of the first smart hotels in the world
China is, of course, the leader in smart technology innovation. The smart hotel of the tech giant Alibaba, Flyzoo Alibaba, is one of the stars in the hospitality business in 2021 (and our favorite smart hotel). The futuristics hotel offers a unique user experience. What is so unique about it? Well, the hotel is practically run by robots. Have a look:
Are you up for some celebrity treatment in 2021? The Flyzoo Alibaba will make sure you feel special. 
Conclusion
Smart hotels are an inspiration in 2021. 
Succeeding in the hotel business is an amazing challenge in any age or millenium (especially in the Coronavirus Epoque). Nowadays customers want a breathtaking experience and smart hotels provide just that - voice commands for Echo or Tmall genie will do everything for you. From pulling the drapes, to telling you where you can have the best sushi in town, the cutting-edge technology in smart hotels offers the best for their guests.  
Now you'll know what to answer anyone who asks you: what is a smart hotel? I bet Japan's capsule hotels look pretty standard by now, don't they? Well, the smart hotel industry in China, Japan, and the US is definitely making an effort, and their guests appreciate it. If you wish to have a robot serve you the continental breakfast - visit the crown jewel of smart hotels in 2021: Flyzoo Alibaba. 
Robots being used in the hospitality industry are making all the difference in 2021.
Visit TechACake.com for more!
So, are you ready to book a smart hotel already?