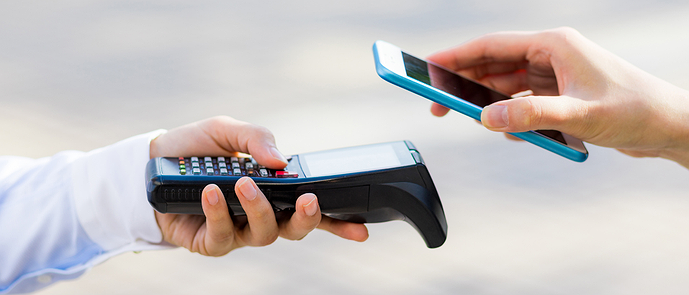 What is Alipay: is physical currency going extinct in 2020?
Last updated: November 16, 2020

Mobile payment apps are like magic carpets which are quickly flying us towards a cashless economy. It started by using credit cards for everything and next thing you know… you're paying with your smartphone. The first economy in the world right now, China, has made great progress with cashless payment.  
What is Alipay? Where can you use Alipay? How does the Chinese mobile wallet work? Is China slowly becoming a cashless society? Today, we here at TechACake.com will share with you everything you need to know about Alipay and the era of digital payment we're easing into. 
In this article you'll learn:
    • How to become an Alipay user?
    • Which are Alipay's competitors in 2020? 
    • Pros & cons of using Alipay in 2020.
In June 2020, Alipay had 1.3 billion annual active users. During the course of a single year, more than $17 trillion in transactions are made via the mobile app in China alone. So, what is it that makes Alipay such a payment phenomenon? 
What is Alipay?
Alipay is a money payment app developed by the Chinese tech giant Alibaba. The app helps users to make payments with their smartphone using the information from their credit or debit card. Alipay is one of the world's most popular e-payment services in 2020. 
The service used to be restricted only to people with a Chinese bank account, but that's old news now. Anyone can use Alipay in China with an international bank account nowadays. Alipay is already available as a digital wallet outside of China and is competing with the other Chinese payment monster — WeChat Pay. Regardless of the type of your smartphone (android or iOS), people can pay with their phones even in the smallest shops and street food establishments in China. 
Without having to carry cash all around with you, you can pretty much use apps for mobile payment anywhere in China. Do people in China still carry a wallet?
How does Alipay work?
You can use Alipay on an Android smartphone or an iPhone, no worries. Start by downloading the Alipay app from Apple Store or Google Play.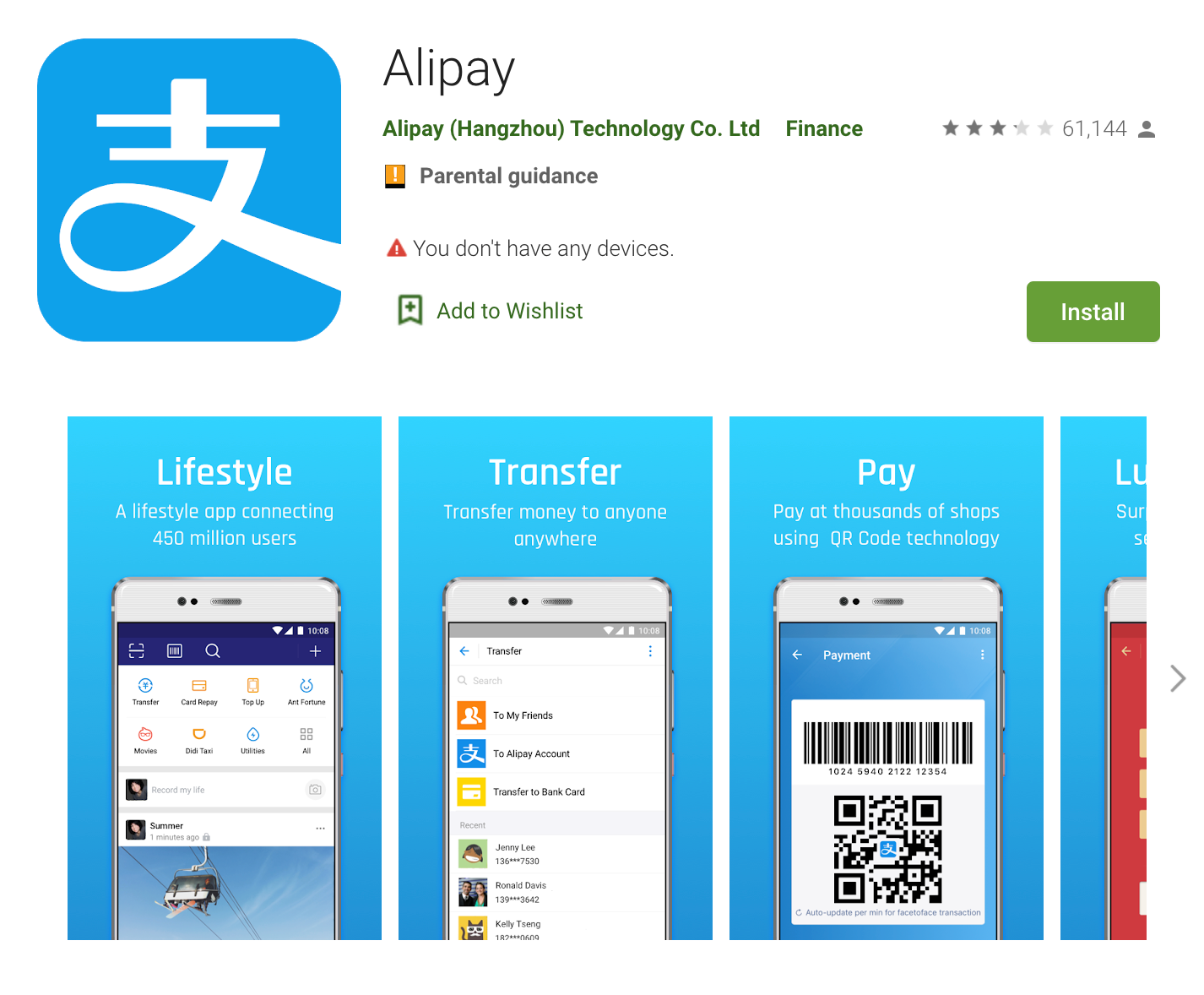 Image © Google Play
When you open the app for the first time you'll have to sign in with your phone number and information about your location. (Signing in is pretty standard. You'll receive a message on your phone in order to verify your Alipay registration.)
Your next big step is to connect to the Chinese Central Bank. Having a Bank account in China will allow you to use the Alipay app immediately. However, you can sign in with an international bank account already. So, go to Settings - Region, and select either "International" or "China Mainland". If you're an international client, the app will ask you to fill in some legal information, e.g. passport number, passport photo (you just have to scan the photo from your passport with your phone). 
Next step is to provide information about your credit or debit card. The important thing here is to understand that you upload money on your Alipay wallet before you start making payments. Once you have registered on Alipay, things get simple. You want to make a purchase? Nothing's easier than that. Open your Alipay mobile app and scan the QR code. Easy peasy!
Saying yes to foreigners visiting China was a huge step forward for Alipay users. And of course, your next question is: where can I use Alipay outside of China?
Where is Alipay available in 2020?
China's mobile payments industry is making a huge leap forward with apps like Alipay. The forecast for the next few decades is that the so-called cashless cities will emerge. Technology moves forward and cashless societies are quickly emerging in some of the developed countries.
Which countries are using Alipay the most in 2020?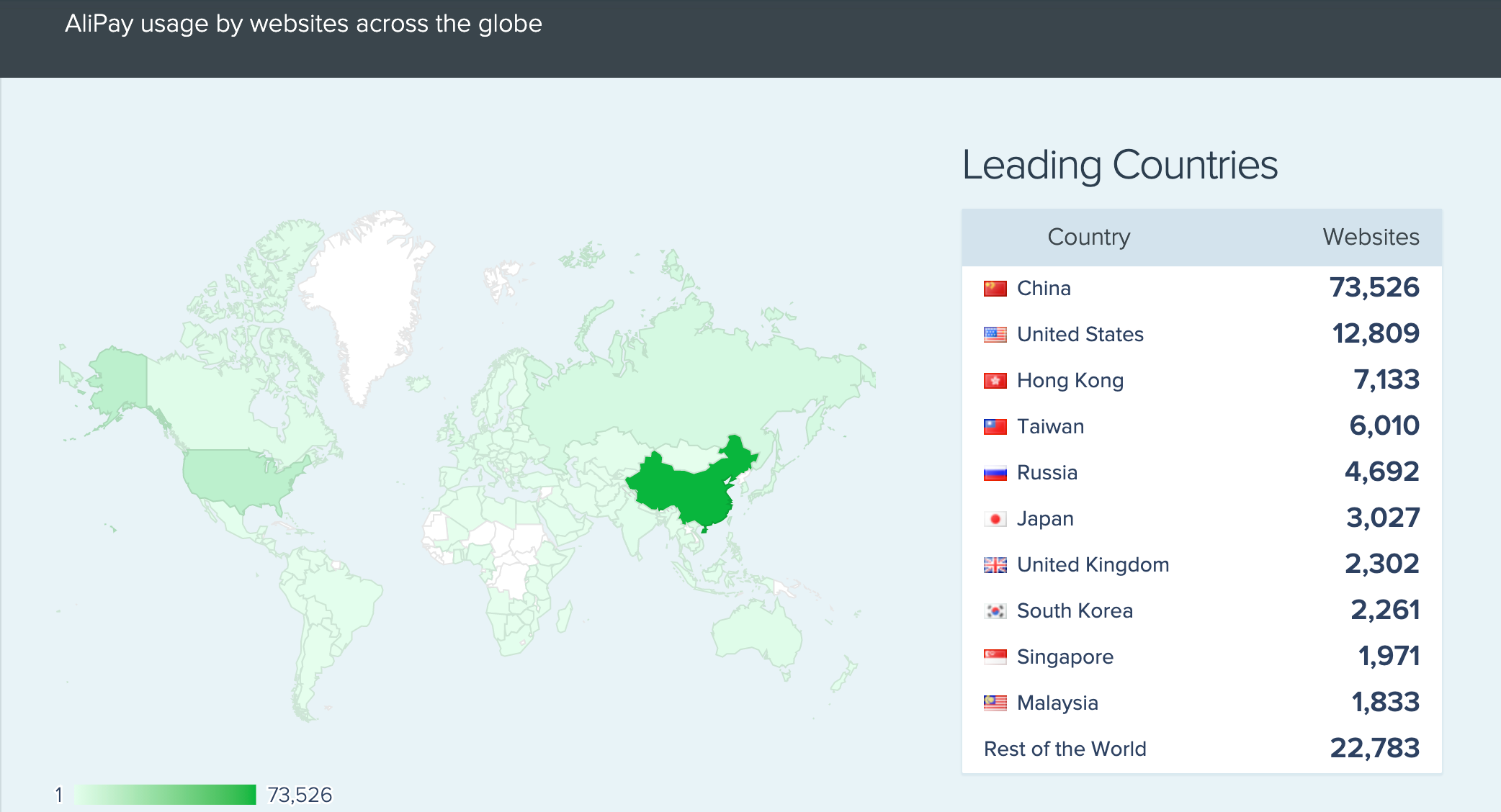 Image © Similar Tech
According to the Alipay website, the app is currently available in 110 countries and regions in the world. However, now seems to be a good time to say that one of the bigger disadvantages of mobile payment is that not everybody has a smartphone.
According to the latest smartphone statistics 2020, only 3.5 billion people own a smartphone in 2020. And what about elderly citizens? Many of them are not tech-savvy and no matter how easy online payment is, some of them do not respond well to the modern day technological advancements.
On the other hand, younger generations are looking for ways to pay faster and avoid using cash whenever that's possible. Cashless payments are efficient but there's also the issue of privacy. Whenever you pay online, your transaction enters certain records and some might say that we're giving the government and banks way too much control. The future will show whether this would mean a less democratic society that will face many restrictions.
Who is Jack Ma?
Jack Ma is a major Chinese entrepreneur and one of the richest tech billionaires in the world. He is the founder of Alibaba Group, one of the world's leading e-commerce platforms. Alibaba Group is a modern tech giant: the holding includes major platforms among which are AliExpress, Alipay, Taobao and Alibaba Cloud.
What is Alibaba? Have a look:
Ma is a world-class businessman and an inspiration to millions of business owners around the world. In 2020, Jack Ma's net worth amounts to $50.4 billion. According to Wealth Gorilla, he is the 22nd richest person in the world and the 3rd richest person in Asia in 2020, according to Business Insider.
Now, the potential of mobile devices has yet to be reached. The evolution of mobile payment is one of the great technological miracles of the 21st century. Did you know that the first mobile payment method was administered back in 1997 when you could buy a Coca Cola by sending a short message? Well, things have changed and two decades later we're on the verge of a cashless economy.
Pros and cons of using Alipay
Since 2003 Alipay has made big steps forward and helped businesses all over the world become easily accessible. The use of QR codes for scanning and paying for goods and services has enabled the rapid scaling up and widespread availability of mobile payment. In terms of safety, experts consider mobile payment safer than paying with a card because the apps use advanced encryption. Let's see:
Advantages of using Alipay: 
    • Anyone with a smartphone can use it if the service is available in their country/region. 
    • Quick and easy sign in process 
    • The Alipay app is free to download
    • Relatively small transaction fee - 0.6%
    • User friendly app, easy to use
    • Convenient way to pay your bills
    • Avoiding to use cash 
    • Effortless payment
    • Safe transactions — 100% refund of unauthorized transactions 
Disadvantages of using Alipay:
    • Not every person owns a smartphone in 2020.
    • The English version of the app is still not fully translated
    • Possible consumer spending data collection. 
Now, the time has come to discuss two of the major Alipay competitors: 
Alipay vs PayPal
There's a slight difference between the two competitors. PayPal enables anyone with an email address to send and receive online payments. Alipay, on the other hand, enables anyone with the mobile app on their smartphone to make daily online transactions and avoid the use of physical currency.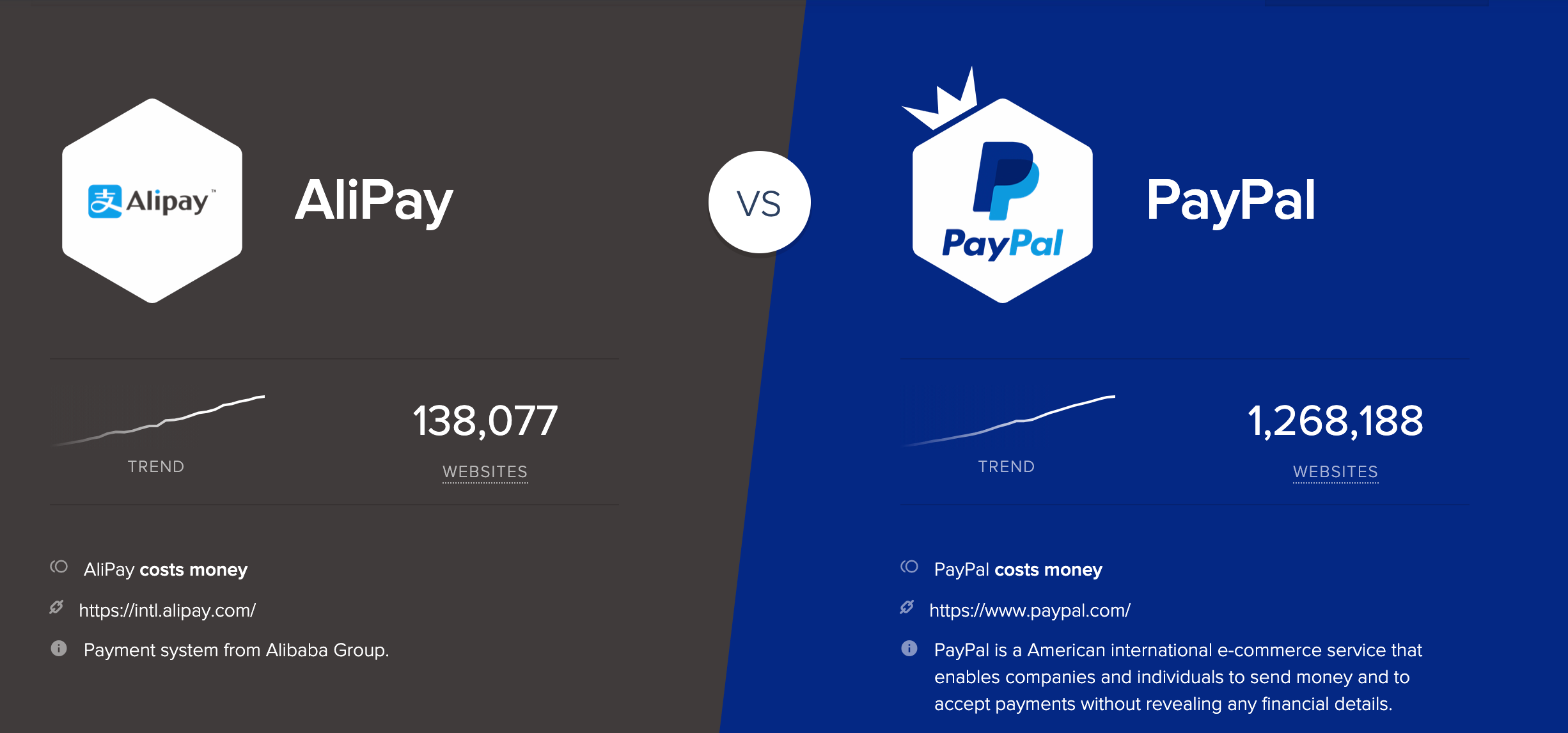 Image © Similar Tech
In terms of Alipay vs PayPal market share — the advantage goes to PayPal in 2020. More coverage in more website categories, PayPal also leads in geographical coverage. Alipay is lagging behind PayPal in all market share segments.  

Image © Datanyze
If we're talking Alipay competitors, here comes WeChat Pay. Owned by the Chinese tech giant Tencent, WeChat Pay has become the first and largest Alipay alternative.
WeChat Pay vs Alipay
The two largest third-party payment operators in China are WeChat and Alipay. Both apps are extremely popular in China. How popular? Let's see: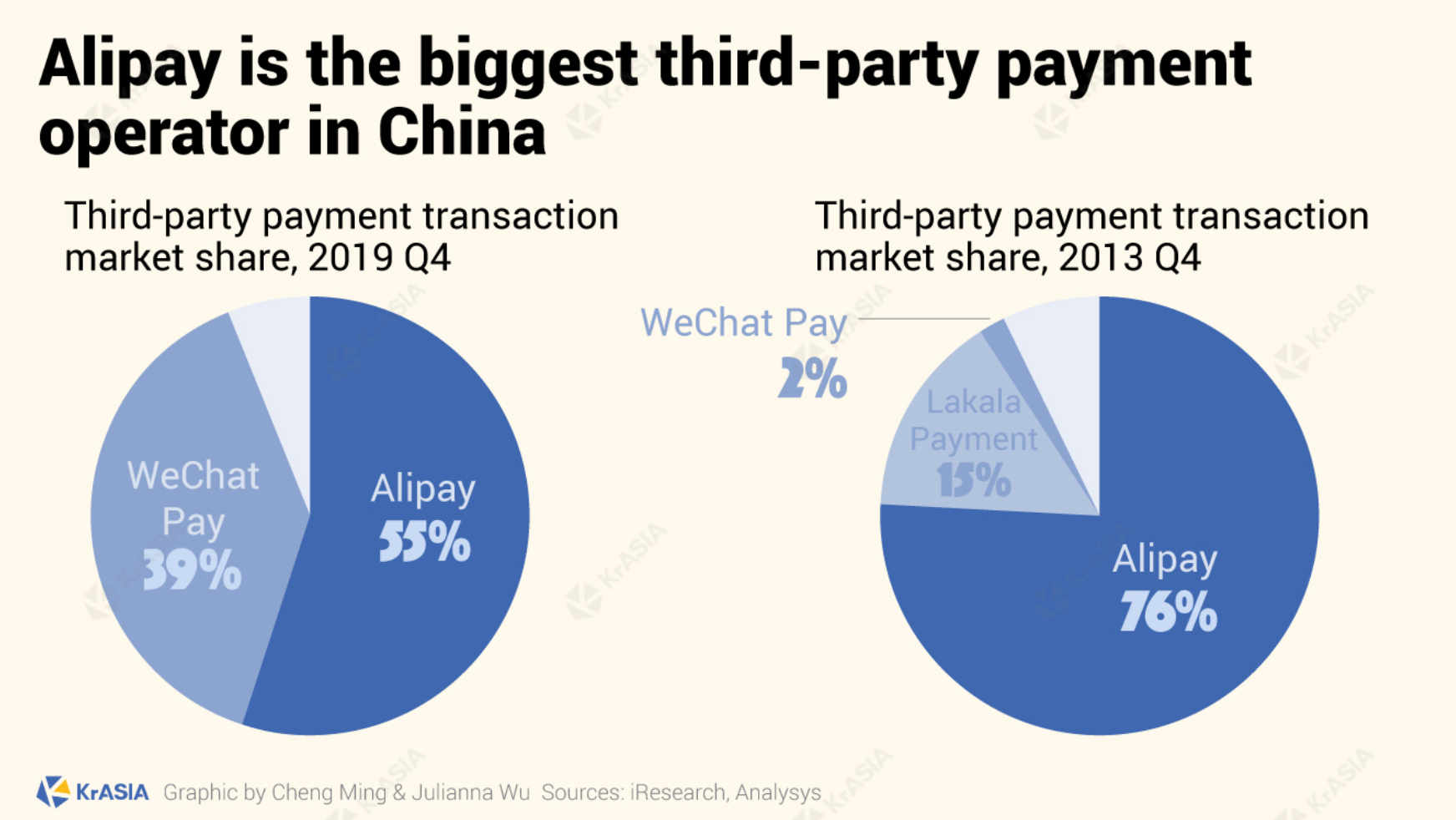 Image © KrASIA
WeChat Pay and Alipay support business owners. The big difference being that WeChat is one of the most popular messaging apps in China, as well as a gaming and mobile payment app at the same time. In the last six years, Alipay has found a worthy competitor. WeChat Pay scans QR codes and the clients pay, it's that simple.
Millions of transactions are executed every day via Alipay. Your bank account details are stored in the app and payments are received immediately. With debit cards you may have to wait (up to a day and a half). In 2020, the tech giants Alibaba and Tencent (the owners of WeChat) own 90% of the mobile payment market in China.
The concept of cashless payment conquered the largest economy in the world in less than a decade. Controlling and managing every payment from your phone has become a daily routine for most Chinese. 
Alipay and tourism in China
Just imagine this: You're visiting China for the first time. You went outside to grab a beer at a local pub around the corner and suddenly the cashier is not asking you for cash but for your phone. They just want to scan it quickly. Surprise!
Tourists from Europe and the Americas who are visiting China are not always informed about the procedure for mobile payment. Since 2018, it's possible to make mobile payments as a tourist and register on Alipay. It's quick and easy. You only need to download the Alipay app. There is a special option for tourists now - it's called a Tour Pass. You will receive a 90-day pass as a tourist. This will help you pass through the difficulties of grocery shopping and every day purchases.
Wrap Up
What is there in a world without physical cash? Money becomes electronic. Apps like Alipay have changed the lives of many people and businesses in the course of the last ten years. Are we facing a cashless future? Definitely. Who needs to carry a wallet filled with cash when you can just take out your phone and pay instantly. There are advantages and disadvantages to cashless payment and only time will show us if mobile transactions are better or worse for humanity.
What is Alipay?
A Chinese mobile payment app with 1.3 billion users in 2020. The predictions say that by 2023 China will have become a cashless economy. One thing is certain, people in the future will rarely use coins or bills. Online payments are changing the world, and this is only the beginning.
So, are you ready to enter the era of mobile payment technology? Keep coming back on TechACake.com and follow us on Instagram for more.
Enjoy cashless payment everyone!