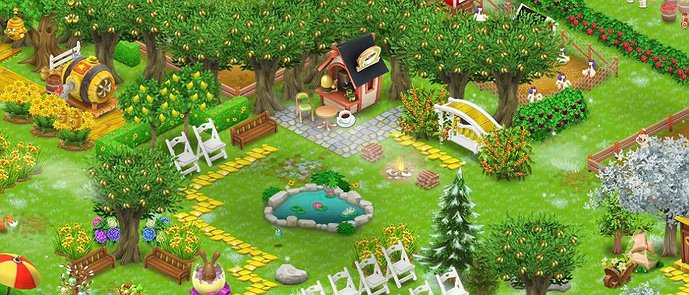 9 Best farming games 2022: which is your next favorite free mobile farm game?
Last updated: March 13, 2022

Which of the best farming games 2022 deserve your time and attention? What are their best features and are there some new and exciting free farming apps to try on your smartphone? Farming games are addictive and without a doubt - one of the most beloved video game genres of all time. Maybe one of the best Mahjong apps is what you're looking for? Today we gathered the best farm games 2022 for you to enjoy the whole year. 
Check out our Mobile category for more awesome mobile games 2022. So, we all love to escape in an imaginary world of our own from time to time. And what better way than a farming game? What could be more relaxing than feeding your cattle and gathering the crops? Or upgrading your farm house to the next level? The level of satisfaction these games provide us with is just what we need after a stressful day.
Best farming games 2022
All the farming games we'll recommend today are free to download for your mobile device and you'll have a wonderful time with any of them! Of course, showcasing your farm on social media is cool especially if you happen to be a member of a farming game community. Nobody's wondering why those games are SO popular. We start with: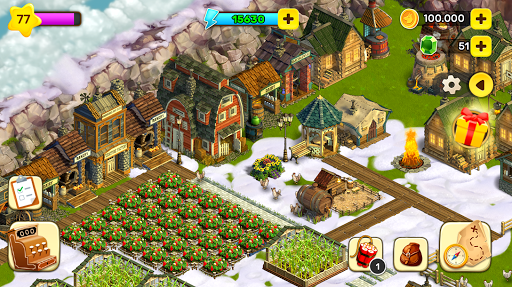 Image © Google Play
Klondike Adventures
Klondike Adventures is a free mobile farming game with more than 10 million installs on Google Play since its release - check out our Klondike Adventures guide with tips & tricks if you're a beginner. Not unlike Family Island, the gamers have energy points and can only work their farm within their credit. From the very beginning of the game you get a piece of land which is "unlocked" and you have to work your way through the territory. The game is beautiful and players can enjoy the wonderful graphics while growing beans and collecting eggs. 
Players start with a farmhouse surrounded by huge ice blocks they need to remove in order to start utilising the space. They can plant beans and collect eggs and that's pretty much it at first. However, the further into the game you go - the more complicated things get. You can use dynamite to clear up some space but that's going to cost you, of course. One of the cool features of the game is the awesome soundtrack - seriously! It looks and feels like a western farm the way it's supposed to be.  
This farming game simulator feels more advanced in terms of gameplay and graphics which definitely makes it one of the best farming games ever. 
Games like Klondike Adventures:
Township (a must-play if you like Klondike's features)
Homesteads: Dream Farm (similar setting, diverse gameplay)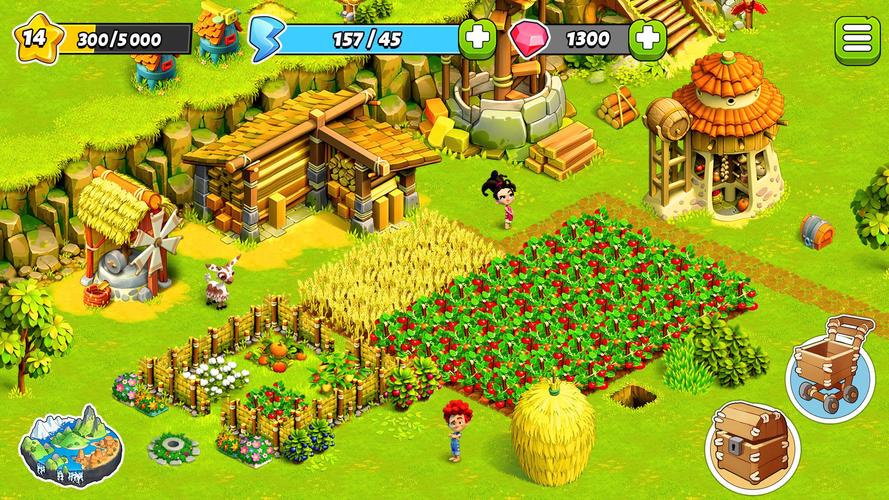 Image © APKFab
Family Island
There is a reason why this farming game is at the top of the list. It will keep you up at night! The premise is there's a family of four who get on an island and they need to maintain it in order to survive. You get the basics: there's farming land and machines, farm animals to feed and trees to cut. The family can travel between islands and there's a merchant who visits every couple of hours and trades with you. (Check out our Family Island guide!)
Each of those farming simulator games has a set of rules and restrictions which the player needs to have in mind. With Family Island the restriction comes in the form of energy - the four family members need energy in order to work on their land. The energy takes some time to accumulate but of course there are loopholes.For example, if you find a bush with berries the family can eat the berries and receive some energy points.  
Another interesting feature which makes this farm game unique is that you need to feed the family regularly (and this will give them energy to work, of course). As usual, there's crops to harvest but the animals in Family Island walk freely around the island instead of being constrained to their stables (like in Hay Day for example). 
The game is a favorite for players of all ages and would teach younger children some patience, simple strategic thinking and resource management (e.g. you need to gather corn in order to produce some chicken food in the machine and then feed your chicks in order to get the energy your characters need). This farm game adventure is just a must-play in 2022. 
The game is relatively new and already has 400K installs already on Google Play. A must-play farmer game! Speaking of having an awesome time with a mobile game, did you already try Harry Potter: Puzzles & Spells? We highly recommend it - check out our Harry Potter: Puzzles & Spells guide. 
Games like Family Island:
Farm Bay (similar graphics and gameplay)
Atlantis Odyssey (similar gameplay, feature-rich)
Fantasy Insland: Sim Adventure (city-building simulation)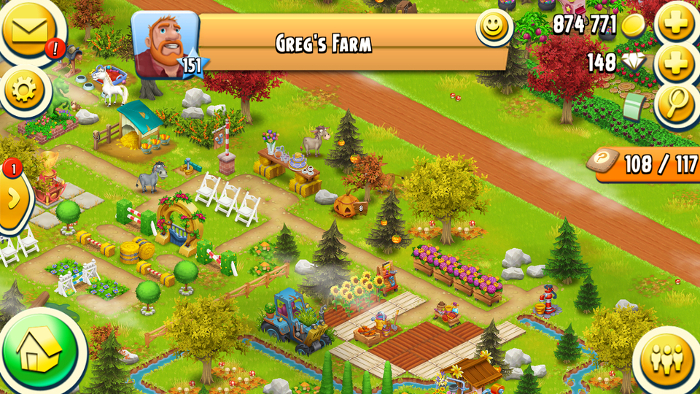 Image © Reddit
Hay Day
This is a classic mobile farming game which is totally a favorite of audiences of all ages. It was released back in 2012 and is still one of the favorite farming games in the world. The more you play the game - the more addicted you get because you have more stuff to do in the game, more machines to build and upgrade, more animals to collect, more crops to harvest. We've seen people play that game since the release and there's a good reason for that. The creators have added so many fantastic features gamers just adore. 
The atmosphere of the game takes you away in an agricultural surroundings with many farm animals and crops. The game is super popular - it has over 100 million installs on Google Play. Welcome to Hay Day! Gamers get to visit Greg's Farm from the very beginning - this is the demo farm the developers made for you to get inspiration from. Greg always has goods to sell - he is the perfect neighbour who is also sort of a host of the game. 
One of the cool features of the farm simulator is that each player gets to manage their store at the entrance of the farm and sell their produce to other real life Hay Day players. You get to establish the price and quantity of the items you want to sell and other gamers have to be pretty quick to get the goods first. Of course, you can trade with fellow farmers (Facebook friends) which is pretty cool. 
There's also a ship which comes to your farm every now and again and you need to fill in the order and get a reward for your efforts. Yes, those games make us come back for more and experience the satisfaction they provide us with. Hay Day is really one of the best free farming games of all time and starting it eight years after the release is still a great idea in 2022.
Games like Hay Day:
Let's Farm (similar mechanics, fast-paced gameplay, cute animals)
FarmVille 2: Country Escapes (rustic experience, similar gameplay)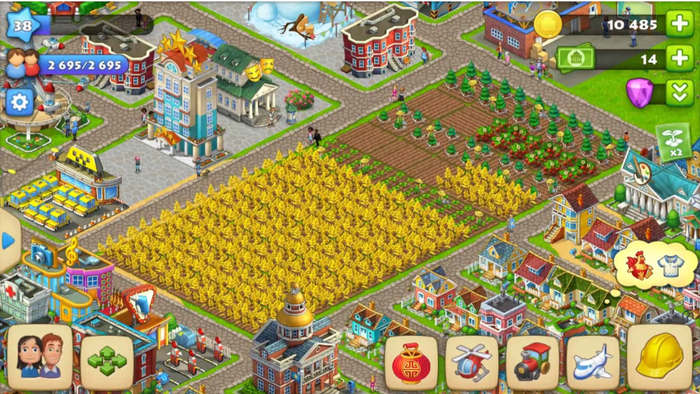 Image © KnowTechie
Township
If you're up to something more intricate and complex, Township is for you. This is an awesome mobile farming game which allows players to turn their small village into a giant metropolis. Start developing your own city with Township - seriously, the game is awesome! The creators of Township are none other than Playrix - a billion dollar mobile gaming developers. Those guys gave us Homescapes, Gardenscapes and Fishdom which are some of the best match 3 games ever!
Township starts with a small farm with farm animals to feed, crops to collect, a Bakery and a Dairy Factory. Players develop the business by buying machines and producing more food and clothes as well as delivering them to the town's residents with a helicopter, by train or in an airplane. If you're looking for a more rustic expereince, try Hay Day because Township provides more of a "metropolis" kind of an experience. But it' s so AWESOME!
OK, let's move on with the Township gameplay: players need to buuild houses, towers, museums, and factories as the fictional city progresses. Controlling the businesses becomes a huge part of the game from some point forward. The player starts building a mine and collecting metals tools they receive as gifts from deliveries to other cities. 
After a while the player acquires a boat and discovers islands they can trade with. Buying exotic fruits and exchanging them for metals is a one of the cool features of the game. You can visit other people's farms/cities and have the chance to meet other mobile gamers. The game encourages each player to help others with their deliveries by presenting them with game gifts each time. 
Township is one of the most popular free farming mobile games you really need to try out if you haven't already. It has all the features a mobile gamer can wish for and it's a tad more complicated than the average farming game. 
Games like Township:
Homesteads: Dream Farm (similar mechanics, different setting)
Klondike Adventures (awesome design, feature-rich gameplay)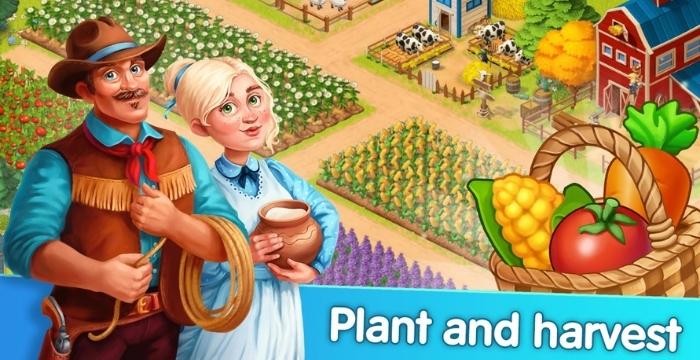 Image © Google Play
Homesteads: Dream Farm
This is one of the best games like Township in 2022. Homesteads:Dream Harvest features beautiful design with vibrant colors, fast-paced and intuitive gameplay, and discreet in-game notifiacations to help players along the way.
Once they start the mobile farming game, players are transported into the Wild West where they need to help their town develop. The game offers many ways to earn in-game money from your crops and produce so you can invest in more residential buildings, community buildings, and farming buildings.
In terms of gameplay, this animal farm game won't dissappoint. It's pretty similar to Township but offers a more rustic experience which is quite delightful after the city atmosphere of Township. Homesteads rewards achievements with smaller and larger prices and players are encouraged to exchange crops and produce for objects like glass and shingles in the River Station and the Stagecoach Station. The more territory you discover - the more space you'll have for new buildings. As far as farming simulation games go - Homesteads is one of the best free farming games 2022. A must-play!
Games like Homesteads: 
Township (different design, similar gameplay)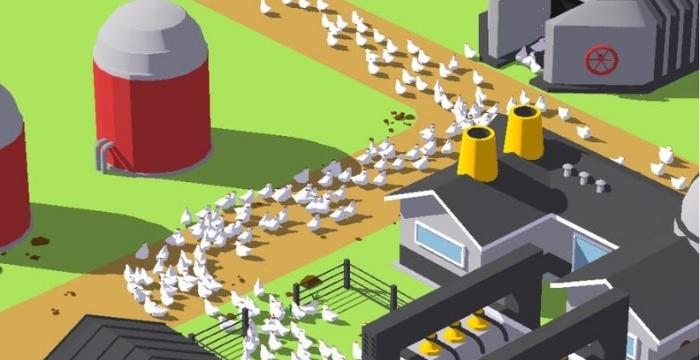 Image © Cheerful Ghost 
Egg, Inc. 
Speaking of the best farming games 2022 - this one is an unconventional addition to the list but an awesome one you should definitely give a chance. Egg, Inc. came up in 2016 and took the mobile world by storm. The game has more than 10 million installs on Google Play alone and is one of the most beloved farming games of all time. 
The goal in Egg, Inc. is to create the most profitable egg farm ever. The developer and publisher Auxbrain Inc. came up with the backstory where eggs unlock the secrets of the universe. However, all you need to know in the beginning is that the more hens you have - the better. And that the game is so immersive, you'll keep coming back for more every day. 
Egg, Inc. is a clicker game as well as a farming game - players click on a red button to release chicken into their farm. The more hens you have and the more you improve their housing (coops, shacks, etc.) - the more eggs your farm produces. The profit and number of eggs produced keep accumulating even while you're not playing. Players invest in more comfortable nests, nutritional supplements, better incubators, and hatchery expansion so they can increase the quantity and value of the eggs in their farm.
If you're looking for games like Egg, Inc. - try Penguin Isle. It's a meditative mobile game with an amazing soundtrack and adorable penguins. The game is basically a sanctuary for penguins with different entertainment centers all around the penguin isle. Must-play!
Games like Egg, Inc.:
Penguin Isle (idle game with penguins, awesome ASMR soundtrack)
Idle Industries (channel the inner entrepreneur with this awesome idle game)
SpongeBob's Idle Adventures (explore SpongeBob's theme park and visit various dimensions)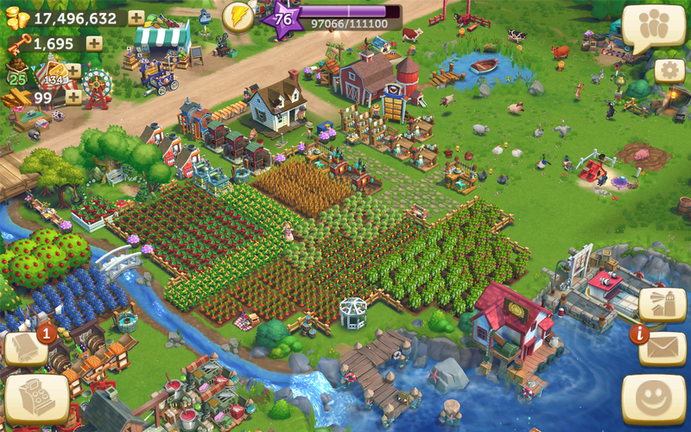 Image © APKFab
FarmVille 2: Country Escape
FarmVille 2: Country Escape is another epic mobile game by Zynga Games. The game has 50 million installs on Google Play and is a must-play farm game in 2022.  
You start the game with two small houses which look very neglected. One will be your home, the other - your barn. A truck will arrive and you get to meet Marie - she will guide you every step of the way. Developing your own farm is the objective like in each of the farming games on our list today, and FarmVille 2 is no exception. 
Planting your crops in the game is fun because you need to get water from the nearby lake first. After that you need to get your production going. At some point Marie will introduce you to "Quest Book". Every completed task will win you a prize or you go to the next level. If you don't wish to wait for your goods to get ready in the machines - you can use a golden key and speed up the process. A curious addition to the game is the nearby circus - participate in events and you'll get a reward.  
Around your farm there is a circus so later one there will be some events in which you can take part and be rewarded! Each time you level up you get special tasks, new crops and animals, new metals to dig up and work with. You can use your boat to catch fish and trade. As usual gamers can stay in touch with other farms and exchange goods and receive letters. Watch how the other farmers work on their land and they will help you in return.
Games like FarmVile 2:
FarmVille 2: Tropic Escape (mini-games and tropical adventures)
FarmVille 3 - Animals (more suitable for kids, cute design)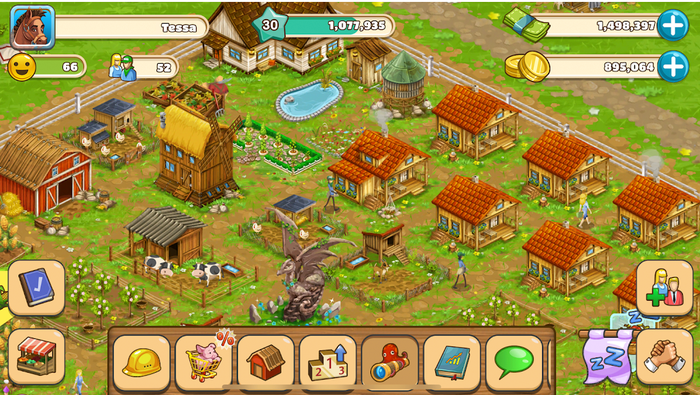 Image © Google Play
Big Farm: Mobile Harvest
Big Farm: Mobile Harvest is a free farming mobile game. It has more than 10 million installs on Google Play and is a favorite among many mobile gamers all over the world. During the course of the game many farmers will come to you to ask you for help and as usual, the more you help them - the more rewards you win for yourself. Also, a truck will come every once in a while to collect goods for sale, as in Hay Day. 
As a Big Farm player, you get to decorate your farms, tend to the fields and care for farm animals. Turn the sounds on to enjoy the relaxing farm noises and dive into the world of agriculture. This is one of the games for farming every farm game enthusiast would appreciate. If you like Big Farm: Mobile Harvest, you can also try Townsmen. It featuers similar design but on a bigger scale. It's a medieval city-building simulation game - don't miss out on the fun!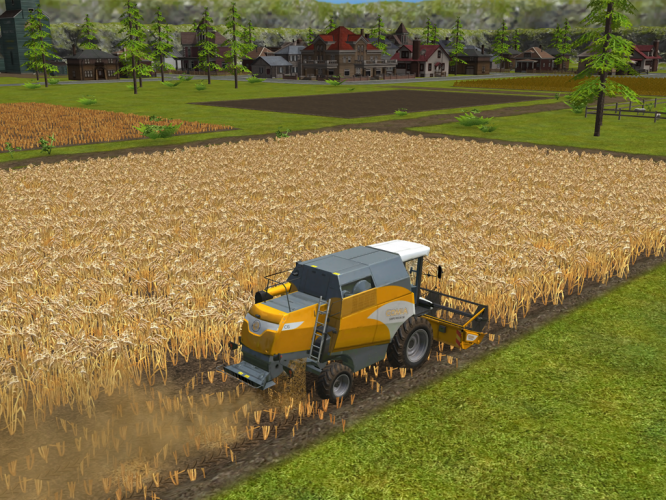 Image © Google Play
Farming Simulator 16
This 3D farm game simulator offers more sophisticated graphics than the other six mobile games on our list. The Farming Simulator games have been an audience's favorite for years and this one is no exception. The game has been installed more than 10 million times on the Google Play Store and has become a favorite farm game of several generations of gamers. (If you're a Nintendo Switch user - you can definitely try Farming Simulator 20. It's not free-to-play but it offers so much more than the mobile app.)
One of the cool things about the game is that you get to work on your land with different trucks, trailers, and other kinds of farm machines. If you're into driving simulators - you'll simply love this farming game. If you want to harvest your crops - you need to control your truck and do it step by step. The game is a very cool blend between farming and driving simulator.  
Wrap Up
Today we shared with you our list of the top free farming games to play on your mobile device in 2022. Spending some quiet time on our imaginary farms each day helps us relax and keep our minds away from the real world. Farming with family and friends can be so much fun! If you're looking for farming games online - the best way to play a farming game is on your mobile device. You have your eyes set on one of the games on our list of the 8 best farming games 2022 for sure. 
Visit TechACake.com for more awesome content every week.