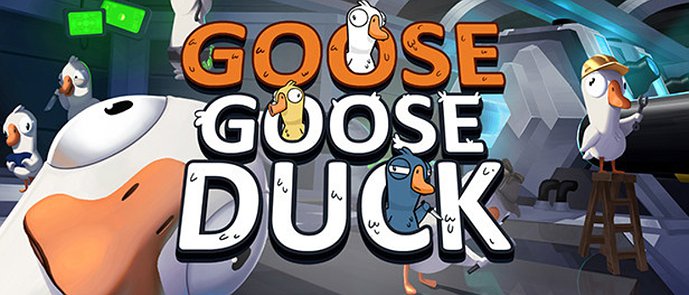 Goose Goose Duck: a new game in the Steam top 10 chart of all times
February 9, 2023

A new game has entered the Steam top 10 games by number of concurrent players of all time. It's called Goose Goose Duck and it's a game like Among Us—a classic virtual mafia-game. 
How did a social deduction game enter the Steam records chart and why? According to the latest Among Us player count, between 995,000 and 1.1 million people play 
The latest Goose Goose Duck player count 2023 is definitely noteworthy! 
Check out our News category for more gaming news every day!
Let's see:
Is Goose Goose Duck the new Among Us? 
Goose Goose Duck is a free-to-play game of social deduction like Among Us which came out in 2021. It's available on mobile devices (Android and iOS) and on PC (Microsoft Windows and Mac Operating Systems). Are the two games very different from each other and is there a better one? 
Goose Goose Duck features six different game modes, a variety of complex maps, customisable characters, and 18 different types of roles to choose from. On the other hand, Among Us features faster game sessions and it's easier to win as an individual in Among Us than as a team. The games are different, each with their pros and cons. 
How many people play Goose Goose Duck?
With more than 9 million daily active players in February 2023, Goose Goose Duck is one of the most popular games on Steam. The game is most popular in Asia as 34% of all GGD players come from China. 
1. In January 2023, 701,000 people played Goose Goose Duck concurrently on Steam. 
(Source: Steam Charts)
The game quickly became one of the most played games on Steam. According to the Goose Goose Duck Steam charts, the social deduction game ranks #5 on the chart of most played games at the moment on Steam. However, Goose Goose Duck entered the Steam top records in January 2023 and it now stands directly under Cyberpunk 2077 and above Apex Legends. 
2. In January 2023, Gaggle Studios announced that Goose Goose Duck reached 800,000 concurrent players on PC and mobile. 
(Source: Game Developer)
According to the developers, there are around 9 million daily active Goose Goose Duck users. Goose Goose Duck was already popular in Korea and China but after a member of a popular boy band streamed himself playing the game in December 2022, its popularity skyrocketed.  
3. In February 2023, around 180,000 people play the game concurrently across all platforms. 
(Source: Playercounter)
This is the live player count during the day. According to the source, more than 180,000 people play the game at any moment during the day. 
4. 34% of all GGD players come from China. 
(Source: Playercounter)
GGD is most popular in China where more than 34% of the fan base comes from. 13.47% of GGD players come from the US, 11.50%—from the Republic of Korea, 4.40%—from Thailand, and 3.34%—from Taiwan. 
Visit TechACake.com for more video gaming news every day!
Featured image © Steam