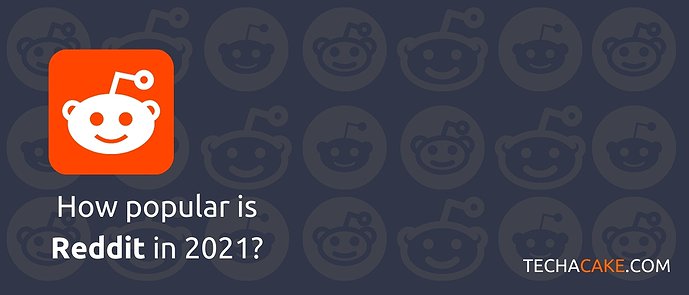 How popular is Reddit in 2021 [check out the LATEST Reddit statistics and facts]
Last updated: January 2, 2021

Reddit is the 7th most popular social media platform in the US. (It's also the 13th most popular in the world.) Do you wish to see the latest Reddit stats of 2021? You'll find them all here. How popular is Reddit in 2021? Let's have a good look at how things are going for one of the most popular social media websites in the world. 
Reddit just posted their 2020 statistics on the Reddit Blog and we decided to summarise them for you. Here, at TechACake.com we never miss an opportunity for new and exciting content and the latest Reddits statistics 2020 turned out to be just that. As usual, we'll just provide you with the LATEST statistics and facts about the topic, and we'll add plenty of links for your further investigation. We start here: 
Latest Reddit statistics 2020
There are many aspects of Reddit that are worth mentioning. For example, they have the "upvoting" and "downvoting" system which gives us so much more than the classic Facebook "like". Other awesome Readdit features include the Filter by Post Type (you can add information on the type of post you're creating) and that each subreddit has a set of rules to abide to if you want to participate. 
Reddit also has amazing image galleries and polls… as you see, the platform has SO many features which make people come back for more. There's a Reddit YouTube channel which we recommend checking out and subscribing (if you haven't already). 
How irresistible is Reddit in 2020 and how many people are actually visiting the website each day/month? Let's start answering the big questions (wait for number 6!): 
1. In November 2020, there were a total of 1.63 billion visits to Reddit.com. 
(Source: SimilarWeb)
And of course, MANY of them were coronavirus-related (duh!). The website has never been more popular in 2020...  
2. In September 2020, there were 1.5 billion desktop and mobile visits combined to Reddit.com.
(Source: Statista) 
There are Redditors all over the world and especially in the US, but it seems that Reddit users are keen on spending time on the platform on their mobile. We looked at some Reddit answers while researching the topic. Most of them said they preferred visiting Reddit on "mobile". 
Understanding exactly how popular Reddit is in 2020 might tempt many marketers to turn their efforts to the social media platform in 2021.  
3. In 2020, there were 52 million Reddit daily active users. 
(Source: Reddit's 2020 Year in Review)
According to Reddit traffic stats, this is a 44% increase of YoY daily active users in comparison with 2019.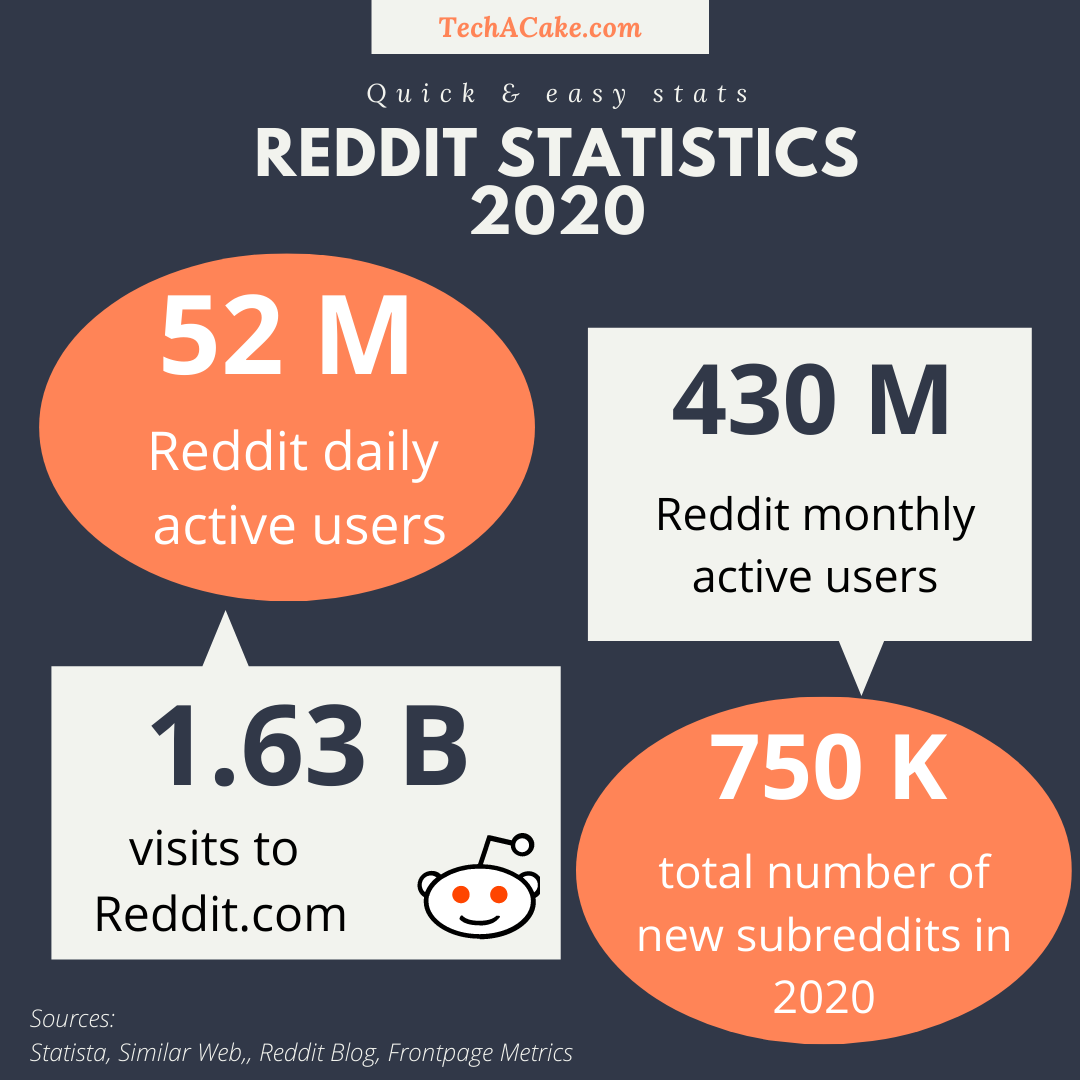 4. In September 2020, 49.69% of Reddit desktop traffic came from the US. 
(Source: Statista)
The Reddit traffic is unevenly distributed among the top countries of usage. According to SimilarWeb, the US traffic was 50.3% of the total desktop traffic in November 2020. The top 5 countries by Reddit usage are the US, Canada, the UK, Australia, and Germany. 
5. 52% of the total US Reddit users are daily active users. 
(Source: Statista) 
How dedicated are Reddit users? More than half of all US Reddit users visit the website daily. Reddit was founded over 15 years ago and it has constantly grown in number of subscribers. And now we get to answer the question: 
How many users does Reddit have in 2020?  
6. In October 2020, there were 430 million monthly active Reddit users.
(Source: Statista) 
The numbers speak for themselves - 430 million people visit Reddit every month in 2020. The social media platform is very different from Facebook and Instagram for example, and it's a great place for people to share their thoughts, discuss topics, participate in polls and overall - be a part of a vast community with many interests. 
7. In 2020, Reddit is the 13th most popular social media platform in the world. 
(Source: Statista) 
According to the latest Reddit statistics, the platform has more active users than Pinterest. Which is quite astonishing since in Q3 2020, Pinterest had a total of 442 million monthly active users. 
8. In Q3 2020, 95% of all US Reddit users were monthly active users. 
(Source: Statista)
According to the latest Reddit statistics, 82% of Reddit users are weekly active users. Which means that most monthly active users actually visit the website weekly. The power of Reddit is undeniable. How much time do people dedicate to Reddit? Keep reading.
9. In October 2020, less than 1% of the overall social media traffic in the US came from Reddit. 
(Source: Statista)
The leader here is of course Facebook with 62%. Visiting social media websites is one of the most popular online activities for US users. And Reddit is still the 6th most popular social media website in the US in 2020. 
10. In December 2020, Reddit.com is the 18th most visited website in the world. 
(Source: Alexa Top 500)
According to Alexa, the average time a Reddit visitor spends daily on the website is no less than 5:33 minutes. The websites ranks higher on the list than websites like Netflix, Instagram, Alipay, Twitch, Ebay, and Twitter. 
Reddit usage statistics 
How popular was Reddit in 2020? Let's see:
11. In December 2020, the average time Reddit visitors spent on the website is 9:29 minutes. 
(Source: SimilarWeb)
The more time users spend on a website the higher the reputation of the website. The average time spent on a website reflects its popularity and success. An average of almost 10 minutes per visitor is quite amazing in 2020, when we know for sure that the attention span of people is going down thanks to social media. Now, what are Reddit users doing on the website that makes them spend so much time there?
Reddit consists of subreddits - those are the communities of people who discuss a certain topic. Users comment, upvote and downvote their favorite topics daily and let's be honest - Reddit addiction is a real thing. Now, how many subreddits were started in 2020? Have a look:
12. There were more than 750K total new subreddits in 2020.
(Source: Frontpage Metrics) 
The hottest trends and topics for 2020 turned out to be the coronavirus pandemic (we'll cover that in a minute), the most popular video games of the season (check out our list of the most anticipated video games of 2021 - you will find your next favorite game for sure!), and politics, of course.   
Now, according to Reddit age demographics:
13. Back in 2019, 26% of Redditors are Gen Z.
(Source: Reddit Blog)
The user-driven nature of the platform seems to work like a magnet for younger generations. According to Reddit, 82% of Gen Z users trust the platform about new products and brands. 
Upvoting posts is fun and the relatively low average bounce rate of the website speaks for itself. Look:
14. In December 2020, the Reddit website bounce rate was less than 40%. 
(Source: SimilarWeb) 
Any website owner is releasing a deep sigh right now. If you're not familiar with what the bounce rate of a website represents - the lower the bounce rate, the more time visitors spend on your website. The bounce rate of a website like Reddit is more than spectacular in 2020. 
Now, according to Reddit user demographics: 
15. In April 2019, 15% of all male and 8% of female social media subscribers were Reddit users.
(Source: Marketing Charts)
In 2019, Marketing charts conducted a research and they published their results out of all the social media subscribers. So, according to the 2019 Reddit demographics, 23% of all social media subscribers are Reddit users between the age of 25-29 and 15% are Reddit users with a college or university education.   
16. Back in 2019, there were around 130K active Reddit communities. 
(Source: Reddit)
What are Reddit communities? Basically a Reddit community and a Reddit subreddit mean the same thing. The platform is topic-rich - just think of a thing you'd like to discuss with other people, or just read other people's comments on the matter and you'll certainly find plenty of content on Reddit. 
TOP Reddit topics 2020
Knowing what happened to the world in 2020, the following statistics can't possibly surprise anyone: 
17. In 2020, there were more than 50 million total mentions of COVID, COVID-19, and coronavirus altogether on Reddit. 
(Source: Reddit's 2020 Year in Review)

Image © Reddit Blog
The coronavirus pandemic is making us all browse the web for answers and it seems that Reddit is one of the best places to visit. People share their sources and help each other stay up to date with the latest coronavirus news on Reddit. If you haven't tries the COVID subreddits - here's the perfect opportunity to contribute to the topic. 
18. The top subreddit for February 2020 was /r/COVID19.
(Source: Frontpage Metrics)
In May 2020, the subreddit hit 200K subscribers, and in September - 300K subscribers. In July 2020, the subreddit was already one of the hottest trends on the website. Since the lockdown is not over, it's not likely that the interest in coronavirus will decrease any time soon.  
19. The most discussed topic on r/worldnews was COVID-19. 
(Source: Reddit's 2020 Year in Review)
Also, the second most discussed election topic on r/politics was also COVID-19. The pandemic got us all discussing, looking for more information and new discoveries about the disease that made the world panic. As it turns out, Reddit is one of the best places to visit regarding COVID. You will find all sorts of coronavirus subreddits and discuss the hottest topics with people from all around the globe.  
Let's hope for the best in the end of 2020. 
We're all in this together, after all!
20. In 2020, there was a 40.8% activity increase on r/politics.
(Source: Reddit Blog)
Reddit is known for the involvement of the community in politics. Of course, 2020 being an election year in the US the increase in community activity is quite self explanatory. 
21. The most upvoted post on Reddit in 2020 received 406K upvotes. 
(Source: Reddit's 2020 Year in Review) 
The post I've found a few funny memories during lockdown. This is from my 1st tour in 89, backstage in Vegas (via r/pics) by Rick Astley got the awesome 406K upvotes in 2020. Actually, when we wrote the article, the post already had 438K upvotes. 
Key takeaways
Are you ready to create your Reddit account if you don't have one already? Regardless if you're a Reddit fan or a Reddit newbie, the platform is there for you to join a community of people discussing all sorts of topics. In 2020, we need to communicate with more people more than ever - join Reddit and get started. Here's a summary of what you just read:  
430 million people visit Reddit every month. 
Most Reddit users come from the US. 
One of the HOTTEST Reddit topics in 2020 was COVID-19. 
Around a third of all Reddit users are Gen Z. 
Most Reddit users are male. 
We created TechACake.com so that we can write about what interests us most as web users. We create content hubs so it's easier to focus on different topics and create more than one piece on them. Visit us for more every week and have a look at some content not many people write about. 
Sources