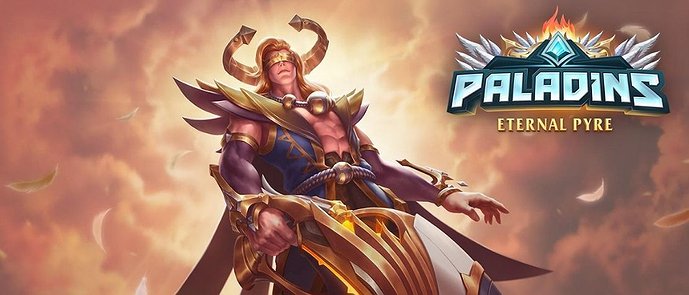 Paladins player count 2021 [Paladins vs Overwatch]
Last updated: April 11, 2021

Featured image © Paladins
The game is one of the most successful free-to-play shooter games of all time. Is Paladins still popular in 2021? The glory and popularity of Paladins can never even be compared to that of games like Counter-Strike or Apex Legends. However, check out the Paladins player count in 2021 and you'll see that the game does not lack a fanbase at all. 
We here at TechACake.com decided to shed some light on this video game and share with our readers the latest statistics. How many people play Paladins in 2021? Let's find out?
Paladins player count 2021
One of the great features of the game, besides being free-to-play, is that the developers update frequently. Unlike games like Overwatch, which feel completely abandoned by their owners, Paladins feels alive and active as ever. An update came up in February 2021 called The Eternal Pyre, so we have new content to enjoy. (It seems worth mentioning that the Battle Pass for The eternal Pyre is free, no need to make an in-game purchase.) Did you know that Paladins comes from the same publishers as the cool battle royale game - Realm Royale? According to the latest Realm Royale player count, around 1.7 people are playing the game concurently on Steam in April 2021.
In the meantime - let's see the Paladins stats. 
How many people play Paladins in 2021?
1. In April 2021, more than 19,000 gamers played Paladins concurrently on Steam.
(Source: Steam Charts)
Now, February 2021 was a dramatic month for Steam players. Early access for a game called Valheim was released and it went into the Steam top 3 almost instantly. According to the latest Valheim player count, 500,000 people played Valheim concurrently on Steam in the first month after the release. In April 2021, Paladins ranked #88 on Steam.
According to the latest Paladins player count statistics, the peak of Paladins players in the last month was 18,501. Paladins "Champions of the Realm" has a moderately stable audience in comparison to Overwatch. Back in 2018, around 40 million people played Overwatch. Paladins never reached such popularity ever. Now: how many people play Overwatch in 2020? We didn't find any stats from 2020 or 2019. The fact is that less and less people choose to spend their gaming hours with Overwatch in 2021.  
2. In April 2021, most Paladins players come from Brazil. 
(Source: Playercounter)
The game is popular in the Americas and Europe. However, 39% of all Paladins come from Brazil, according to the source. 
3. As of November 2020, more than 16 million people played Paladins. 
(Source: Gamstat)
Now this is impressive. The game has been on the video game market for more than four years now and more than 16 million gamers have played it in total. According to Gamstat, more than 14 million of them have earned at least one trophy. The popularity of the game has been decreasing slowly since the release. However, thousands of gamers are still interested. 
Paladins Steam Charts 2021
The game is relatively popular on Steam, it's even in the top 100 which is not something many games can boast with. They call paladins "the free Overwatch" for a reason - many gamers (mostly kids) who don't have the resources to purchase a high-end game like Overwatch, choose a free alternative and Paladins is definitely worth the shot. Here: 
4. Paladins is one of the top 100 most played games on Steam. 
(Source: Steam Charts)
It might not seem like quite the achievement if you only think about the games that are on the first positions. Like Counter-Strike for example. Have you seen the latest CS:GO statistics? They are quite astonishing, to say the least. Ats we updated this article, however, Paladins was #88 on the Steam Chart of top 100 games on Steam. 
5. The all-time peak of concurrent Paladins players on Steam as of April 2021 was 60,566. 
(Source: Steam Charts)
In November 2016, more than 60,000 gamers played Paladins on Steam. Paladins was initially released on September 16, 2016 and a month laters 60 thousand people were already playing it. 
6. The all-time 24-hour peak of concurrent Paladin players on Steam was 15,444. 
(Source: Steam Charts)
Paladins is not one of those games to attract millions of players but there are between 14K and 17K gamers constantly playing the game. 
7. Paladins has over 290,000 very positive reviews on Steam. 
(Source: Steam)
People who play the game love the game and we can see why. It's close to Overwatch and Team Fortress 2, but it's still a separate game loved by many fans.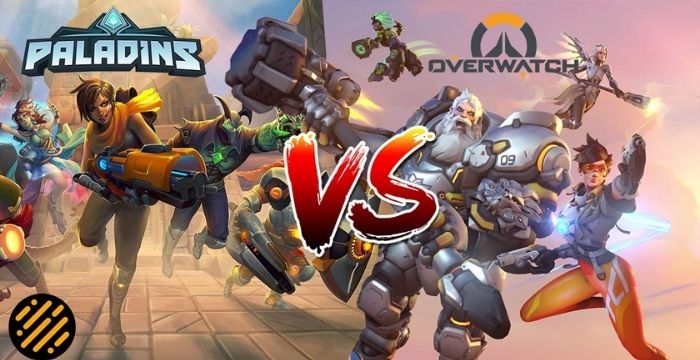 Image © Whatifgaming
Paladins vs Overwatch
In the light of the recent decline in interest, Overwatch seems to have exited the attention of the public. The creators have turned their backs to the first installment and gamers are doing the same as we speak. Currently, there are no relevant statistics on quality websites like Statista on the Overwatch player count. 
Our research led us to the bitter conclusion, that Overwatch is dead and people are turning their backs on it in search of Overwatch alternatives. One of them is definitely Paladins. We added Overwatch 2 on our list of most anticipated games of 2021 of course, and in all fairness, we are looking forward to the release. However, if we need to compare the existing Overwatch with Paladins, there are several things that need to be said right from the beginning. 
Both games have quality game modes. For Paladins those are Siege, Team Deathmatch, Ranked, and Onslaught. Overwatch offers seven of game mods - Assault, Control, Escort, Hybrid, Elimination, Deathmatch, and Capture the Flag. In terms of competitiveness, both games are loved by the public in 2021.
When it comes to design, both games look awesome but if we're keeping it real we should say that Overwatch has a slight edge over paladins. In terms of heroes: how many heroes are there in Overwatch? Currently, there are 32 Overwatch heroes, a very diverse little group. How about Paladins? There are 47 playable characters on Paladins in 2021.
To summarise: 
Overwatch offers 3 game modes more than Paladins.
Paladins offers 15 characters more than Overwatch.
Both games are competitive in a unique way.
Overwatch has a slight advantage when it comes to design.
Key takeaways
In 2021, there's between 14K and 17K players in the Paladins community and people are still playing this online hero shooter video game. It's close to Overwatch in appearance and gameplay but unlike Overwatch, the Paladins player count stays relatively the same over the last couple of years. In a Paladins vs Overwatch fight there is no winner so far. Each game offers a unique set of characters and gameplay, and who knows - maybe Overwatch 2 will really be something else!
Visit TechACake.com for more gaming content every week! 
Happy gaming, everyone!
Looking for a job as a Game Tester? You can find it on Jooble.
Sources