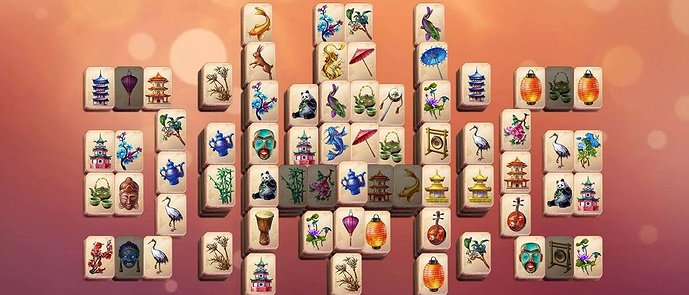 9 Best Mahjong apps 2022 [select your next favorite free Mahjong game]
Last updated: January 4, 2022

How long has it been since you played a beautiful and relaxing game of Mahjong? The classic Chinese tile-based board game became a widespread online entertainment in the 20th century. Nowadays you can see Mahjong tiles in all colors and with all sorts of images on them along with the traditional set of game pieces. (If you like Mahjong, check out also the best 2048 mobile apps - must-play!) Most of us play Mahjong on our smart devices and this is how we get to the question of the day: which is the best Mahjong app in 2022? Today, we'll find out!
There are so many varieties of the game that we here at TechACake.com decided to investigate. Which are the most beautiful Mahjong games in 2022? And what is the difference between them? If you have been wondering whether you need to start playing Mahjong again - this article is for you. We tested most Mahjong games both on the App Store and on Google Play and we came up with a list of eight best apps to share with you. Let's crack the list open: 
Best Mahjong app 2022
Before we start, let's make it clear that ALL the apps on this list are absolutely worth your time. Each user will like a different Mahjong app because of their age (arguably, some apps are more suitable for kids), level of proficiency with the game and personal preference. If you wish to know more about Mahjong, the history of the game and the meaning of the Mahjong tiles - we included a bonus at the end and will answer all your questions. 
And if you're craving more mobile games, you can always take a look at the best farming games 2022 - you will have a GREAT time with those for sure!
Some of the apps you'll see on the list are more beginner-friendly (and good for children to learn to play one of the best classic board games of all time). Other apps are more suitable for experienced Mahjong players of all ages so make sure you pay attention to the descriptions and decide for yourself. Some of them are vertically designed, others - in a horizontal layout. How to choose the best for you? YOu'll know it when you see it! Here we go: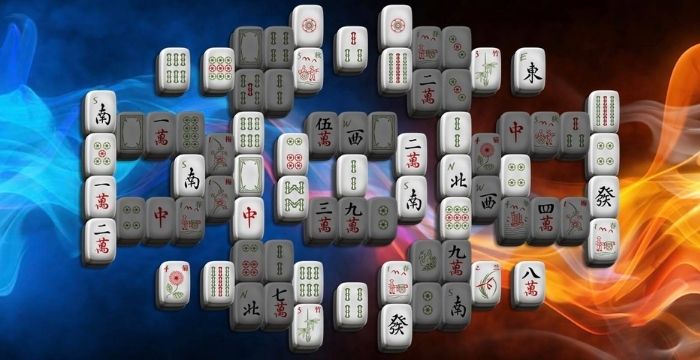 Mahjong Epic
This is a beautiful mobile version of the classic Mahjong game. (See featured image.) The app is feature-rich and very customizable - it offers a good variety of backgrounds and tilesets. There are several options from the settings to choose from - for example, you can set the app to show the time while you're playing Mahjong or to show the free tiles and the number of matches left. We recommend this Mahjong app to more advanced players who are looking for a personalizable app with beautiful visualisations. 
One of the best things about this game is that people can choose the level of difficulty they want to play. With many of the other free Mahjong games on our list, you need to start a journey and the more you play - the more difficult the games become. There are 1525 free Mahjong boards to choose from in Mahjong Epic. If you want even more boards - the in-game purchases include several packs of 200 boards each. 
The tiles are beautifully designed and users can choose the color and the set of images on them. Personalizing your Mahjong board is always fun! Mahjong Epic keeps the score of the user's complete boards, their progress, and gives rewards for each completed board. It's a must-play free online Mahjong game for users of all ages but we recommend it to more experienced players.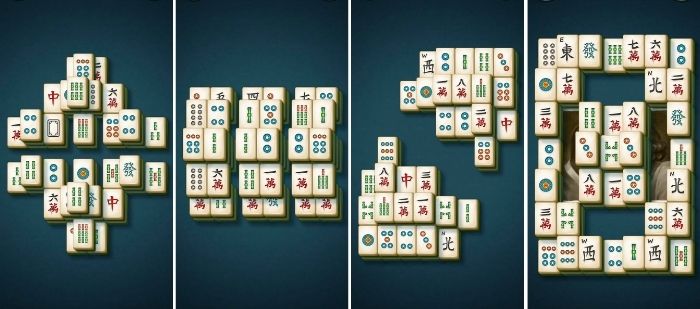 Mahjong Crimes
This Mahjong app offers players a high-paced game experience with a mystery solving element. The 3D graphics feel like you can actually touch the tiles. Now, if you are an experienced Mahjong player you might not like the easy levels at the beginning but the app is definitely worth your time because of the visual effects.
The game is divided into rooms with famous detectives in it and several levels inside the room. You start with Agatha Christie's Poirot waiting for the Orient Express to solve another mystery. Whenever the player completes another Mahjong board - the detective makes a move forward. It's actually pretty charming, if you're a fan of thriller and mystery fiction.
The layout of the board and the tiles stays the same at all levels and rooms, the only thing that changes is the difficulty level. In other words, the app is not very personalizable but the quality of the graphics and the speed of the gameplay makes it worthy. Mahjong Crimes offers powerups and gives you a hint the moment you spend more time without making a move. From a certain point on, some of the tiles on the board start appearing face down like the famous game Memory. Players need to open a pair of tiles, memorize them, and then they will close again until they are matched with the correct tile. Fun!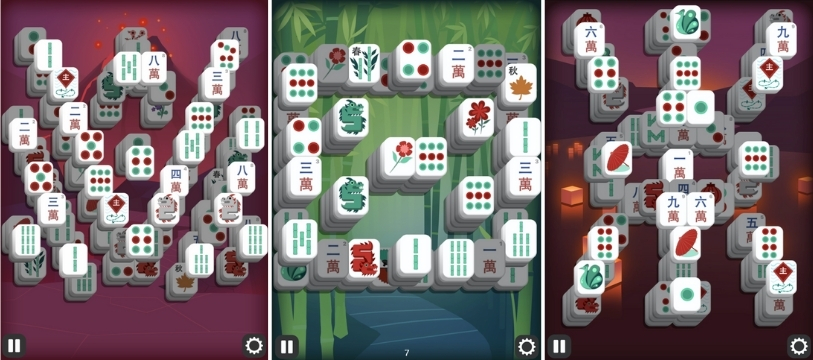 Images © Gamego
Mahjong Master Path
This is one of the best Mahjong apps on the market in 2022: beautiful graphics and fast gameplay are just some of the best features of this app. It's a super relaxing app and offers a one of a kind ASMR experience. If you feel stressed and out of your comfort zone, this app might be just what you need - a calm and relaxing puzzle to help you relax and meditate for a while.
Unlike other Mahjong apps, players of Mahjong Master Path will have to "walk the path" so to speak and complete each and every level before they go to the next one. And that's actually pretty awesome! There's no shortcut unless players are willing to pay real money for it. In other words, unlike other apps where you can skip levels and play whichever level you fancy right now, here you have to follow the natural order and feel the satisfaction from completing new levels.  
Enjoy your break with an excellent and challenging game of Mahjong!
If you want to personalise the Mahjong games you play, this Mahjong app is not for you. Mahjong Master Path offers just one set of Mahjong tiles and they are pretty awesome. The app is so beautifully designed and fast-paced that you won't even need to customise it. The gameplay is challenging from the very first Mahjong puzzle you'll play and things will not get easier with time. The Mahjong tiles in this app are incredibly well designed even if you get only one set of tiles.
There are so many free Mahjong games online, it's not easy to choose, is it? Try the next Mahjong game we recommend if you're looking for more than just a board game: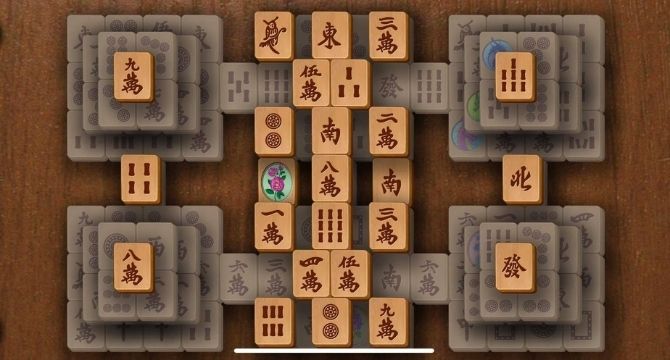 Mahjong!!
If you're looking for a more traditional Mahjong layout - this Mahjong app is for you. No matter how simple this app might seem at first, Mahjong!! is actually one of the best Mahjong games on the market. It's simple and easy to get started with and the layout is perfectly classy. One of the best things about this app is that users can choose which level of difficulty to start from. In other words, you can just choose a level you wish to complete out of all the available boards.
In terms of customisation, the game has few features to offer. Players can choose between a modern and retro style of visualisations which for some reason makes no difference for the board layout. Users can personalize the Mahjong tileset - there are 10 styles to choose from. Other than that you can choose to keep or remove the shadows of the tiles, to add a timer or not, to have zoom in the beginning or not. 
Enjoy a free Classic Mahjong like never before!

Mahjong Deluxe 3
Nothing says 'modern' like a 3D Mahjong puzzle. The Mahjong Deluxe 3 feels a bit futuristic with its gorgeous backgrounds, challenging puzzles, and beautiful tile design. The graphics make this app one of the absolute best Mahjong apps of 2022.
Now, the game offers 8 levels of difficulty and the great thing about it is that gamers can choose to either start at the beginning and go through each individual level so they have solved them all or choose to skip levels and always play a random level. Not every Mahjong Deluxe 3 board offers a 3D view of the canvas. The 3D puzzles are the final 30 boards to complete and they offer an awesome gaming experience. 
You will LOVE the 3D Mahjong if you're up for a challenge!
The game is not very customizable in terms of background of the boards and tile images. However, each of the 8 levels of difficulty has a different design and it makes all the difference for the player. One more thing before we move on to the next Mahjong game: we recommend this app for users with tablets or smartphones with larger screens.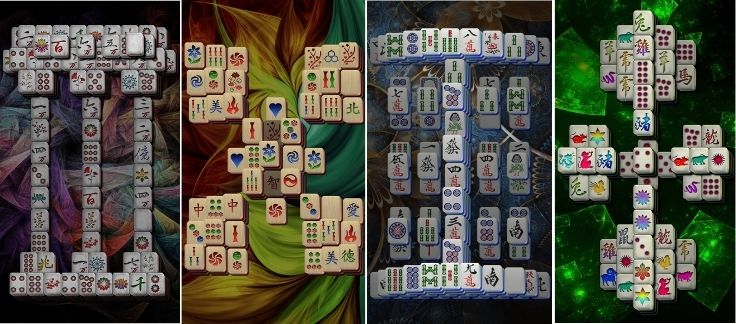 Mahjong Master
This Mahjong app is a well designed fancy-looking one which offers users a unique Mahjong experience. In Mahjong Master you can enjoy a traditional Mahjong board as well as some modern designs. The background of the boards is personalizable as well as the Mahjong tiles - you might think that this is a feature of all Mahjong apps nowadays but unfortunately it isn't. 
The high-quality tile art makes this app one of the most popular Mahjong apps on the market in 2022. Play Mahjong online with this app and spend some time customizing it after every game. 
There are 11 categories to choose from and players can start a category randomly, but only the first game (out of 15) is open at the beginning. They need to unlock the rest. After the traditionally-looking boards, users can choose between boards that look like plants, signs, letters, buildings, vehicles or numbers. Regardless of the shape of the board though, players are up for a treat - the game is very well designed, quick-paced, and stunning.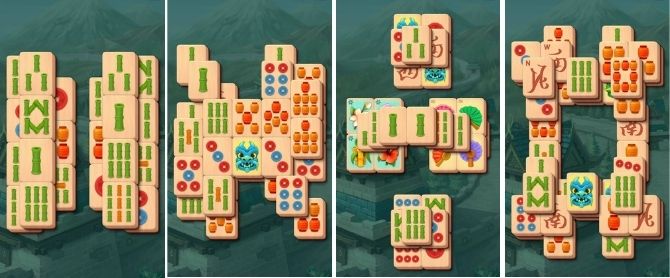 Mahjong Journey
If you want your kids to start playing a game which will not only improve their concentration, but also their patience, memory and strategic thinking - one of the best options is Mahjong. Students in different parts of Asia practice Mahjong and compete against each other in classic tournaments of the board game.
This Mahjong app is definitely kids-friendly - it has a very low learning curve, starts with a small Mahjong board and gradually walks the player through the basics of the game. Compared to the other games on the list, this one is not very customizable, users can't choose a different board background, and the game offers a limited amount of boosters. On the other hand, it feels like a Candy Crush game - players have to complete a level in order to go to the next. The game is definitely challenging enough for young Mahjong players!
However, it's well worth the time of anyone who wishes to start a Mahjong journey - especially younger players. The app is very colorful and offers a wide variety of puzzles - each more difficult than the last one. Players collect achievements and special accomplishments throughout the game, the tiles are adorable and easy to match which makes it perfect for more inexperienced players.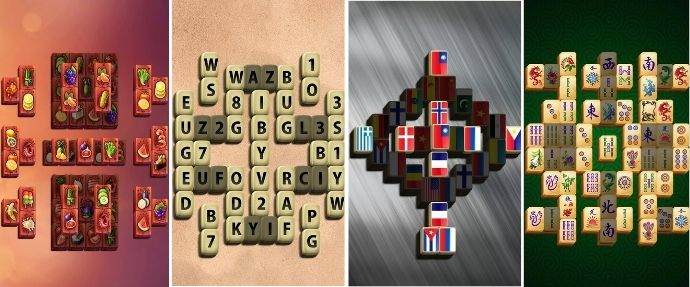 Mahjong Titan
If you wish for something more modern, diverse, entertaining, and let's say it - more fun, this is the Mahjong game for you. The cool ways to personalise your board and tiles at Mahjong Titan makes people come back for more. You can always choose a new style to fit your move today or to spice things up - you know why? 
When you start playing with a set of Mahjong tiles you've never played with before you start playing slower because you're not accustomed to the images on the tiles and discovering a pair becomes more difficult. It's also a great exercise for the brain. The vertical layout of the game makes it perfect for playing in bed before you go to sleep - not every player is comfortable with a horizontal layout. And some of us prefer it in any case. (If you prefer to tip your phone and play horizontally - try Mahjong Epic - they are very similar.)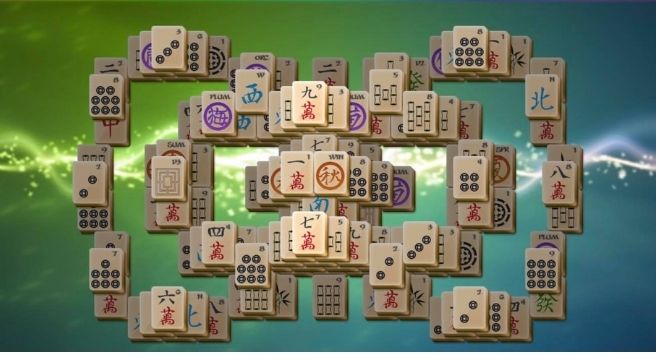 1001 Ultimate Mahjong
Here's another Mahjong app for more experienced players who like to personalize their experience. This stunning take on the classic Mahjong game will help you experience the unique gameplay as never before. You can personalize the game with the 40 beautiful backgrounds and 5 sets of tile images. (By the way, if you're looking for more awesome classic games, check out our page on How to play GO online. It's a must-play if you're into games like Mahjong, Chess, or Go.)
This game is not so high-paced as Mahjong Crimes for example, but it feels a bit more meditative. The app will highlight the available tiles and the graphics when you match a pair are just magical.
Now that we saw the 9 best Mahjong apps, it's time for the bonus: we'll dive in the meaning of the Mahjong tiles. How many types of tiles are there in the classic set and what do the images mean? Here we go: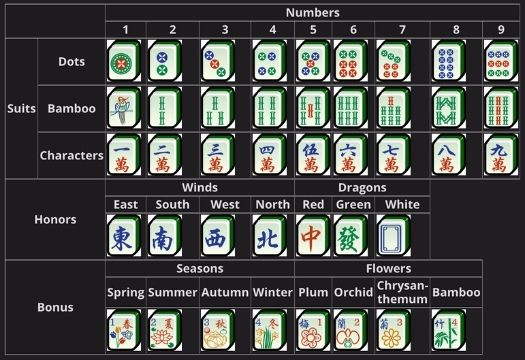 (Image credit - Wikipedia)
BONUS: Mahjong tiles meaning
The Mahjong rules are fairly simple - you need to tap on two identical tiles to remove them. Bare in mind that this applies for the mobile versions of the game though - the classic Mahjong is quite different and more complicated. In the mobile Mahjong apps, the number of tiles depends on the level of difficulty and on the design of the board. 
Now, the classic beard game Mahjong set contains 136 or 144 tiles. Mobile apps of course do not abide by that rule. Users can personalize their tile design with something more contemporary (like fruit, or letters, or flags, etc.). However, we'll discuss the traditional set of Mahjong tiles. 
We believe that in order to understand the game better and play it with more knowledge of what each individual tile means will enhance your Mahjong gameplay. Now, we're here to talk about the different Mahjong tiles - have a look at the image above and you can see the different sets of images. (We'll use the image for reference later.) Here we go:
There are three types of Suits - Dots, Bamboo, and Characters. The three Suited Tiles are based on money/currency - they range from 1 - 9. In other words, the three types of Suits are the numbers from one to nine. Dots and Bamboo are pretty straightforward. The difficult part for people who don't speak Chinese is to distinguish between the Characters so you can match them. But with training comes routine - the more you play the game - the more you'll be able to make quick matches between the three categories of Suits. In the traditional Mahjong board game - there are 36 tiles of each Suit, making this the largest part of the total tiles.
After that you can see the Honors which are divided into two categories - Winds and Dragons. The Winds are Chinese characters - usually painted in blue or black depending on the design of the game and they basically represent the four points of the compass (North, South, East, and West). The Dragons are Red, Green, and White (without any marking). In the traditional board game, there are 16 Winds tiles and 12 Dragon tiles.
And last but not least, come the Bonus tiles - Seasons and Flowers. In the traditional game there is only one set of each making them the rarest Mahjong tiles in the game. Now, Season tyles are quite self-explanatory - Spring, Summer, Autumn, and Winter. Flower tiles however, are more peculiar - they are plum, orchid, chrysanthemum, and bamboo (in that order.)
Now you're all set and ready to start playing Mahjong like a pro. Good job!
Wrap up
The classic game Mahjong is still very popular among mobile gamers of all ages worldwide. In the 21st century we play all kinds of games on our smart devices and Mahjong is of course, no exception. Today we showed you eight of the best Mahjong apps 2022 to start your journey and enjoy the game the most. Choose the Mahjong app you liked the best and get started!
Visit TechACake.com for more awesome lists of the best games in every category every week!