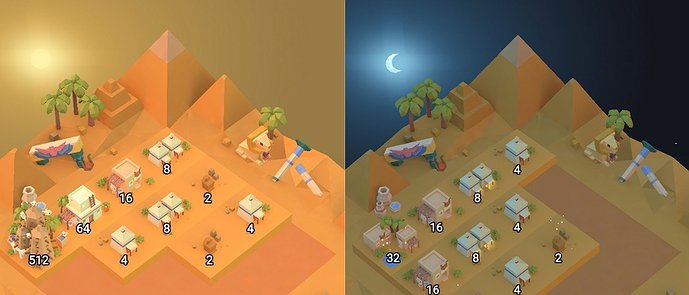 7 Best 2048 mobile apps 2022 [best ways to play 2048 online & on mobile]
Last updated: September 16, 2022

This number game has conquered the hearts of many gamers all over the world. The 2048 video game was released back in 2014 by the web developer Gabriele Cirulli and in 2022 there are more NEW ways to enjoy the game as ever. In the spirit of the best Mahjong apps 2022 we decided to have a go at the best 2048 mobile apps. Or maybe you'd like to play 2048 online? We'll cover it all. Come on in!
We here at TechACake.com LOVE 2048 and we're always on the lookout for new and exciting ways to play the game. Once you are familiar with the 2048 rules which are fairly simple, you can have SO MUCH FUN with 2048 that you'll rediscover this 2048 addiction you once knew so well. For those of you who are new to 2048: after you read this article you will have everything you need to know about 2048 and more! 
Let's start playing:
Best 2048 mobile apps 2022
In general terms, there are two types of 2048 mobile apps - those with traditional and some with unconventional design. We have included both on our list - discover the best 2048 mobile app for you in 2022. All the 2048 games we're about to show you are free-to-play, so feel free to try out all of them until you find the winner! 
There are many classic versions of the game on the App Store and Google Play but we decided to up our game and show you the most unconventional and awesome 2048 mobile apps 2022.
We're going to start with our absolute favorite 2048 app: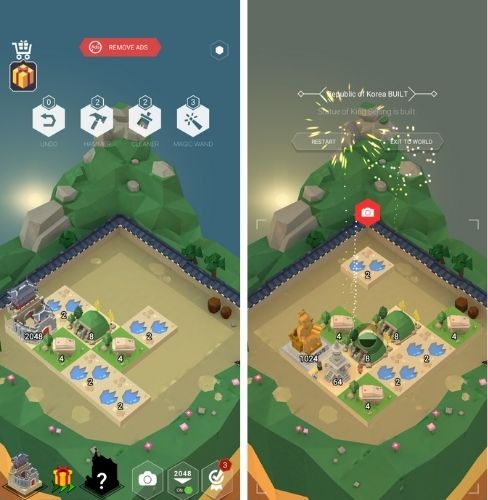 Age of 2048: World
A number game with images? 
It might seem weird but it's totally cool and unexpected! 
This is one of the best 2048 mobile apps 2022 - it's beautifully designed and compared to other 2048 apps you can call that one feature-rich. The mobile app offers eight maps to play on - Egypt (see the featured image), USA, China, United Kingdom, India, Japan, France, and Republic of Korea. Users can play three levels of difficulty on each map - beginner, expert, and master. One of the best features of the game is that once you unlock the beginner level of one of the maps you can go to the next map. Also, the game has a cool day-and-night cycle which adds up to the awesome experience!
There are several tools available in the game (e.g. 2048 undo which is rare in 2048 games) - you get several of each when you get started and then you need to earn them as you keep playing and completing levels. Players can choose whether to keep the tile values on or not but at least in the beginning it's best to keep playing with the tile values so you don't get confused. 
You'll have a wonderful time with Age of 2048: World - it's a must-play!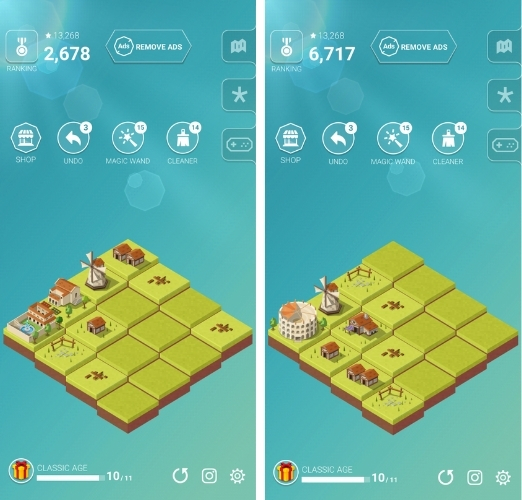 Age of 2048
Isn't it awesome that we can enjoy a cool numbers game with images in 2022? We recommend you get to know the rules with the classic 2048 layout before you update to an app with images but after a certain point you'll be fine.
Unlike 2048 World, here you need to master all the stages of one level before you can go to the next one. But the cool thing is that this app also has a 2048 undo! The standard 2048 4x4 grid is diversified with the images of fields and fences, smaller and bigger houses, windmills and mansions. (You can also try 2048 Tycoon - a 2048 app with similar graphics.)
One thing is for sure:
Once you start playing Age of 2048 you won't be able to stop!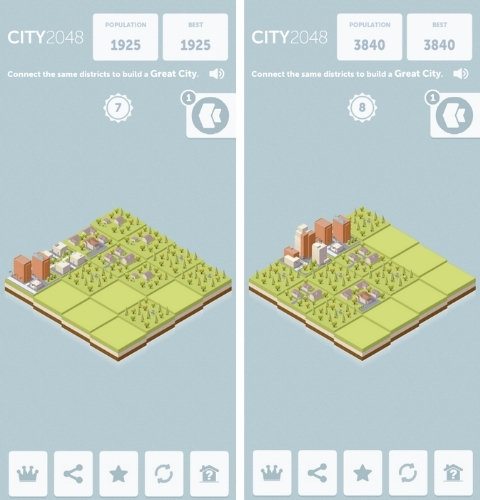 City 2048
This 2048 app definitely feels more minimalistic and easy on the eye - the color scheme is less intense and the gameplay is smooth and relaxing. The game feels similar to Age of 2048 but with absolutely different tiles. 
If you've never played a 2048 game with images instead of numbers before, it might feel a bit disconcerting at first. However, after several games you will start enjoying this type of 2048 more than the classic version. And if you want to stick to the traditional layout, here are two of the 2048 game apps to test and enjoy: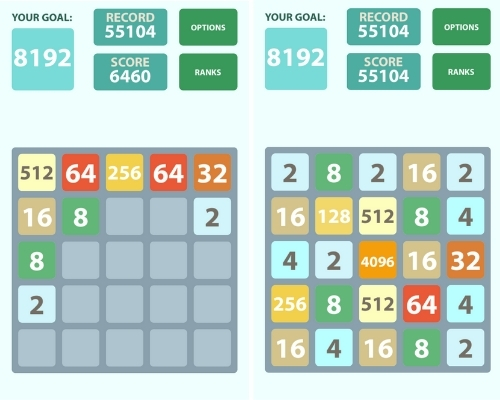 2048 5x5
Let's spice things up with a 2048 5x5 - the classic 2048 grid might become a bit boring and limiting at a point. And if you prefer the classic 2048 game with numbers instead of images - this is a perfect way to have some diversity in a number game. 
Is there a big difference between the classic 2048 4x4 layout and the 5x5? In general terms, no - the gameplay is the same and the color scheme depends on the mobile app you choose to download. However, players have the chance to score higher numbers with the 2048 5x5 which is only logical - more space means you can play longer and you can slide bigger numbers together. 
This mobile app sports awesome colors which are quite different from the classic ones and it's really high-paced. As you may know, the more you play 2048 - the more addicted you get. However, bear in mind that with the 5x5 layout the game can last a long time so you might have to divide a single game in several sittings.
If you're interested in more 2048 games with the traditional layout but with a twist - you can try 2048 alphabet. It's the same gameplay only with letters instead of numbers. Have fun!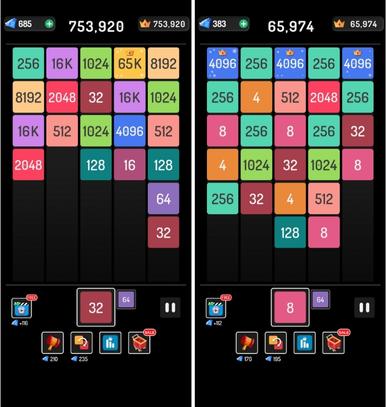 X2 Blocks
This 2048 app feels appropriate for advanced players. Blocks appear from the bottom of the screen and the player gets to know the current and the next block number at a time so they can plan ahead. The app presents us with a new and fresh take on the classic 2048 game and is quite challenging. We can say that X2 Blocks is a unique blend between a match and merge game and 2048 (check out the best match and merge games 2022 if you're looking for more games like 2048). Enjoy!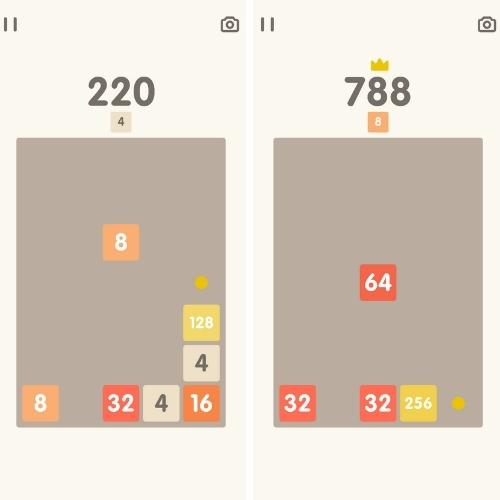 2048 Bricks
In the spirit of looking for unconventional takes of the classic numbers game, this 2048 mobile app combines the mechanics of 2048 with the falling elements of Tetris. It's actually better than it sounds - the numbers that can come down are not only 2s and 4s which definitely spices up the gameplay. In 2048 Bricks, you can get a 64 coming up from the top (see the image above). 
In this 2041 variation, there is an automated element - players only swipe right or left in order to give direction to the tile that's currently falling down and tapping to bring the tile to the bottom of the field. The game itself will do all the adding for you which adds another unexpected element to the 2048 gameplay. If you're looking for more games like 2048 Bricks, try X2 Blocks - Merge Numbers 2048. As you can see, the tetris element there is inverted - the blocks/numbers "fall" up instead of down. 
If you're interested in 2048 games with larger grids, you can try 2048 Multi - 8x8, 6x6,4x4 tiles in one app! It offers the classic 2048 design with larger boards.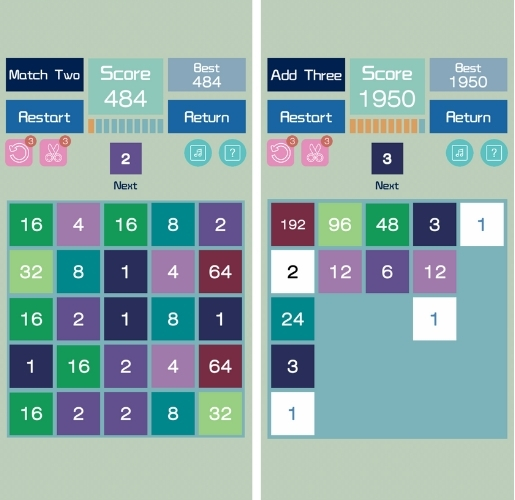 Crazy Plus
Speaking of unusual 2048 mobile apps, the Crazy Plus 2048 app is quite what the name suggests. There are eight game modes for users to choose from and each of them has a unique set of rules. It will take you some time to get used to the rules of each Crazy Plus game and in a way we can say that there is definitely a steeper learning curve for some of them but in general all eight modes are quite enjoyable. 
Another weird feature of the 2048 (match two) game is that not only is it a 2048 5x5 but the field is full all the time and you merge the numbers on the go. (See the left image above.) We added Crazy Plus to the list of the best match 2 games today because of the diversity of gameplay. Only one of the modes might be considered a true 2048 game and even it's slightly different from the classic 2048. 
This is one of the things that makes this 2048 game app more challenging - you need to come up with an updated 2048 strategy. However, once you get the hang of it you'll be able to spend hours in the game for sure. In a way, Crazy Plus might be considered one of the best games like 2048 because of the various modes the app provides. 
Speaking of match two games, make sure to check out our list of the best match 3 games 2022 - maybe you'll find your perfect match there! 
Games like 2048
Nowadays, you can find 2048 variations in other mobile games. For example, there is a 2048 game in one of the best farming games in 2022 - Klondike Adventures. Wait, what's a number game doing in a farming game? Good question. In Klondike you need energy to play and there are several ways to get more energy from different machines in the game. The so-called Sweet Shop is a place where you can play their version of 2048 once every five hours and gain energy and experience points. Check out our Klondike Adventures guide for more information about the game - we included a detailed 2048 guide as well!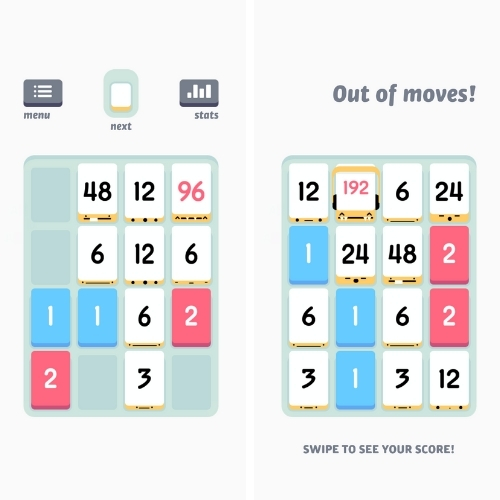 Threes!
Same principle, slightly different rules. The puzzle video game by Sirvo is kind of the older version of 2048 although it was released the same year as 2048. It never became as popular as 2048 of course.
Threes! still has a free version you can play in 2022 if you'd crave some diversity. The rules are quite straightforward - one will only add with two, and the rest of the numbers add with each other only as in the classic 2048. Trust me, it is a challenge!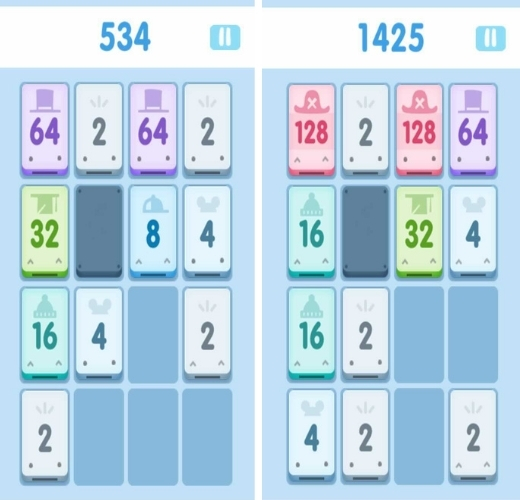 1024 - best brain
No, there are no zombies involved, just numbers. If you wish to introduce a younger player to the game - this 2048 app is one of the more suitable choices. It's a slow-paced game with a twist - one of the tiles on the 2048 board is always inactive so you need to play around it. It's actually more difficult than it sounds.  
If you're an advanced 2048 player, we don't recommend this game because of the slower-paced gameplay. The more proficient player you are, the more you'd crave a faster game with a smaller board - challenge accepted!
Where to play 2048 online?
I'm so glad you asked! There are SO many ways to play 2048 online that you won't believe you ever wondered what to do with your free 5 minutes. EVER! Try the classic 2048 with the traditional 4x4 grid if you feel like going back to basics. There's nothing wrong in enjoying a stimulating video game during your free time and 2048 is one of the best options - the game is both challenging and good for the brain. 
The series of doubling numbers is actually a dopamine goldmine, according to scientists. A quiet game of 2048 increases the levels of dopamine which boosts pleasure and decreases stress. This is one of the reasons why the game is so addictive. Did you know that there is more than one 2048 Chrome extension on the Chrome Web Store in 2022? People are constantly looking for new ways to play 2048 online - we're here to help you find the best 2048 games in 2022. 
ALL 2048
If you want to play 2048 online, visit ALL 2048 right away. You will find every kind of 2048 game you can possibly wish for. Seriously! You can also create your own 2048 4x4 game and upload it on the platform. Here are some of the hottest games we encountered on ALL 2048:
You're in for a treat (and you can also play those on your phone of course)! Browse the website for more of the best 2048 games in 2022!
BONUS: best 2048 strategy
Despite the intimidating appearance of 2048, the game is quite simple once you get the hang of it. Regardless of the layout you have chosen or whether you play with numbers, letters or images, you need to follow several easy steps and you'll be able to play 2048 as much as you want. You can start a 2048 game and read on as you play.
First rule of thumb is: keep the top row blocked at all times. What does that mean? Store your largest numbers on the top row (e.g. left to right: 32, 16, 8, 4) and keep it busy so you can play with the three or more lower rows. This way you will be able to merge tiles together from (attention!) right to left. 
Next thing to pay attention to is the direction of your scrolls. How to do that? If you keep your upper row blocked, you can easily scroll left, right, and up. Never scroll down because you will fill your upper row with smaller numbers and once you do that you have lost the game. 
Try those simple rules and you will get those 1024, 2048 and higher numbers every time!
Wrap up
Now you know the best ways to play 2048 online - there are several tried and tested websites which will surprise you with new and exciting 2048 games and layouts every time you wish for something new. You can also install a 2048 Chrome extension and play directly from your browser or create your own 2048 game from scratch. 
Which of the best 2048 mobile apps did you find the most irresistible? We recommend you try Age of 2048 and start playing with images if you've never done that before. It's so refreshing! Enjoy your 2048 games, everyone!
Visit TechACake.com for more mobile games every week!