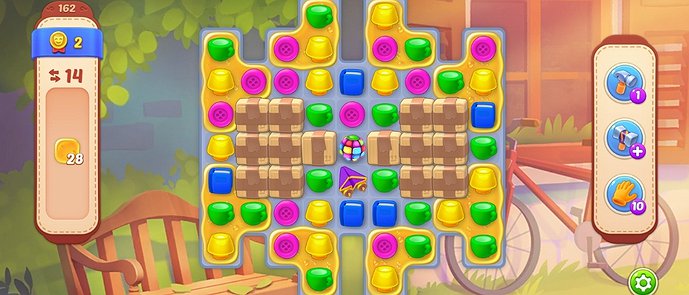 9 Best match 3 games 2022 [discover the best games like Candy Crush]
Last updated: January 3, 2022

Since the immediate mega success of Candy Crush, many people are looking for different games with similar gaming experience. For example, you can try some of the best match and merge games - they are challenging, exciting, and FUN! However, it's not that easy to find the best match 3 games which would satisfy that craving for a quality mobile puzzle game. Stay tuned and you'll find the best games like Candy Crush 2022 today!
We here at TechACake.com love (!) match 3 games and the time has come to share with you our best picks of the category. People don't get addicted to this kind of mobile games for nothing and our team had a really hard time deciding on the best 8 match 3 games. We included screenshots from each game so you know exactly what the levels look like. (If you're looking for more mobile games, check out the best Mahjong apps 2022 - those beautiful Mahjong games are the perfect entertainment for a summer's eve!)
Best match 3 games 2022
The best games like Candy Crush will keep you busy for months! Which tile-matching video game is right for you? You will find your perfect match in this article for sure! Nowadays, most of the best match 3 games have a backstory or a secondary gaming experience to enjoy in between puzzles. 
However, you will find all sorts of games on our list - with or without a backstory, fast-paced and slower ones, match 3 games to play in one minute, match 3 RPG, suitable for adults and/or best for kids. Without further ado, let's see our first choice: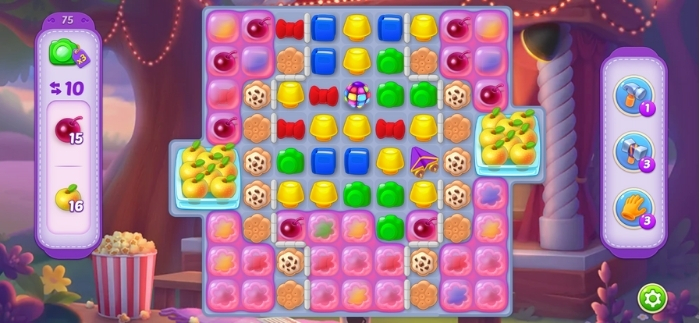 Homescapes
Homescapes is a famous free-to-play game like Candy Crush by Playrix (the same company that gave us one of the best farming games ever - Township!). The game combines life-simulation gameplay like The Sims with traditional match 3 puzzles. Homescapes was released back in 2017 as a follow-up of the successful Gardenscapes and in less than two months after the release the game was downloaded 35 million times with 9 million monthly active users. In 2022, Homescapes remains a classic match 3 game on the mobile gaming market. 
The protagonist of the game is called Austen, the Butler. He is on a quest to do a complete makeover of his parent's mansion and to be honest - that looks like a handful at the beginning. 
In order to complete tasks in the mansion you need to gain points from completing match 3 games before. The creators have included many festivities in the game - there is not a point where you're not involved in one or more special occasions. You can of course play the game as casual puzzling, but the app offers way more than that!
Homescapes is feature-rich as a life-simulator and match 3 mechanics. Soon after you start completing levels with moderate difficulty you'll find yourself more and more challenged with every new level (what you see in the featured image is level 162 and we can honestly say that it was not easy getting there!). 
Are you looking for more games like Homescapes? Design Masters is a very good alternative of course. But we need to include Gardenscapes as an honorable mention here - an alternative to Homescapes which feels a bit more juvenile and outdated to be honest. We see Austin and his efforts to restore the glamour of a fabulous mansion garden and the scope of his efforts are all up to the player - the more you play, the better the garden looks. Nice!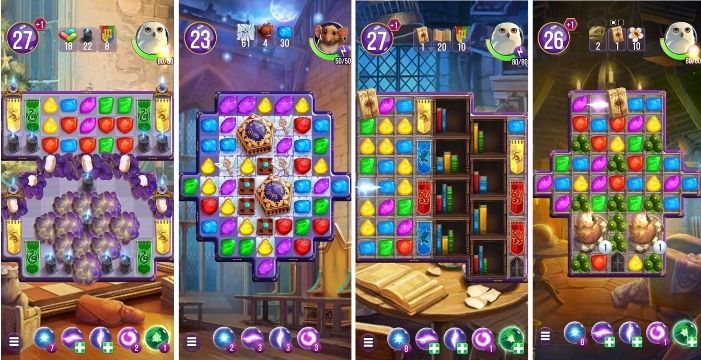 Harry Potter: Puzzles & Spells
If you are a Harry Potter fan, then this match 3 game is simply a must-play! It's free-to-play, feature-rich, beautifully designed, with more than 1,000 levels so far and many challenges on the side. Have a look at our Harry Potter: Puzzles & Spells guide and get to know the game better. You are in for a treat!
Although the game has much of a backstory - the Harry Potter series, it is focused on puzzles and the further you go - the more feature-rich the puzzles get. As a compliment to Harry Potter fans, this match 3 mobile app includes casual encounters with Hogwarts professors and beloved Harry Potter characters who help you along the way. Speaking of characters, did you check out the best Harry Potter LEGO sets 2022 for more awesome HP goodness? Spoiler alert - the new Harry Potter LEGO sets are AWESOME!
We can never have too much of Hogwarts so why not try a Harry Potter-themed match-3 game which will definitely blow your mind. Prepare yourself for Chocolate Frogs and Every Flavor Beans, challenges from Hogwarts professors, trapped Marauder's Map, and numerous seasonal festivities. Christmas at Hogwarts is a feast you don't want to miss!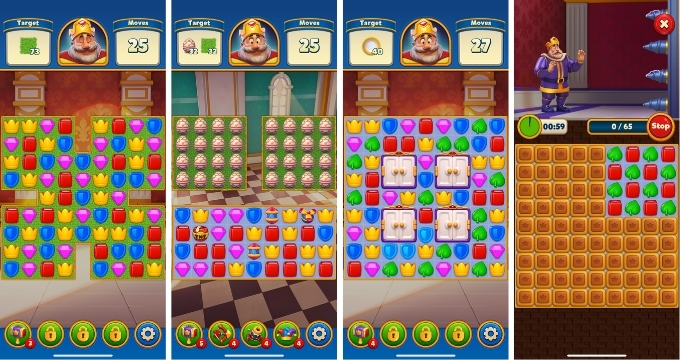 Royal Match
This is one of the match three games with most features on our list. Royal Match is a free-to-play mobile game which is not only beautifully designed but also offers a super fast-paced gameplay. It's also one of the best games like Homescapes because of the decoration subplot but here instead of renovating players get an empty room or park and they have to play match 3 puzzles to gain experience points and use them to add furniture/equipment. When they're done with one room they quickly move to the next.
The game is called Royal Match because players basically help the benevolent-looking King Robert restore his castle. There are so many features we loved about this game that it's difficult to list them all. Besides the regular match 3 levels, every once in a while players get a unique puzzle game called The King's Nightmare. And you have exactly 60 seconds to solve it otherwise the king's bad dream gets real. It's quite a challenge and we just loved the adrenalin that came with it. 
The Royal Match boosters are quite ordinary in the beginning of the game. There are the classic ones we know from Candy Crush and Jelly Splash (and all the games that followed) - bombs (TNT), horizontal and vertical arrows, a light ball. There are several newcomers as well - a Jester's Hat that shuffles everything on the board, a Cannon which clears all objects in a column. An Arrow does the same as a cannon only horizontally, and a Royal Hammer which clears one object only. 
Players can also win a Butler's Gift - they start the game with several boosters from the King's butler which makes things easier for a while. The obstacles in Royal Match are quite challenging - royal eggs and royal dishes need to be removed in order to complete the level. Overall, it's a match made in royal heaven!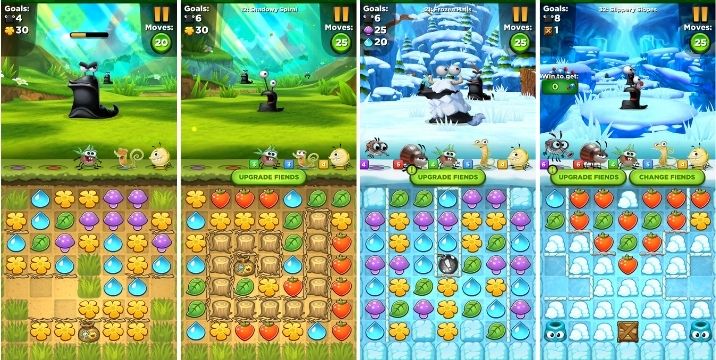 Best Fiends - Puzzle Adventure
Best Fiends is a beautifully designed match 3 adventure game which features five bugs of different colors who fight malevolent slugs. (The slugs have infested the bug territory and you need to clean it in order to survive.) The game is easy to play and feels quite meditative. Of course, after a certain point the levels become challenging and all of a sudden players start running out of moves very quickly. 
Unlike other games like Candy Crush, Best Fiends is fast-paced and has a good side story as well. The monsters you encounter are charming in their own way and even the bugs feel friendly and adorable. Currently, there are more than 4,000 Best Fiends levels and more than 100K people play Best Fiends worldwide. 
How to play Best Fiends? The mechanics of the games are quite straightforward: when you make combos on the puzzle one of the five bugs you have equipped charges against the evil slug that stands in front of you. The five bugs are from different colors. The bug that attacks is from the same color as the tiles you have matched. 
Unlike the classic match 3 games, in Best Fiends players have to unite all the matching tiles together instead of just moving one tile to make a combo. The better combos you make - the more damage your opponent takes.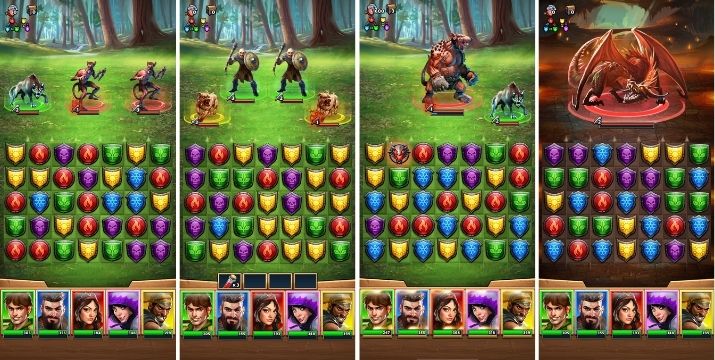 Empires & Puzzles Epic Match 3
Empires & Puzzles is one of the best match 3 RPG of 2022. The game combines fighting monsters using combos from the match 3 game - it's a hoot and a half! The more puzzles you complete - the more difficult it becomes to get through the monsters and eliminate the bosses. If you're a fan of role-playing games and have a thing for puzzle games - this match 3 puzzle is for you!
Defend your empire and fight monsters while you enjoy a match 3 puzzle. This mobile app offers a unique experience as a match 3 RPG - each game is divided into waves of attacks (just like at Best Fiends). The final one is facing a boss with several other smaller monsters you need to take down with the combos of your puzzle. And it goes without saying that the better the combos - the more damage you do on your opponent.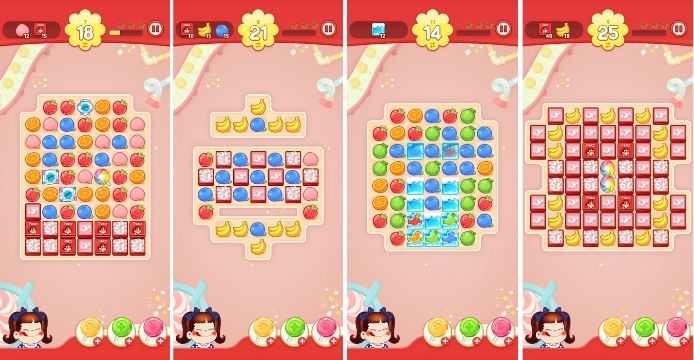 PEKO POP: Match 3 Puzzle
This match 3 puzzle used to be featured at App Store's as Game of the Day and there was a good reason for that. Don't let its somewhat less appealing design mislead you - PEKO POP offers users fast-paced challenging fruit games like Candy Crush which would keep you up at night. There is no side plot in this game - only puzzle solving which is all some players crave. The satisfaction of a quality match 3 game is just awesome!
Match the fruit tiles and eliminate the milky bars or icy cubes. There are more than 2,000 levels of the game and it becomes very challenging at quite the early stage. PEKO POP offers a more or less traditional fruity match 3 gameplay with candy bars and awesome match 3 combos. 
A must-play for everyone who craves a fast-paced match 3 game in 2022.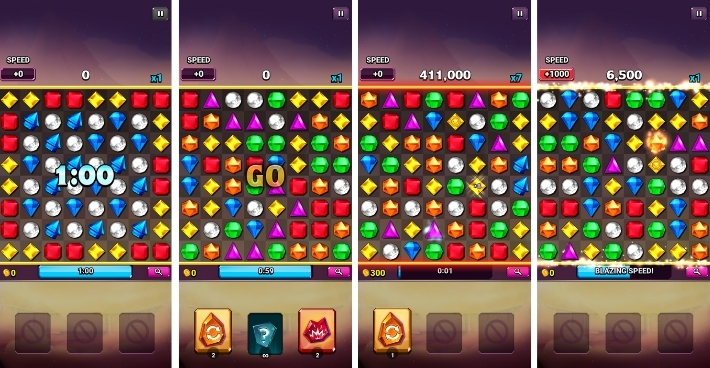 Bejeweled Blitz
If you're looking for a more traditional match 3 game then Bejeweled Blitz is the perfect match for you. The sparkling enchantment of Bejeweled Blitz is undeniably quite captivating. This is the only game on our list for which players have a time limit (one minute) to finish the match. The more tiles you match under one minute - the better your final score.
Bejeweled is one of the oldest and best match 3 games ever - the first game of the Bejeweled series came out back in 2001 (yes, it's been 20 years since then, can you imagine that?). Bejeweled players can't take their time and think their next move through. Instead - you need to make as many matches and better combos as possible in the time you have left in the match.
Download Bejeweled and have a great time with an awesome match 3 puzzle!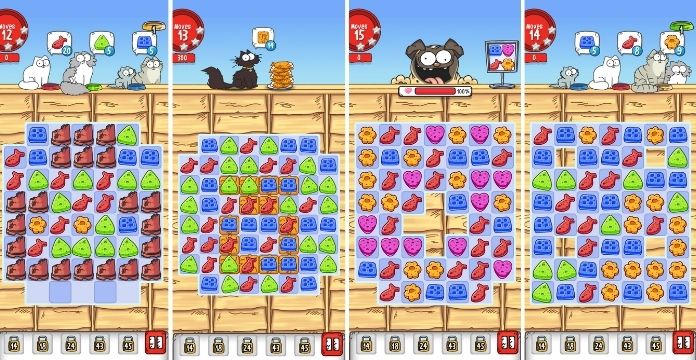 Simon's Cat - Crunch Time
Simon's Cat - the animated web cartoon and book series, is here with an awesome match 3 game for us, everyone. The tiles in this one are shaped as (wait for it) tasty treats - those little rascals always demand more food. 
The objective of the game is to feed the hungry kitties, obviously. Each of the cats on the top of the screen shows the number and color of the treats they need. And you need to collect the treats in the required quantity in order to complete the level.
This tile-matching game offers a unique design and gameplay experience. Challenge yourself with a puzzle game that will have you smile at the well-fed kitties and try ingenious ways to provide for them. Try Crunch Time and win some tasty treats for the kitties in the game - they will definitely thank you for that.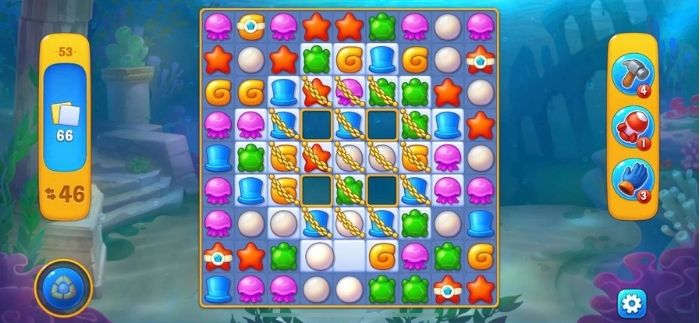 Fishdom
Fishdom is one of the best match 3 games in 2022 even if it was released back in 2008. It's suitable for kids and adolescents based on first impressions but regarding difficulty it gets challenging fast enough. 
Fishdom players get a Home fish tank and as they keep playing they open new tanks which they need to decorate and fill with exotic fish. The fun part is that the more puzzles you solve - the more special items you win so you can decorate your aquariums. 
Watch it - at some point your tanks might become super overcrowded with items. And don't forget to feed your fish, they won't thank you for it. 
Wrap up
Some of the most popular mobile games on the market are tile-matching puzzle video games. There is hardly a person who doesn't know about Candy Crush or Jelly Splash or who hasn't tried to play any of those games. They are addictive and challenging, well-designed and people just can't get enough of them.
Today we shared with you our selection of the best match 3 games 2022 along with some exciting homemade screenshots of each game. Some of them sport an awesome backstory to enjoy along with the puzzle games (Homescapes, Harry Potter: Puzzles & Spells), some are more fast-paced puzzles-only match 3 games (Bejeweled Blitz, PEKO POP), and there are some which made their way to our list quite unexpectedly (Best Fiends, Crunch Time).
Which are your favourite games like Candy Crush in 2022? 
Visit TechACake.com for more awesome mobile games every week!