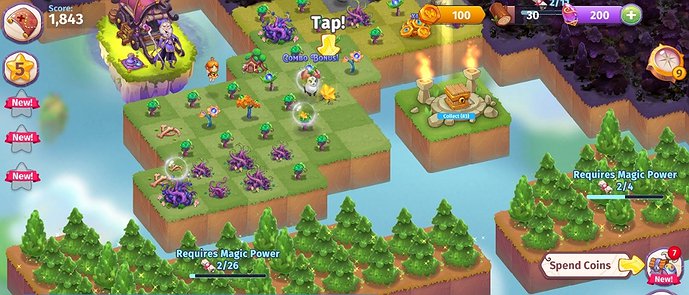 8 Best match and merge games 2022 [which free match and merge mobile apps are worth your time?]
Last updated: January 8, 2022

Have you tried a match and merge puzzle game? Maybe you've already grown so accustomed to the best match 3 games that you need a new PUZZLE to entertain you? We're here today so you can discover one of the latest trends in mobile puzzle games and find your new favorite mobile app. Let's try something NEW & EXCITING in 2022, shall we? 🥳
So, today is the day we finally get to merge games and let me tell you - the genre is better than we thought before we started researching the topic. Mobile games are a soft spot for us here on TechACake.com and we'll keep playing them and reviewing the best of any category for our readers. You can find all sorts of mobile games on our website so make sure you check out the Mobile category on your way out - there are SO MANY options for you to pick from!  
What are merge games?
Merge games are a trend in mobile gaming 2022. They focus on combining items of the same kind together to create a more complex item and merge it afterwards. There are basically two types of merge games: 2D puzzles which take place on a board and they function as match 2 puzzles and 3D puzzles where the player needs to merge three or more objects together. 
Match and merge puzzles are some of the best games like 2048.
What is 2048 and how is it related to match and merge games? 
2048 is a wonderful puzzle game which goes like this: 
You match two numbers or images of the same kind together so you make the higher number or image. The same goes with match and merge. Make sure you check out our selection of the best 2048 mobile apps of 2021. The famous 2048 is not one of the most popular puzzles these days but there are so many INCREDIBLE free 2048 mobile apps to try out that we made a separate article about them.  We also added some strategy tips & tricks and the best ways to play the game online. 
Best match and merge 2022
As we said, there are two types of match & merge games: 
The vertical ones are focused on redecorating or city renovating projects. They take place on a 2D board which is more often than not a tool shed with all kinds of items to match. The gameplay is basically a match 2 puzzle. 
The other types are 3D match and merge games which are set in a fantasy land where players need to match 3 or more of the same items together to create a better one. 
Now, let's start merging:
Merge Mayor - Idle Village
This is my absolute favorite match and merge puzzle mobile app I have put my hands on. I literally couldn't stop playing Merge Mayor for months! 😎
Creating a big metropolis out of a small village is always a challenge - the game is immersive, feature-rich, and a gaming session can last for quite long if you know how to increase the energy resorts. 
Enjoy a merge city building simulation game with Merge Mayor!
How to play Merge Mayor?
Transform a village into a large city area.
Merge industrial objects and fruit/pastry together on a board.
Complete tasks by creating the objects needed.
Level up faster by merging experience points together before you accept them.
Store the items you don't need on the board in the Inventory.
Increase your inventory with the diamonds you collect.
Open boxes of loot and take advantage of the rare objects inside (and merge them…)
This is our biggest recommendation on this list and there are a million reasons for it. Playing mobile games is so much more than it used to be just a decade ago - the moment you have a spare minute or two you can just enjoy a meditative mobile game and come out refreshed and with the satisfying feeling you achieved something. 
And Merge Mayor will provide you with so much more than just a puzzle - it's a strategy game (the board is limited and you need to decide which objects to keep, which ones to sell or store in the inventory).
This game is absolutely the kind of game that will provide you with a few well-spent minutes of merging and making strategies - it's sort of a life simulation (but not in the sense of a farming game) and a match puzzle at the same time. 
Games like Merge Mayor:
Merge Mansion (scroll down for the review)
Merge Matters - Design Home (Homescapes meets Merge Matters)
Merge Life (endless interior design for baby room - weird but feature-rich)
Merge Bakery (scroll down for the review)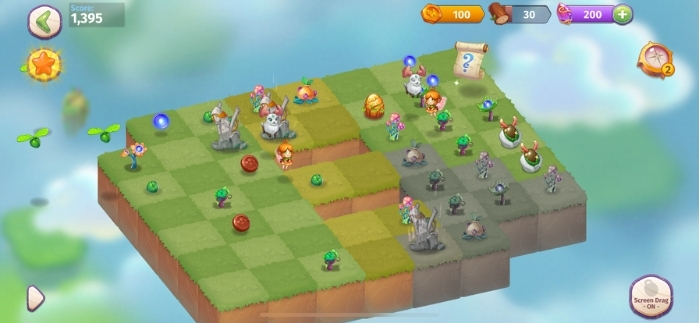 Merge Magic!
In this gorgeous 3D match & merge game, players get to combine items like eggs, trees, stars, enchanted flowers, and exotic creatures together. Merge Magic offers an amazing experience and a fast-paced gameplay. Unleash the magic power of the realm by merging the most items together!  
So, you have a master map where you need to open new territories (see the featured image of the article) and smaller maps where you have to complete quests (see the screenshot above). Whenever your creatures are asleep in the master map you can go and play in the smaller maps. It's kind of neat - you don't have to stop playing all of a sudden. 
This is one of the best games like Merge Dragons to try in 2022. You start by merging magical eggs together  - they hatch and you get a flying creature to help you with the cursed land. The goal of each quest is to lift the curse and merge the broken mythical idols together.
Don't forget that your creatures need some nurturing at the end of the day!
Games like Merge Magic: 
Merge Dragons! (the most popular merge game - scroll down for the review)
Mergical - Fun Magic Merge Game (beautifully designed - scroll down for the review)
Sea Merge! (underwater merge adventure - scroll down for the review)
Merge Mansion
Merge Mansion is a famous match and merge app which combines renovation gameplay with a match and merge puzzles. It's like the famous match 3 mobile app Homescapes but with a different puzzle. Merging two objects together to make a better object is more entertaining than you'd think!
How to play Merge Mansion?
Basically you work in the shed and merge objects on a board. It is possible to run out of space on that board at some point, just like in Merge Mayor. If this happens - select an object you consider less useful than the others and sell it (upper right corner - you'll see a coin and a number, click on the yellow button). Or store it in your inventory. Collect the right items and renovate the mansion! 
The design of the game is somewhat lacking - the objects we see in the shed are (frankly said) a bit boring to work with. The other reason is that no matter how much you renovate the garden and the mansion - it still looks like it needs a lot more grooming. Take Homescapes for example where the difference between the before and the after is quite visible. 
Games like Merge Mansion:
Merge Matters - Design Home (Homescapes meets Merge Matters)
Merge Makeover: my dream home (users merge furniture to improve home design)
Homescapes (redesign and match 3 - a must-play)
Merge Decor: Home Design Game (merge and decorate)
Merge Life (endless interior design for baby room)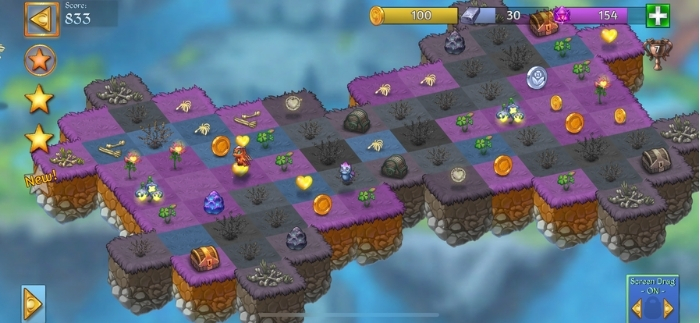 Merge Dragons!
This is one of the most popular merge games on our list. Merge Dragons is an exploration game with a fun merge puzzle twist. When you start each of the merge games we talked about today, you need to pay attention to the items that are available to merge (some of them are locked at the beginning of the game and you need to use your dragons to create a healing potion for them). And of course, the 3D graphics of Merge Dragons are one of the best on our list of merge games today!
As with most of the other match and merge games, with every Merge Dragons level you'll have to complete a quest (some of them have a time limitation which adds up to the fun) and you need to be aware of the quest completion requirements before you start. Merging 3 or more of the same items has never been more fun!
Games like Merge Dragons
If you are a fan of Merge Dragons and you wish to experience other games with similar gameplay - try EverMerge, Merge Magic, and Fantasy of Atlantis. The three games are free-to-play, the graphics and gameplay are quite similar to Merge Dragons with several differences (e.g. boosts, rewards, maps, color palette, and creatures), and the gaming experience is just so incredibly satisfying.  
EverMerge - Merge and Match!
Dragon Home: merge games
Merge Magic!
Fantasy of Atlantis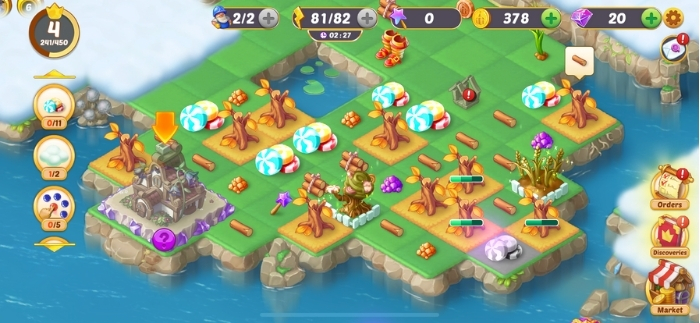 EverMerge - Merge and Match!
The game is part match & merge and part world building. Expand your map by merging items together, gathering crops (yes, in a way EverMerge feels like a farming game but it's quite different in terms of gameplay), and designing your kingdom. 
The game may start a bit slow but soon after you've got the idea of what's supposed to be merged together you'll start seeing the challenge more clearly. It's a must play for every fan of a good puzzle. In EverMerge players need to merge things like trees, houses, tools, and crops together to complete quests and open new lands. The goal of the game is to lift the fog from the cursed territories by combining identical items together.
Games like EverMerge:
Mergest Kingdom
Fantasy of Atlantis
Merge Forest
MergeCrafter - Magical World
Dragon Magic - merge games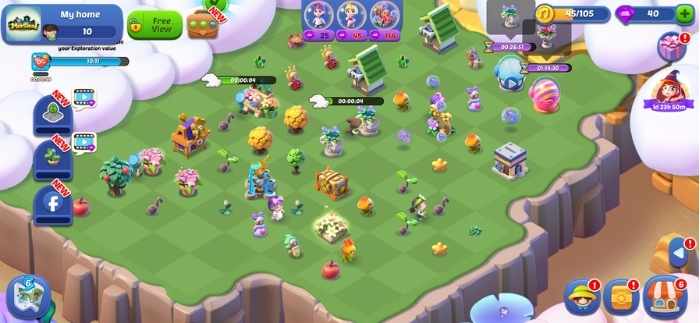 Mergical - Fun Magic Merge Game
This match & merge will take you on an adventure! Mergical is a beautiful and fun-to-play merge puzzle (which always features an event to keep players coming back for more). 
As you can see from the screenshot - there's a lot going on on the board of Mergical. You're on a magical island with magical plants and creatures you need to merge together to create the better ones. Discover a lost world of mystic creatures, magical items hidden in chests, and clouds blocking unexplored territories. 
The gameplay is more exciting and feature-rich than many of the match and merge games we tested - it's fast-paced and the designers of the app really knew what they were doing.  
Solve the puzzle, unlock new territories, and start merging again!
A must-play!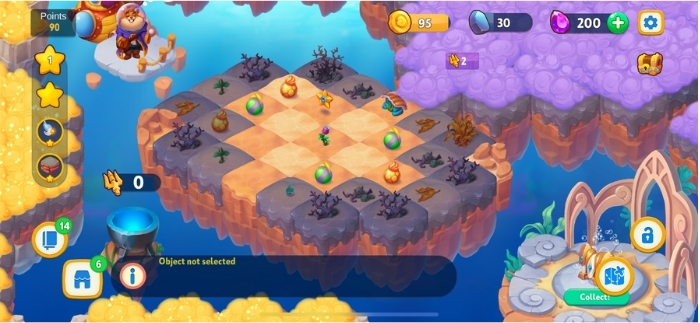 Sea Merge!
Sea Merge is beautiful and dynamic and the gameplay is way more complex than it leads on. Some 10 minutes into the game I was so hooked I couldn't stop playing for more than an hour. The ocean-themed merge game is set in a fantastic underwater fish kingdom with beautiful ancient magic and marine creatures. There are cool objects to merge - from seeds, seaweed, and water plants, to fish eggs and coins. 
The graphics of Sea Merge are better than most merge games we tried and combined with fast-paced gameplay the game quickly became one of our favorite mobile games of the year. 
The mechanics of the game are easy to get used to - you merge the same object together to create a new and better object. Sea Merge is a beautifully designed match and merge game - a must play if you're up for a challenge.
If you're looking for a game which will keep you playing for more than just a few minutes before you run out of energy or game coins - Sea Mege is for you. There are always new territories to unlock and new fish to produce Drops of Purity for you. 
Games like Sea Merge: 
Mingle Farm
Merge Animals
Mergical - Fun Magic Merge Game
Merge Bakery
What an unexpected and addictive pleasure that was!
Merge Bakery looks like one of those games only children play… Think again! Several minutes into this game and you're hooked and can't stop playing! Merge Bakery is also one of the best cooking games of 2022 (make sure to check out our list on your way out - we had SO MUH FUN with those cooking games!)
You're in a bakery with clients in the background and several plates with pastry in the foreground. The goal is to merge pastry together so you make the next (the baked goods are numbered by type so you can get the progression easily - just like in a 2048 game). 
Once you start merging waffles to make pancakes you won't be able to resist the urge to serve each customer in time. 
It's a wild ride!
Which are the best match and merge games 2022?
Merge Mayor - Idle Village
Merge Magic!
Merge Mansion
Merge Dragons!
EverMerge - Merge and Match!
Mergical - Fun Magic Merge Game
Sea Merge!
Merge Bakery
Wrap up
Which merge game did you choose to start with first in 2022? We recommend you try at least two or three mobile apps from our list so you can experience the beauty of this new video game genre. All the apps on our list are free-to-play so you can try as many as you like. 
If you're looking for a new take of a match 2 game - try Merge Mayor and Merge Mansion. They are beginner-friendly and good for more seasoned players at the same time. For those of you who want to experience one of the games like Merge Dragons we recommend a beautiful match and merge like Merge Magic and EverMerge. 
Have a great time matching & merging, everyone!
Visit TechACake.com for more awesome mobile games every week!