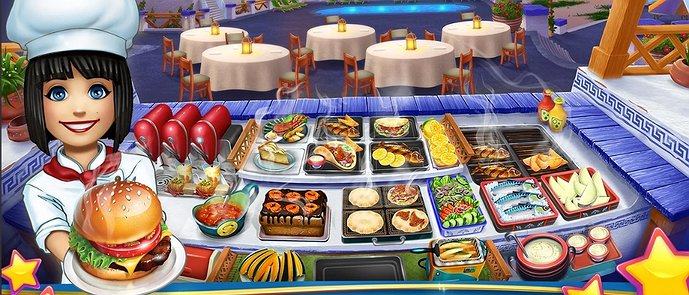 9 Best cooking games 2022 [which free cooking apps are worth installing?]
Last updated: January 9, 2022

Featured image © Google Play
Cooking games are a great way to teach kids (and adults) time-management and multitasking. They are challenging, feature-rich, and so much fun! Just like the best infinite runner games, cooking games might be an old video game genre but they are also super trendy in 2022 - millions of people prepare virtual dishes every day on their smart devices. Today, we'll share with you the best cooking games 2022 - grab a virtual apron and let's get cooking! 🥪
Cooking simulators are so much FUN…  🍔🍰🍕
Now, we're not talking recipe apps here - TechACake.com is all about tech & gaming, so we're going to share with you the best cooking apps for mobile devices in 2022. The best cooking games for kids might actually teach them the names of different products and the ingredients of dishes. All the games on our list today are free-to-play so you can try as many of the cooking games we review as you like. Maybe all you need right now is a quality cooking video game to distract you. It might even become a favorite mobile game of yours! 
Best cooking apps 2022
Which are the best cooking mobile apps 2022?
We're here to find out: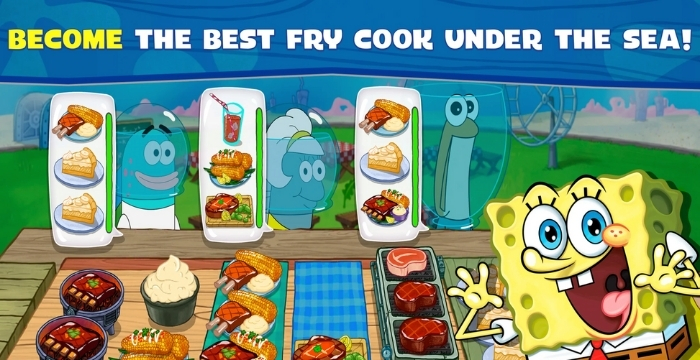 Image © Google Play
SpongeBob: Krusty Cook-Off
This mobile game is a winner:
In 2020, SpongeBob: Krusty Cook-Off won Google Play's Users' Choice Award.
With more than 10 million installs on Google Play alone, it's definitely one of the most popular cooking games ever and there's a good reason why we chose to start our list with this app. 
Meet SpongeBob SquarePants and all your favorite characters from the 1999 animated comedy TV series - Patric Star, Squidward Tentacles and many others are here to help you COOK! They are discussing restaurants and menus and the best ways to make pancakes…  There's all sorts of food players can cook in this game but of course, pancakes are a featured dish!
At the beginning of the game, there are not many orders in your restaurant so you basically have enough time to prepare everything and to choose the proper decorations. One of the first things players need to do is to upgrade the kitchen. Go to the Barg'N-Market where you will find everything that you can upgrade and keep in mind that the panmaker and the coffee machine are most important at the beginning. You also need to prioritise upgrading the quality of the jams, coffee and the fresh fruits for decorating. It's important.
Don't keep your clients waiting!
Complete limited time events, dress up your chef, fry steaks and burgers under the sea - this cooking simulator will have you play for hours. Once the customers start falling from the sky - the cooking party gets started! 
Can you handle numerous orders and provide your customers with fast service? SpongeBob: Krusty Cook-Off offers a one-of-a-kind experience for fans of the cartoon as well as for cooking enthusiasts. A must-play!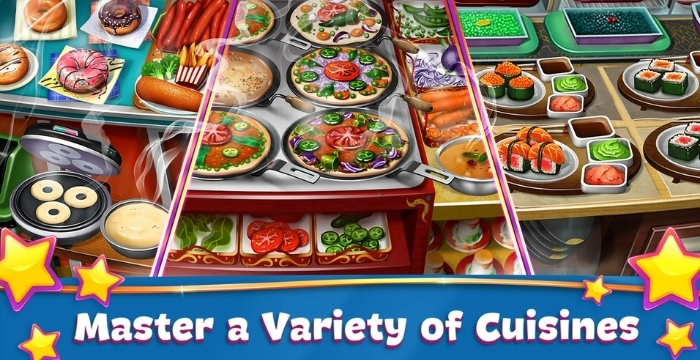 Image © Google Play
Cooking Fever 
This is easily one of the most popular cooking games of 2022 - it has more than 4.6 million installs on Google Play alone. The diversity of meals you can prepare for your multiple restaurants in Cooking Fever is just astonishing! 
From sushi and various seafood meals to a juicy New York steak with asparagus (yum!) - the game has it all. In other words, if you're looking for a really diverse mobile cooking game - this one's for you. You'll definitely have an amazing mobile gaming experience with this app.
Some of the best features of the game include the diversity of cuisines (there's literally every kind of restaurant you can think of), the amazing design and vibrant colors, and the challenging game pace. Once you get started you'll feel the adrenaline and the more you play - the more customers will come to your restaurants. 😱
At the very beginning of the game you are going to be guided by a professional chef, who'll show you around the map of all the restaurants in the city. The first restaurant players get is a classic fast food place, you know - burgers, hotdogs, french fries and a nice cold Coke. Clients are coming and going at a fast pace and players need to be prepared to work hard for their orders. 
As the game progresses, players need to invest their accumulated game currency so they can purchase new restaurants. In this type of cooking game, players need to juggle between cooking and managing the business. Completing levels and working in different restaurants is so much fun - this game will have you play for hours.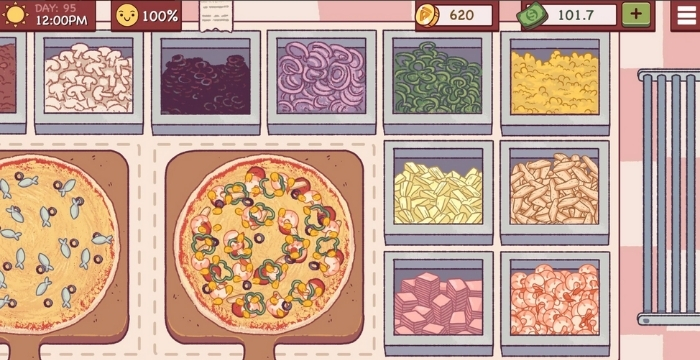 Image © Google Play
Good Pizza, Great Pizza
How much effort goes into preparing a pizza for a customer? If you love pizza or you have always wanted to own a pizzeria - this is your chance to shine as a master pizza maker. 🍕 🍕 Good Pizza, Great Pizza is one of the most popular pizza games in 2022 - it's oddly satisfying and difficult to master. In terms of design, you can see that this cooking simulator sports a different kind of graphics which is actually unexpectedly satisfying.
The premise of Good Pizza, Great Pizza is that you need to take the orders form your clients, prepare the pizza exactly as they wanted and of course, make profit from your sales. When your clients receive their pizza they will rate your performance in the form of percentages. (e.g. if players did well, they'll get 80% or higher.) 
Remember that the client is always right!
So, you enter the game, you open a restaurant and you're immediately introduced to the competition across the street. Clients will come and ask for a specific kind of pizza… and sometimes they can be pretty mean when they rate you as a chef. (They'll say stuff like: "You're lucky I'm hungry cause this looks terrible." 🤣)
Players need to constantly update their list of ingredients (mushrooms, olives, and sausages should be added to the list) as well as kitchen appliances. Using extra products for making your customers happy can cost you a bit more than the tips you will receive. The more pizzas you make, the bigger the chance to earn more money (or to lose money, depending on how good a manager you are.) 
As you progress in the game, it might happen that you can't make a pizza because you lack the ingredients or the proper kitchen appliances. Focus on profit - it will help you level up faster and easier. 
Pizza games are always demanding but this one is extra challenging - keeping your customers happy with too many ingredients on their pizzas will leave you penniless in a week. And please help the homeless person who will come regularly to your restaurant - being kind and generous is so rewarding!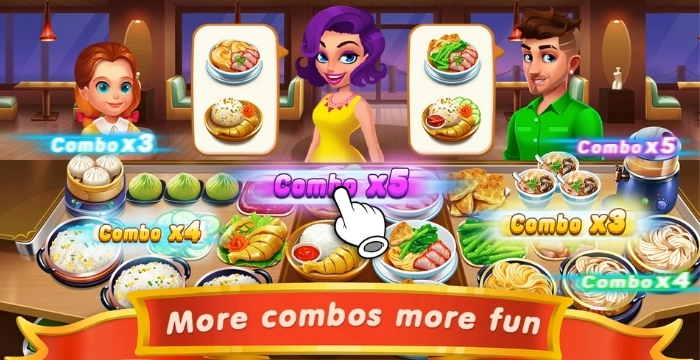 Image © Google Play
Cooking Sizzle: Master Chef
Would you like to travel to Paris, France and start making traditional French dishes for the locals? 🥐 🥐 Nothing could be easier - install Cooking Sizzle: Master Chef and enjoy! This is one of the very best cooking mobile games of 2022 and there are so many features that players just love about this app. 
The game starts fairly simple and slow but of course - after a while the crowd becomes bigger and bigger. Opening a new restaurant with a completely different menu is always a challenge - especially when it comes to upgrading kitchen appliances. As you complete a level you receive a golden key - when you get 15 of those you can start a new restaurant. Yay!
If you're new to the world of mobile cooking games, this app will help you ease into it with a flying start. It's set in France - the city of love and romance but also of legendary cuisine, coffee, and wine. The developers of Cooking Sizzle: Master Chef have selected the very best of French cuisine for the menu - there's croissants and pancakes, seafood dishes and delicious desserts. There are  different locations as you progress in the game - focusing on different cuisines of course. But if you're looking for a free cooking game with a really extended variety of dishes, you can try Cooking Fever - it's amazing!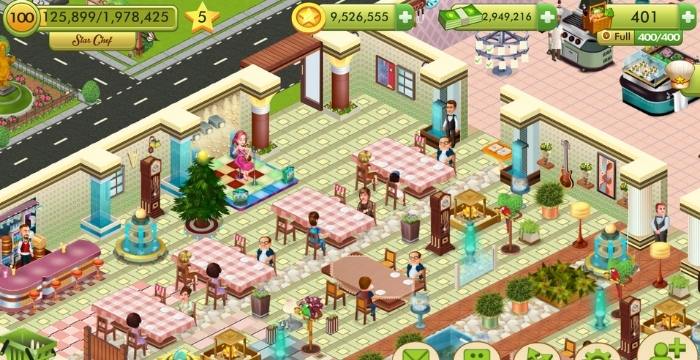 Image © Google Play
Star Chef 
This online cooking simulation game offers a different cooking experience - the app visualises a restaurant seen from above so the player can keep a good look at the tables and customers. Star Chef is one of the best cooking games for kids - it's educational and fast-paced, it provides kids with the names of many ingredients and various dishes, and it's also very fun to play. 
Join a team of chefs and prepare amazing dishes for your customers!
Star Chef has been downloaded more than 5 million times on Google Play alone - mobile gamers definitely love the game. At the beginning you get one restaurant with not many customers and a backyard with a farm where you have to grow the vegetables for your kitchen. It's not a farming game, though. But if you're looking for the best farming games of 2022 - have a look at our list. There are some very exciting and addictive farm games you can try. 
So at the beginning you'll grow mushrooms and tomatoes. No worries, there's also a supermarket you can always rely on for dairy products and meat. Make sure you use fresh ingredients for your dishes. Having to take care of your ingredients yourself is actually great for younger players - managing the kitchen supplies could be an excellent teaching opportunity.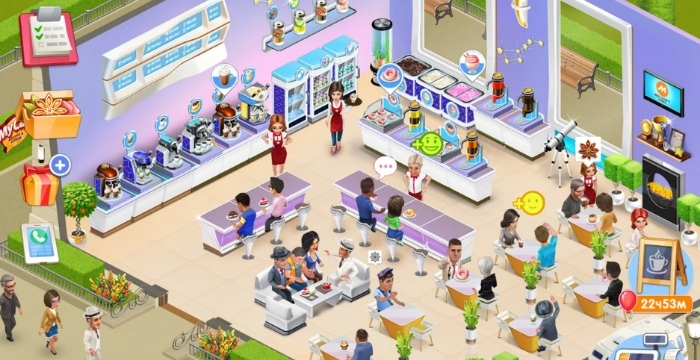 Image © Google Play
My Café - Restaurant Game. Serve & Manage
What is the most common reason for going to a cafeteria? Meeting people for a chat, or enjoying a coffee in your spare time, or just spending some time alone. Let's see things from another perspective now: what would it be like to manage a café? My Café is a mobile cooking game that looks a lot like the one of the best life simulation games. We see the characters from above and in that case - serve them food and drinks. ☕️ Cool!
Designing your place is an important part of this cooking game - players can choose kitchen appliances, equipment, furniture, and decoration from a digital store and pay with gaming currency for them. You can also choose how to decorate the exterior of your cafe - like we said, it's a lot like a life simulator (e.g. The Sims).
Unlike other cooking games, this one features a café instead of a restaurant which is great because we're all about diversity in mobile gaming. Prepare yourself to be absolutely slammed with orders - latte, espresso macchiato, and all kinds of desserts (cupcakes, cheesecakes and… ice cream 🍪🍨). Players need to make sure they have all the ingredients they need because the faster you serve your customers - the more customers you get. 
One of the unique features of this cooking game is that players decide how much each item on the menu will cost. It's tricky because customers will want to pay less and sometimes it would be difficult to say no. However, your leveling up relies on the amount of money you've accumulated so players need to make sure they charge their clients fairly but also to be able to make a profit. This makes this game good for kids - it teaches them money management as well as time management. Two birds with one stone. ✅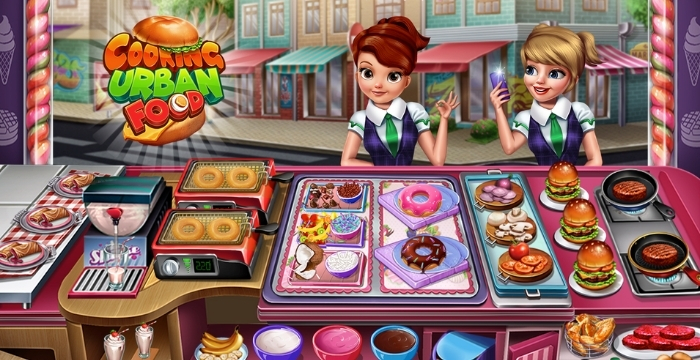 Image © Google Play
Cooking Urban Food - Fast Restaurant Games
Prepare street food like a pro with this awesome cooking simulator. You get a food truck and customers just love your place - sometimes they'll ask for two or three burgers. What are you going to do? Grab an apron and start cooking, of course. There's burgers, doughnuts, French fries, hotdogs, and pizza - yum! 🍔 🍟
Cooking Urban Food is all about American street food so players who wish for a more diverse cuisine can try Cooking Fever or Cooking Sizzle: Master Chef (scroll up for the reviews). This mobile cooking game is excellent for younger mobile players who wish for fast-paced gameplay and quality game design. At the top of the display there's a timer so you'll know how many seconds left you've got to finish the burger or the fries. 
Unlike other cooking games where we see the customers, here we only interact with the waiters - it might be a bit boring to see only three characters order food over and over again. However, it's not a big deal and you'll be focusing on food preparation anyway. Try to cook as fast as you can because time is paramount in this game. With each new level players get a new product so the more you play - the more ingredients you'll have at your disposal.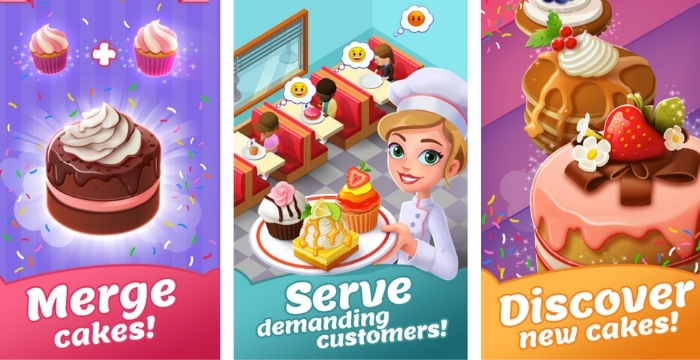 Images © Google Play
Marge Bakery - Idle Dessert Tycoon Clicker Game
While this cooking game is somewhat different from all the other games we already reviewed - we totally recommend it to you. Merge bakery is one of the best match and merge games of 2022 - it's fun to play and so intense that you won't be able to stop. Seriously! (Make sure to check out the link above for more information about match and merge games - they are a relatively new mobile game genre and they're totally worth trying out.)
Merge Bakery features only desserts (duh!) and this might seem a bit restricted but the gameplay is actually not about cooking production. That's OK, you'll see. The pace of the game is actually really addictive - players need to merge two items of the same kind to create the better one (or just the next one). You start with a waffle and when you merge two waffles together you get a pancake. Customers can wait forever but if they get what they ordered quickly - they'll give you more likes. Collect those likes and upgrade your bakery. 
Image © Google Play
Airplane Chefs - Cooking Game
Preparing food on a plane is actually more exciting than we thought. There are so many compartments filled with cups and plates and different ingredients - it's awesome! If you're looking for a more unconventional take of classic cooking games - Airplane Chefs might actually be perfect for you. ✈️
You start the game as an air hostess - passengers will make orders and you need to prepare the food for them. You basically cook and serve meals and the best thing is that because you travel all over the world you get to experience different cuisines every time. 🌎 
It's important to keep the kitchen appliances on the plane upgraded so they serve you well - this will save you time and money. The gameplay is fast and the developers promise that this app teaches time management quickly and efficiently. A must-play for younger mobile players!
Which are the best cooking games 2022?
SpongeBob: Krusty Cook-Off
Cooking Fever
Good Pizza, Great Pizza
Cooking Sizzle: Master Chef
Star Chef
My Café - Restaurant Game. Serve & Manage
Cooking Urban Food - Fast Restaurant Games
Marge Bakery - Idle Dessert Tycoon Clicker Game
Airplane Chefs - Cooking Game
Wrap up
Today we shared with you the best cooking games of 2022 - they are beautifully designed, fast-paced and super fun. If you're looking for educational games to help kids with learning the names of kitchen appliances and food products - try Cooking Sizzle: Master Chef or Cooking Fever. Some of the cooking games on the list are known for their time management and money management techniques - like Airplane Chefs and Chef Star. 
Regardless if you're a seasoned mobile player, a rookie, or if you need an educational game for kids - there's something for everyone on our list today. The best cooking games in the world are so cool! Enjoy!
Visit TechACake.com for more awesome mobile games every week!