6 Best obstacle course games 2022 [are you up for a mobile game challenge?]
Last updated: January 9, 2022

Impeccable timing and quick reflexes - this is what the best mobile obstacle course games are all about. You're going to be gliding on a surface, jumping through hoops, dodging obstacles, and ultimately - breaking records. 🏆Most of those games are endless, like the best infinite runner games we enjoy so much. Let's roll up our sleeves and have a blast with the best obstacle course games 2022. 
We here at TechACake.com LOVE obstacle games - they're super challenging and players need to stay focused for a long period of time and test their skills. If you're looking for more mobile games, make sure to check out our Mobile category on your way out - you'll find more lists of the best games of any category. 
Best obstacle course games 2022
The endless obstacle course games we're about to recommend today differ in many ways - pace, point of view, graphics, and level of difficulty. You don't have to play obstacle course games online when you can just install one on your smartphone.
If you want a really quality obstacle course experience, here are the best obstacle course games for 2022. All of the games on the list are free-to-play so you can easily download all of them if you like and decide which is the best for you. Here we go:
Geometry Dash Lite
This obstacle course game is a hoot and a half! Geometry Dash Lite (in AppStore the game is known as Geometry Lite) is a part of a mobile game series - there's Geometry Dash Meltdown, Geometry Dash World, Geometry Dash SubZero, and simply Geometry Dash. The one we included on our list is the most downloaded of the series - Geometry Dash Lite has more than 7 million installs on Google Play alone. 
Geometry Dash is definitely one of the most difficult games on the list of best obstacle course games today. The game is extremely challenging to say the least. It takes some time to get started - the tempo is very fast from the beginning and players might struggle until they find the right rhythm. 
The only thing you need to do to play Geometry Lite is to touch the screen with your thumb whenever you want to jump. One of the cool features of this game is that the color palette in the background changes from time to time so players won't get bored to stare at one color the entire session. There are many modes players can choose from and each is more difficult that the previous one but also each mode includes different features. So make sure to check them all and choose the one you like the best. Enjoy!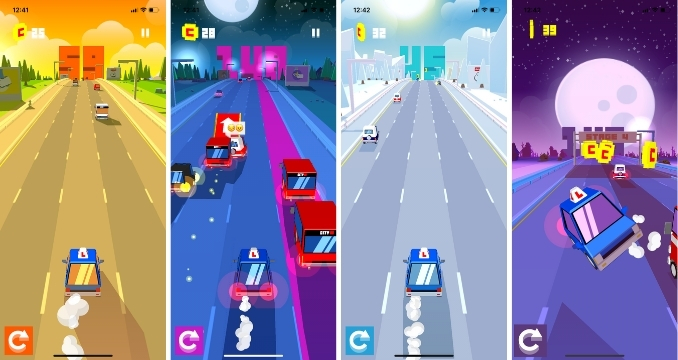 Dashy Crashy (Crashy Road)
If you're looking for a less intense obstacle course game which is more beginner friendly - try Dashy Crashy (it's called Crashy Road in Google Play). It's a beautifully designed mobile game where the player moves their car left and right on the highway in order to avoid other cars and various obstacles. 
The tempo in Dashy Crashy is not very fast which makes the game less stressful than let's say Smash Hit (scroll down for the review). There's practically no learning curve since players only need to move their car left or right with their thumb. You need to pay attention of course, but there's time to enjoy the scenery as well. 
There's a day and night cycle in the game which is really cool and the designers of the game have done wonders with the vibrant color palette. In other words, you won't get bored easily in Dashy Crashy - the scenery moves fast enough on the side of the road. You'll pass by deserts with various cacti, mountain areas, cities, beaches with palms and yachts. There are even seasonal decorations (Halloween, Christmas, etc.). Awesome!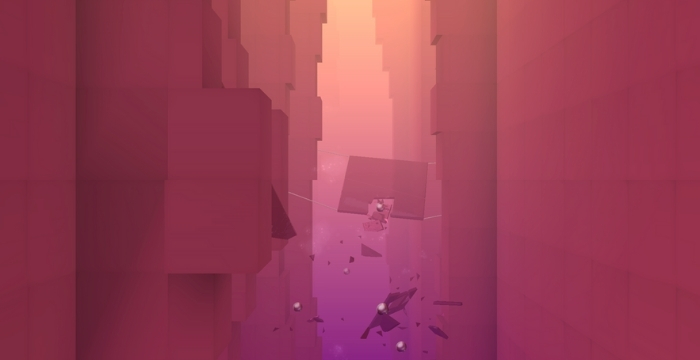 Image © Google Play
Smash Hit
This one is a legendary obstacle course game, somewhat of a pioneer in this category. It's like the Subway Surfers of endless runner games - when it came out millions of people started playing it and got addicted. Smash Hit came out in 2014 and was developed and published by the Swedish indie game studio Mediocre. With more than 4 million installs on Google Play, this free mobile game took the world by storm.
Smash Hit takes place in a surreal environment where players need to hit (or smash if you like) glass with metal balls. The first person perspective, the incredible soundtrack, the amazing visualisations, and the sound of breaking glass make this game a unique blend between an ASMR game and an obstacle course game. All those ingredients combined make a hell of a good game. 
What Smash Hit does goes a long way - literally. Players improve their dexterity and skills by throwing one or more metallic balls and hitting (or missing) glass targets. The game has no end - the player is bound to lose at some point. However, the gameplay might last for more than an hour before that. 
If you're looking for more games like Smash Hit, try Glitch Dash or Octagon 2: Extreme Evolution (this one is pay-to-play though). Both games offer a captivating experience and challenge players to focus and try again until they succeed.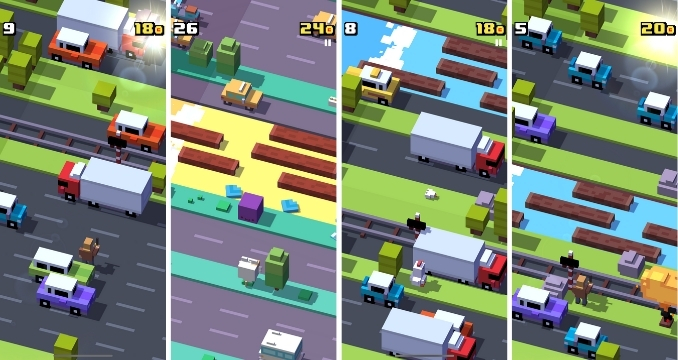 Crossy Road
Do you happen to remember a retro game called Frogger that we used to play on DOS several decades ago? Well, there used to be an awesome arcade game in the early 1980s where players needed to direct the frogs one by one to their home facing various obstacles along the way (the game was way more challenging than it sounds). This modern take of the classic Frogger - Crossy Road is a cool endless runner game which also looks like Minecraft a little but let's not get off topic now.
The interesting thing about this obstacle course game is that the characters are not constantly moving forward but you can't take your time as much as you'd like eather. Basically, you have to cross all kinds of roads and rivers and railways just by tapping on the screen with your thumb whenever you need to jump (and sometimes you need to change the direction of your character by swiping left or right, but that doesn't happen often). 
How many people play Crossy Road?
Over 200 million people play the game across all devices. The retro-styled mobile game became a hit after its release back in 2014 and is still a favorite of millions of gamers worldwide.
Now, as far as we know the game really is an endless obstacle course game because no matter how much we've played there's no goal or stopping point. The moment you hit an obstacle your character explodes - it's rather unsettling (and makes you keep playing actually). One of the cool features of the game is that you can choose between characters to play with - most of them are paid but there are several good ones you can use for free. Enjoy!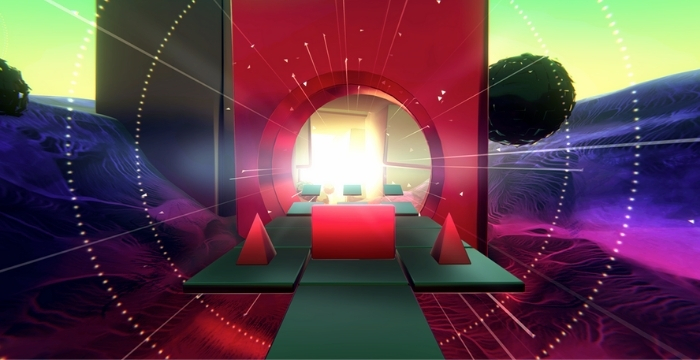 Image © Google Play
Glitch Dash
This is one of the best games like Smash Hit ever (scroll up). Glitch Dash is a first-person arcade game where every swipe of the screen might save your life or end the game. Glitch Dash features a tad more extravagant graphics than Smash Hit and a slightly different gameplay. 
Glitch Dash players need to avoid various obstacles on their way - like pendulum-like hammers, axes, lasers, and various moving and static objects. The creator of the game, David Marquardt, says even he gets surprised sometimes at how complicated the game actually is. 
Unlike Smash Hit, here you don't need to destroy glass objects, only to avoid obstacles and gather purple diamonds. Also, unlike all the other endless games on our list today, Glitch Dash is level-based so you will have a break from time to time. Players can also try Super Glitch Dash - it offers a similar experience to Glitch Dash with a somewhat different design.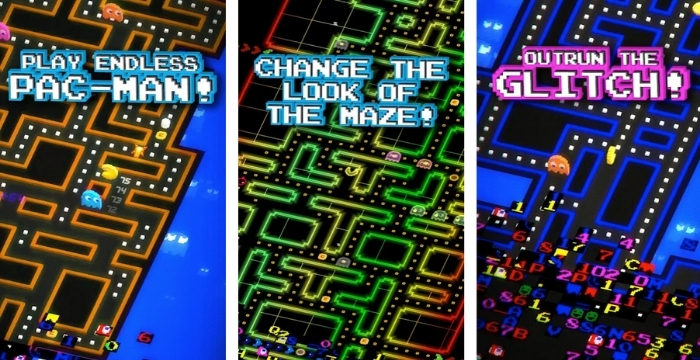 Image © Google Play
PAC-MAN 256: Endless Arcade Maze
This endless version of the classic PAC-MAN game is just so much fun. Revisiting the 2D world of PAC-MAN would be an awesome experience for anyone who's played the original game. The maze action game was released back in 1980 so it's been more than 40 years since the game came out. 
The history of PAC-MAN is so amazing: did you know that in 2010 more than 1 billion people played the PAC-MAN Google Doodle? (Seriously, try it out - it's awesome!) In 2015, in celebration of PAC-MAN's 35th anniversary we got this awesome endless arcade maze to play. And it's just awesome! It's a part of the PAC-MAN series and it was nominated for a Best Mobile/Handheld Game at The Game Awards 2015. The creators of Crossy Road (scroll up) gave us this absolute mobile gaming delight back in 2015.
Enter a maze that never ends with PAC-MAN 256: Endless Arcade Maze and enjoy a reinvented version of the classic PAC-MAN game. It includes various power-ups such as a laser that destroys enemies, a freeze that slows down ghosts, bombs and tornados, and many more (check out the PAC-MAN fandom page if you want to know more). So, regardless if you're a seasoned PAC-MAN player or if you've never played PAC-MAN in your life - this game is definitely worth your time. A must-play!
Which are the best obstacle course games 2022?
Geometry Dash Lite
Dashy Crashy (Crashy Road)
Smash Hit
Crossy Road
Glitch Dash
PAC-MAN 256: Endless Arcade Maze
Wrap up
Today we shared with you the best obstacle course games 2022 and boy, what a ride that was! If you're looking for something more slow-paced and casual - try Dashy Crashy. Or maybe you want to challenge yourself and improve your skills and focus - then download Geometry Dash or Smash Hit. If you're feeling nostalgic and want to revisit an old but gold game (or if you've never tried it) - install PAC-MAN 256 and have a blast!
Visit TechACake.com for more awesome mobile games every week!