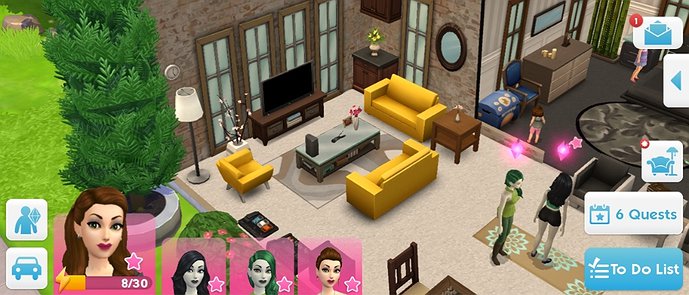 7 Best life simulation games 2022 [which games like the Sims do you know of?]
Last updated: January 10, 2022

Featured image © Imgur
Life simulation games are super immersive, beautifully designed, and feature-rich. They are also called artificial life games because they provide users with the opportunity to take care of virtual pets 🐯 and humans! If you're looking for a new & exciting mobile game to try in 2022, make sure to check out the best match and merge games - they are INCREDIBLE! Today we'll recommend the best life simulation games 2022 and we ask you this: how many games like The Sims have you played?
We here at TechACake.com play and compare mobile games every week and we have a lot to share with you today. Regardless if you're a newbie or a seasoned life simulation player - we have you covered. The best games of this category are here for you to enjoy in 2022:
Best life simulation games 2022
Here are the top choices for a life simulation game 2022. Most of the games we put on our list are free-to-play with one exception. One thing is certain - all of the mobile games we chose for you today provide players with an immersive life simulation experience. Let's start with the obvious choice for the #1 spot - The Sims Mobile: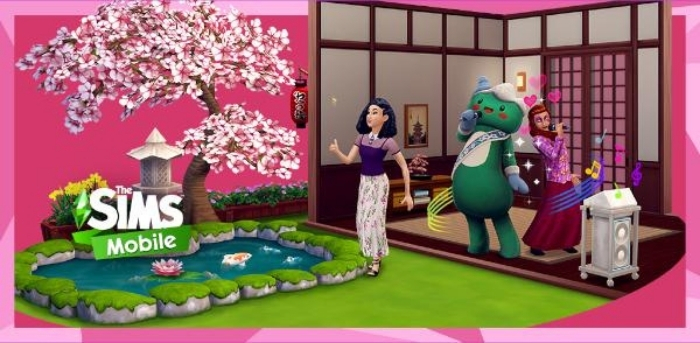 Image © Twitter/The Sims Mobile
The Sims Mobile
The Sims Mobile came out in 2018 as a version of the iconic video game The Sims. The series of life simulation games published by Electronic Arts - The Sims, are one of the best-known and best-selling video game franchises of all time. In 2020, The Sims 4 hit a milestone of 33 million players and counting. Kudos!
In 2022, The Sims Mobile is one of the best life simulation games on the market.  It's free-to-play and offers a one-of-a-kind multiplayer mode. You can play with friends, have a party together, and your Sims can live in the same neighborhood. 
How to play The Sims Mobile?
Starting from the very beginning, your first task will be to customise your Sim. That includes choosing a name, picking up some clothes, shoes, and makeup. Needless to say, the first Sim won't appear as a baby in the game, but as an adult. The game will guide you on how to make your Sim feel good at home - you need to level up their lifestyle as well as the renovation of the house. Use the so-called home catalog to find every piece of furniture you'll need.
Your first step would be to have your Sim enter the new house - it's basically old and dusty so you have to start renovating, customising, and ordering new furniture. You\ll start the game with a budget of 3,000 coins. This money is enough to get the renovation started and order the first pieces of furniture for the house. 
Next, you need to bring some friends of your Sim to the neighborhood so they feel comfortable. And you'll win some experience points because your Sim feels good and satisfied now. Then you need to find a job for your Sim so they start earning some money. Go to town and choose a workplace - that way you'll be able to afford better furniture for your house and better lifestyle for your Sim.  
One of the main features of life simulation games is the ability to control the lives of your virtual humans and pets. They create families which procreate and the player controls the lives of every member of the family - which is basically what the best god games are all about. The more Sim characters you create - the more money you'll have on your disposal and the more involved you are in the city lifestyle.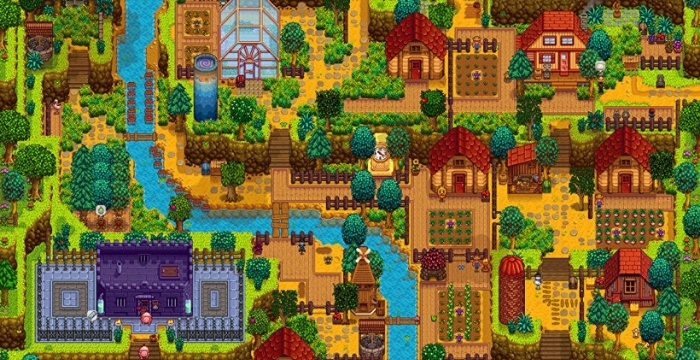 Image © Rock Paper Shotgun
Stardew Valley
Stardew Valley is the only paid mobile game on our list today but we simply couldn't go without it. It's one of our favorite life simulation games of all time where you enter a village and start renovating your grandfather's house and taking care of the land. Stardew Valley is also on our list of the best games like Terraria in 2022 and with a good reason. Although it's not technically a sandbox game, Stardew Valley definitely provides players with all the creativity and freedom they need.
Stardew Valley is a unique blend of video game genres - it's an action-adventure game with strategy elements, a role-playing game, a farming game, a fighting game, and of course - a life simulation. The moment you start a new farm you create a new character to play with. They communicate with other Stardew Valley characters in different ways - some of them have tasks for you or just want to chat about what's going on in the village and they help each other out.
There's a day and night cycle in the game and players need to put their characters to bed and wake them up each morning (otherwise they simply pass out). During the day, your character mingles with the NPCs, collects materials from the farm (wood, stone, etc.), enjoys a hot meal at the local bar & grill, goes shopping at the local store, or waters the plants at the farm.
In terms of farming, Stardew Valley has a lot to offer. (We didn't include it on our list of the best farming games of 2022 only because it's a paid game. But other than that - Stardew Valley is definitely a must-play if you're a fan of farming games.) Managing your land and resources, shopping at the local store and fishing in the sea in Stardew Valley is charming and adds a meditative vibe about the game. 
Stardew Valley is an incredibly feature-rich game and the mobile version is no less awesome than the PC version. The more you play - the more amazing details about the game you discover. It was initially released in February 2016 and it's still one of the best life simulators today. A must-play!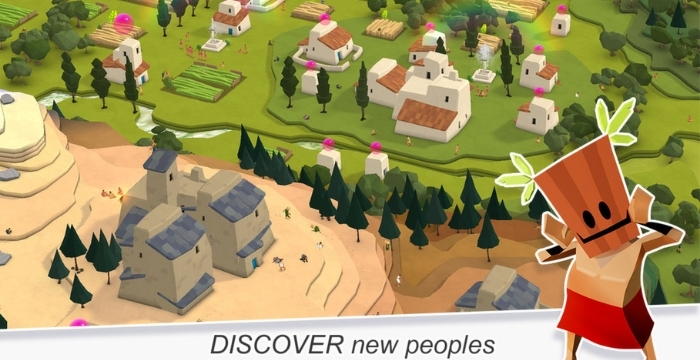 Image © Steam
Godus
Are you into god games? This is one of the best god games for PC, macOS, and mobile devices which is quite similar to the classic video game Spore (2008). If you're looking for a feature-rich life simulation game with awesome graphics and fast-paced gameplay - you simply need to try Godus. It's one of the best god games ever! 
This artificial life game is immersive and feature rich - the player assumes a god-like position and controls the gameplay on a large scale. Godus was initially released back in September 2013 by the developer and publisher 22Cans and it's still one of the best life simulators 2022. Godus players can immerse themselves in a world where they control every aspect of their followers' lives and they're responsible for their well-being. 
You can play Godus on Steam or the free version on mobile devices. The game is incredibly beautiful and offers a unique gaming experience. Players can modify/sculpt the game terrain any way they like and their followers create living arrangements, grow crops, fight battles, and basically build a new civilization.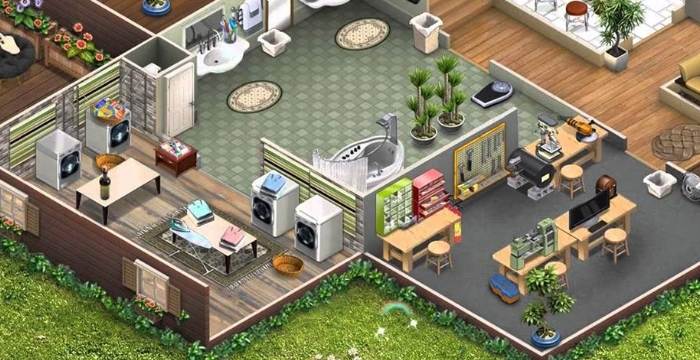 Image © Pinterest
Virtual Families 2 Dream House
This is one of the oldest life simulator games on the market - Virtual Families 2 was released back in 2012 by the developer and publisher Last Day of Work. The premise is more or less the same as the other life simulation games we reviewed today - you choose a character and customise them. (However, in this life simulator you get a whole family to play with.) Then you enter a house that desperately needs renovation and you start cleaning up, shopping for groceries, and buying better furniture. 
Before you manage to make any progress, your main characters should start their own career path. The game provides a description for every Sim which you should read carefully and then choose the best workplace for everyone. The game navigates you and encourages the player with a small amount of game money every time they complete a task.
It's important to start growing the family - this will happen after the main characters complete their first achievements in their workplace. Regarding the house restoration, players have a wide selection of furniture to choose from which is actually one of the best features of this life simulation game. As usual, keeping the game characters happy is one of the most important things players need to focus on - the better they feel, the more money and experience points players get.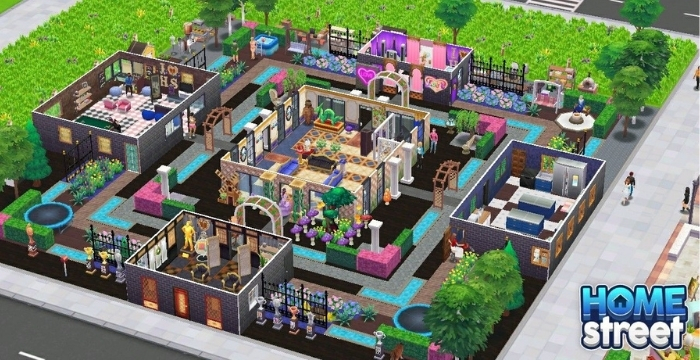 Image © Pinterest
Home Street: House Design Sim
This 3D sim house game is absolutely beautiful! House Street: Home Design Sim is one of the best games like The Sims on our list today. Home Street starts with a little backstory about the main character and how they got the house. As usual, players start by customizing their Sim - clothes, makeup, etc. And there you go - your Sim arrives at the house with all their luggage.
The house inside looks empty and players have thousands of redecor choices to make in the process. How to start earning money in the game? Start cooking, grow vegetables and sell your produce. Players need to start helping NPCs with tasks like fixing the plumbing or rebuilding an old fountain. The more tasks you complete - the bigger the reward. 
Another thing to consider in the beginning is the direction your game character will take - e.g. education, creativity, free-time activities. The mindset of the character will help them work faster to develop the area around the house. The more things your character can do - the more tasks they will be able to perform. Every new level brings new opportunities for the House Street character. And of course, with every new level the game unlocks new entertainment facilities (e.g. parks, bingo wheels, newspaper stations) for the Sim to work with. Cool!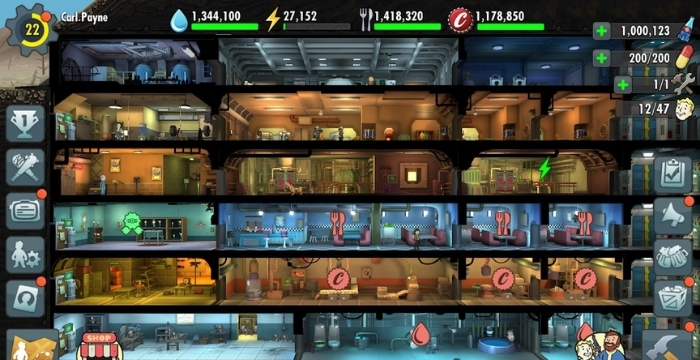 Image © Gamereactor
Fallout Shelter
This is a free-to-play life simulation video game which might seem like a bit of an unconventional fit in this article but it's actually one of the best and we do recommend it for those of you who're up for experimenting today. The game is definitely one of the best life simulators for mobile gamers this year!
The game was developed by the award-winning Bethesda Game Studios who are best known for the Fallout Series and The Elder Scrolls series. Fallout Shelter was released in June 2015 and is currently available on Steam (where it's also free-to-play) and on mobile devices. What's the game about? Let's see:
If you like thinking about the future and what it might look like for the generations to come, this mobile game might interest you. A lot. Fallout Shelter seems kind of creepy and it might even be challenging to find your way around the game at first but after you get through the initial learning curve you'll start enjoying yourself a lot.  
Players need to expand the underground space and to work with as many newcomers as possible. Select a room of your choice and get people to work. It's important to keep the mood of your workers high so they can level up. And every time they do, the player gains game money. It's quite simple from this point on - the more money you earn - the more rooms you will be able to restore and the bigger your Fallout Shelter will get.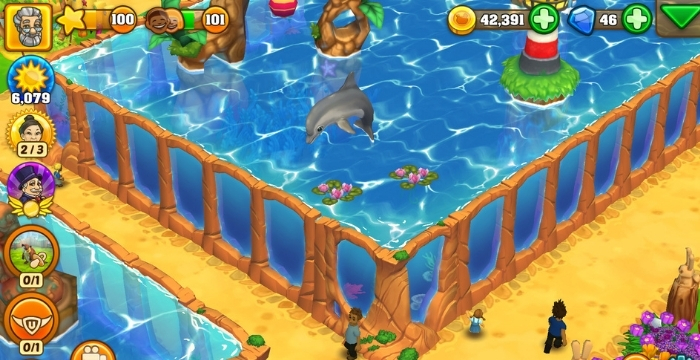 Image © Steam
Zoo 2: Animal Park
This life simulator was released in 2018 and is currently available on PC (Steam) and on mobile devices. Zoo 2 is an amazing animal park simulation where the player can explore a colorful world filled with a wide range of  virtual animals. Maintaining and growing virtual life has never been more fun!
At the beginning of the game players are about to explore their zoo by being navigated by a personal guide. Three messy areas are given as a start for the first animals at the zoo. Those have to be cleaned up and filled with virtual pets/zoo animals in order to level up. Afterwards, players need to expand their zoo and add other animals including exotic ones which is when the fun part starts. Decorating the space around the animal areas is so meditative - there's a beautiful selection of trees and flowers in the virtual store. 
Get creative with this wonderful simulation video game and make sure your zoo becomes an amazing place for your virtual animals. They need to be taken care of so there would be a lot of virtual cleaning up and feeding animals. The more you keep the areas for each type of animal clean and trash-free - the more experience points you will win. And of course, the more visitors come to your zoo - the higher your income. 
Wrap up
Which of the best life simulation games are you up for trying first? There must definitely be one that caught your attention from the beginning - don't hesitate to download it and give it a try right away. Life simulators are an incredibly immersive pass time activity and we recommended some of the very best simulator games 2022 for you today.
If you're looking for a god game, then you should try Godus - a life simulator which gives the player all the freedom and creativity they could possibly wish for. We also recommended some of the best sim house games 2022 - The Sims Mobile, Virtual Families 2 Dream House, and Home Street: House Design Sim. Real life simulators are more popular than ever! The only paid life simulator game on our list today is Stardew Valley and if you've played the game you already know that it provides a one of a kind experience. 
Which life simulator game did you choose?
Visit TechACake.com for more amazing mobile games every week!