7 Best infinite runner games 2022 [keep running & enjoy the journey!]
Last updated: January 7, 2022

Featured image © Google Play
The best infinite runner games are known for being action-packed, addictive, and IRRESISTIBLE! 😎 Running endlessly on a platform with obstacles that get more and more difficult is an EMPOWERING feeling, isn't it? Just like the best obstacle course games, if you are familiar with the mechanics of one infinite runner mobile game - you can basically play all of them. Today we'll recommend the best infinite runner games 2022 - discover more games from the same video game genre! Have FUN!
We here at TechACake.com play endless runner games… endlessly! If you're looking for some inspiration, we're happy to provide you with plenty over the course of this article. What are the best mobile games to play in 2022? Have a look at our Mobile category and find yourself a new and exciting game to play. Now, for the topic at hand - if you're into running games, you've come to the right place. The best games like Subway Surfers will have you hands glued to your phone for hours - enjoy your free-time the BEST way possible!
Best infinite runner games 2022
All the games on our list today are free-to-play and offer an AWESOME mobile gaming experience. If you've already played many endless runner games you can make use of our list of games at the end of each description and discover more games to play today. If you're just starting out with games of this category (or if you have just played Subway Surfers or Temple Run), you're in for a treat!
Let's start running: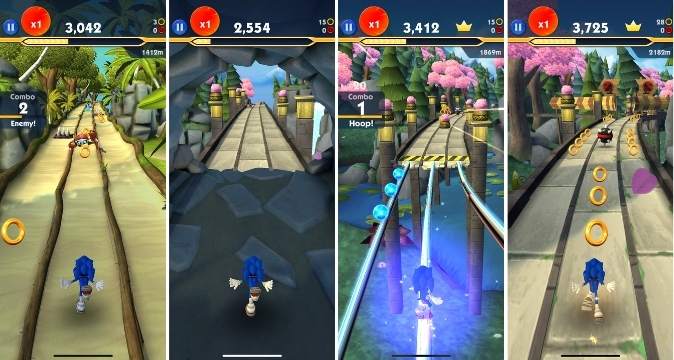 Sonic Dash 2 Sonic Boom
Do you fancy running like Sonic? Well, now you can. This is the second installment of the epic Sonic dash series and we LOVE it. Sonic Dash 2 is way more intense, complicated, and action-packed than the first game of the series and the run really feels infinite. Install this endless runner mobile game and join Sonic the Hedgehog in a run around the realm.
The 3D endless runner Sonic Dash 2 was released in 2015 by developers Hardlight Studios and publishers Sega. The game is available only on mobile devices and is one of the best apps in the genre. In terms of gameplay, this is a high- speed runner which starts with an easy-to-follow guide (there's a slight learning curve with killing the crabs but you'll get it soon enough) and before you know it you'll be speeding through tunnels or flying above the greenery like a boss.
Sonic Dash 2 is beautifully designed and the obstacles are definitely improved compared to the first installment of Sonic Dash. Among some of the obstacles are the vicious crabs and piles of spikes. Sonic (or some of the other protagonists you can choose from) goes out on missions and the longer he keeps running - the better!
A must-play! 
Games like Sonic Dash 2: 
Sonic Dash
Sonic Runners Adventures
Minion Rush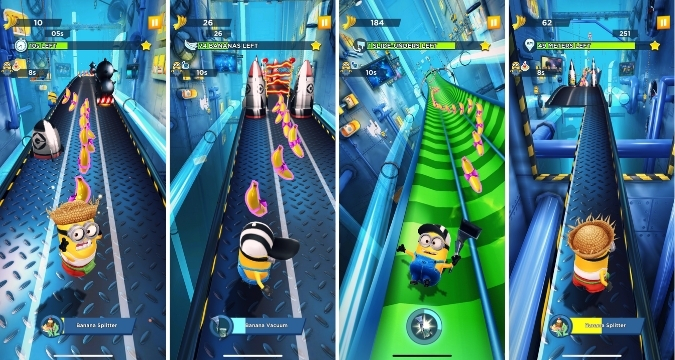 Minion Rush
That game is SO MUCH FUN we couldn't stop playing it for a long time. Our favorite little guys from the Despicable Me universe are here to entertain us and they are just as adorable and mischievous as ever. 
BANANAS!
The Minions need to collect bananas, of course. This endless runner game might seem a tad juvenile judging by its looks only, but if you have watched the movies you'll know how brutal the Minions can be. So yes, the game is actually more fun than expected.
How many people play Minion Rush?
In June 2021, Minion Rush celebrated 1 million installs on the App Store. So you see, there are many people who love the game and there's a reason for that. In terms of gameplay, Minion Rush is one of the best games like Subway Surfers in 2022. In other words, if you're a fan of Subway Surfers you absolutely need to give this one a chance. It's high-paced, and it gets difficult soon after you start. And the obstacles are just so deliciously unpredictable you won't be able to stop! 
Games like Minion Rush: 
Sonic Dash (1&2)
Talking Tom Gold Run
Subway Surfers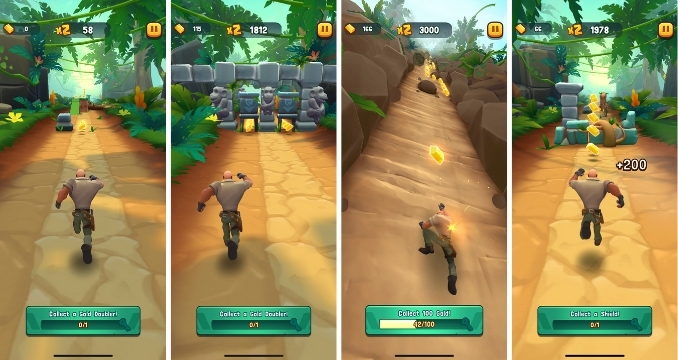 Jumanji Epic Run 
One of the best infinite running games, Jumanji Epic Run is based on the 2017 American fantasy adventure comedy movie Jumanji: Welcome to the Jungle starring Dwayne Johnson (The Rock), Kevin Hart, and Jack Black. You start the game with Dr. Smolder Bravestone (played by The Rock) as the protagonist - he runs in the jungle and faces numerous obstacles on the way. (Complete more levels so you can run with the other characters.)
Regardless if you're a seasoned player or a rookie, this action-packed mobile adventure game will keep you coming back for more. The gameplay follows the rules of the classic best infinite runner games - you swipe left and right to guide your character through the obstacles. Swipe up to jump or swipe down to slide under an obstacle. You will encounter many armed enemies that need to be taken care of (tap the screen to fight them) and there will be some bloodthirsty jaguars along the way - just avoid those and you'll be OK. 
One of the coolest features of the game is that at some point your character will start climbing a wall instead of running which is so awesome! Beware of the falling rocks, everyone!
Games like Jumanji Epic Run:
Lara Croft: Epic Run
Rayman: Adventures
Temple Run
Subway Surfers
No list of endless runner games could ever be complete without the legendary Subway Surfers - the most popular infinite runner game of all time! Subway Surfers was released in 2013 and in 2020 it had been downloaded more than 3 billion times. Subway Surfers is the 6th most popular Facebook game and more than 1 million people play the game every month worldwide across all platforms. 
Each time you start a new game the obstacles would be different (meaning you'll start from a different location every time you play). Subway Surfers is one of the most accessible games in terms of gameplay - players navigate the infamous subway surfer over train lines in different directions and the locations they pass by are wonderfully designed. There is practically no learning curve and you can start playing right away.
Games like Subway Surfers: 
Temple Run
Angry Gran Run - Running game
Talking Tom Gold Run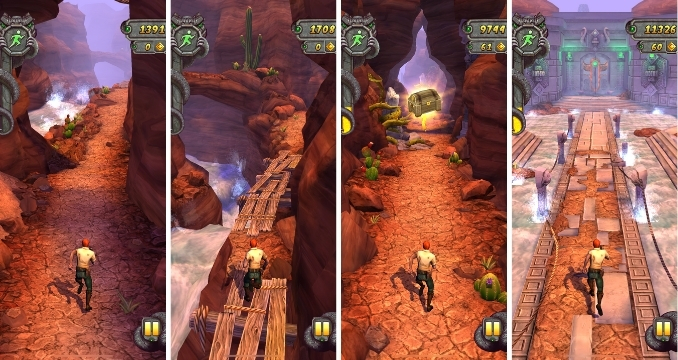 Temple Run 2
Temple Run: Classic is one of the oldest games in the genre on the market and of course, one of the very best. The 3D endless running video game came out back in 2011 for iPhone and in 2012 for Android. It's been a decade and people are still playing Temple Run. The classic Temple run app by the developers and publishers Imangi Studios has been installed more than 500,000,000 times on Google Play alone. Talk about a successful mobile game app! 
The second installment of the game, Temple Run 2 has been with us since 2013. It has a distinct advantage over the classic version in speed, location, and graphics. The new and improved Temple Run 2 app offers a unique endless running experience with the new and improved obstacles and the new power-ups. One of the sweetest things about Temple Run 2 in general is that the run feels way more difficult than Temple Run: Classic from the very beginning of each game. 
In Temple Run 2 players need to tilt their smartphone in order to direct their runner - that can be more challenging than it sounds actually and there might be some learning curve at the beginning. Players need to swipe left or right to turn the corner just like the old Temple Run and as usual, the moment you make a small mistake the giant monster that chases you will come closer behind you. Chills!
Temple Run 2 is definitely one of the best infinite runner games 2022 because of the smooth run, high-quality graphics, awesome features and cool obstacles and what we loved the most - the games start quickly without much introduction. 
Games like Temple Run 2:
Temple Run: Classic
Lara Croft: Relic Run
Endless Run Magic Stone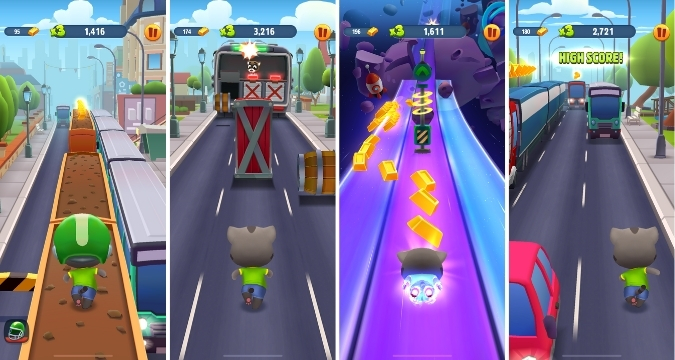 Talking Tom Gold Run
This is one of the best games like Subway Surfers in all intents and purposes but the game is still quite intense and entertaining as you'd want it to be. You start playing immediately with the premise that there is a cat thief who stole some gold bars and Talking Tom must retrieve it. As the thief runs in front of your protagonist, you collect the gold bars which fall from his bag. But he's always one step ahead of you, that's why the run is endless.
This fast-paced runner game will take you on a distant journey - just as in Subway Surfers the run is infinite here. The farther you go - the more difficult the obstacles become. 
An awesome experience!
Games like Talking Tom Gold Run:
Talking Tom Hero Dash
Minion Rush
Sonic Dash (1&2)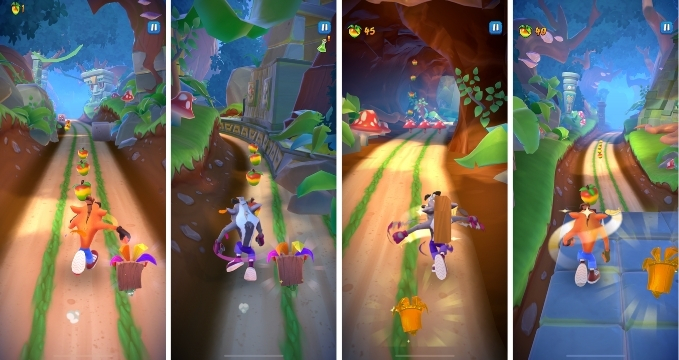 Crash Bandicoot: On the Run!
This runner game is developed and published by the same company that gave us Candy Crush - King. (Speaking of match 3 games, make sure you check out the best games like Candy Crush 2022 - you'll find your perfect match for sure!) This is one of the newest mobile endless runner games on the market which you should try for sure!
Crash Bandicoot: On the Run! is a beautifully designed mobile game in which the protagonist Crash Bandicoot has to go on missions - he goes on running expeditions and collects the items he needs. On his way to the goal Crash has to collect apples (instead of the traditional coins) and encounters various obstacles. 
If you need a slower-speed runner game, one with a rich backstory - you just found your game. It's a feature-rich game with a backstory to follow and technically speaking, it's not an endless running game - there's a goal Crash needs to reach at the end of each round. 
Games like Crash Bandicoot: On the Run!:
Talking Tom Gold Rush
Minion Rush
Which are the best endless runner games 2022? 
Sonic Dash 2 Sonic Boom
Minion Rush
Jumanji Epic Run
Subway Surfers
Temple Run 2
Talking Tom Gold Rush
Crash Bandicoot: On the Run!
Wrap up
Today we recommended so many games to you. If you're into one of the best infinite runner games 2022 and you wished to find more games like Subway Surfers for example you sure have liked one or more games on our list. 
Visit TechACake.com for more AWESOME mobile games in 2022!