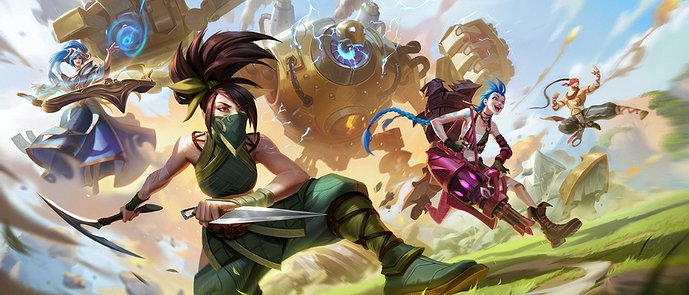 7 Best mobile MOBA 2022 [best free-to-play MOBAs to enjoy & revisit]
Last updated: January 3, 2022

Featured image © IGN 
According to the latest League of Legends player count, around 2 million people play LoL every month. MOBA games have become one of the most beloved video game genres of all time and among the constellations of hugely successful games, League of Legends and Dota 2 are by far the most popular. Today, we'll have a very good look at the best mobile MOBA games so you can play MOBA on your smartphone as well. Stay tuned!
We here at TechACake.com love making lists of the best games in any category. And of course, MOBA games are a treat that's hard to beat! There are new MOBAs on the market which are worth discovering and those older ones - worth revisiting. Have a look at the screenshots of each game in order to get acquainted with its design and mechanics. We have some AWESOME games to recommend today!
Best mobile MOBA games 2022
Multiplayer Online Battle Arena games started as a video game genre for PC and came to mobile years later. The best games like League of Legends are known for being challenging on so many levels - they are strategic, complicated, full of action, devastating, team-based, and let's face it - wildly addictive! (Speaking of addictive, check out how many people play Dota 2 - the other favorite MOBA of millions of fans!) The games we'll cover today are all free-to-play, available for both Android and iOS, and are SUPER fun to play!
Let's have a good look at the BEST mobile MOBA 2022: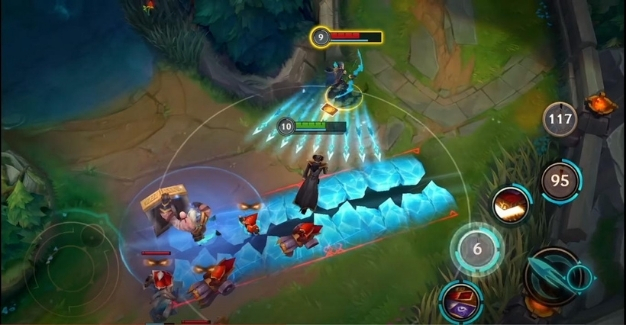 Image © Apkpure 
League of Legends: Wild Rift
League of Legends is one of the most popular games of all time and it's still on top of the charts in 2022. In Q4 2020, Riot Games released the mobile version of the game and fans all over the world got crazy with the new mobile MOBA. The mobile graphics are nothing less than spectacular! 
Regardless if you are a seasoned player or a rookie - this is one of the best MOBAs to enjoy in 2022. (There is a pretty extensive and easy-to-follow tutorial at the beginning of Wild Rift which you can skip of course, if you don't need it.) There are currently 65 heroes in Wild Rift to choose from and experiment with plus the joystick controls are just super easy to use and beginner-friendly. 
How many people play Wilf Rift? 
According to the latest Wild Rift player count, more than 5 million people play the mobile game every month. In April 2021, Wild Rift had already been downloaded 32 million times. LoL fans had their hands glued to their phones as soon as Riot Games made one of the most beloved video games accessible on mobile.
Wilf Rift is one of the best new MOBAs on our list. The design of the characters and the setting is just fantastic in Wild Rift - the arenas look ready for action and the greenery is spectacular! For those of you who have never played a MOBA game on a mobile device before you should be aware that it will take you some time to get used to the controls but other than that you'll be fine. The gameplay feels smooth and there's enough room for upgrading your character with a cool new Wild Rift skin.  
After the Wild Rift release date, League of Legends fans jumped head first into the new and unexplored world of the new mobile game and guess what? Wilf Rift was even better than we expected! Join a 5v5 deathmatch and fight monsters, destroy turrets, bring other champions to their knees, and explore Runeterra with League of Legends: Wild Rift. 
A must-play!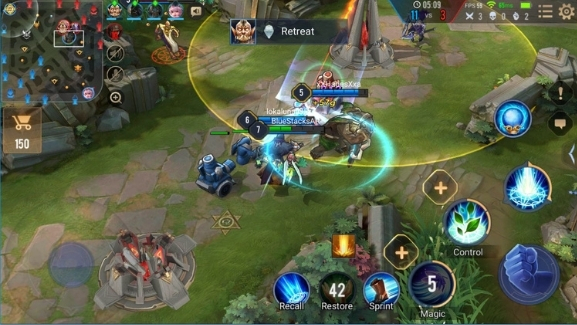 Image © BlueStacks
Arena of Valor
Previously known as Strike of Kings, Arena of Valor is a mobile MOBA developed by TiMi Studios and initially published back in 2016. As of 2018, the game is also available and free-to-play on Nintendo Switch and looks AWESOME! 
Arena of Valor is a feature-rich MOBA game with plenty of opportunities for optimisation. That might feel a bit overwhelming at first but once you get familiar with the many menus and features you'll start to enjoy the game even more. Here's a great time to mention that Arena of Valor features the largest number of heroes on our list of mobile MOBA games - there are 108 heroes in Arena of Valor. Wow!
How many people play Arena of Valor?
According to the latest mobile gaming statistics, the game has been downloaded more than 10 million times on Google Play alone and more than 1.7K people play the game daily in 2022.
The 5v5 online battle game is a fast-paced mobile MOBA with gorgeous design. The array of Arena of Valor characters will definitely make any fan experiment with each of them until they find their favorite hero. Hands-on experience is always the best way to get to know the game better.
Enjoy Arena of Valor, everyone!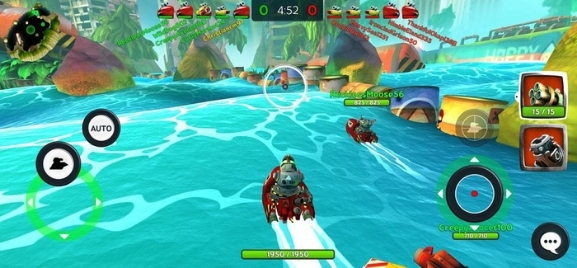 Image © MeTimeTech 
Battle Bay
Now, many fans are used to MOBA games being played on solid ground, somewhere in a cosy forest or a solid arena. However, changing the place for battle seems the logical thing to do if you're a video game developer and you wish to contribute to the genre and be more creative. The team of Rovio Entertainment definitely gave the fans of MOBA games a run for their money when they introduced a MOBA on the water. 
Seriously, Battle Bay is a must-play!
Think of all this nautical entertainment we've had in recent years - Sea of Thieves, Barotrauma, Assassin's Creed IV: Black Flag and so many more. And now we have a miniaturized cartoon mobile MOBA game from the creators of Angry Birds which is SO MUCH FUN! 
Battle Bay is colorful (something like Overwatch to be exact) with an adorable design and simple gameplay. The game currently supports eight Battle Bay heroes which compared to other MOBA games is definitely not impressive. However, the gameplay is surprisingly diverse and players soon forget the small number of characters as a downside of the game. 
Imagine that you enter a small ship and you have five minutes to win the game - staying on top of the beautiful waves is actually more satisfying than it looks like and you can totally use them to your advantage in the deathmatch. 🏄🏾‍♀️ (Make sure you pay attention to the tutorial in the beginning of the game - you need to learn all the mechanics of the game before you get started.) 
Image © AppPure 
Heroes Strike - Modern MOBA & Battle Royale
If you're looking for a different MOBA experience - you just found it!
Heroes Strike - Modern MOBA is one of the new MOBAs to hit the market. It came out in December 2020 and was published by the Singapore-based game-development studio WolfFun. Heroes Strike offers unique design and gameplay - rich colors (see the image above) meet surprisingly adorable MOBA characters and that makes for an AWESOME MOBA experience. The unique PvP combat style will definitely have you play for hours! 
This MOBA game is definitely something special!
The minimalist design of Heroes Strike is one of the most surprising features of the game. The colors feel weird for a MOBA game at first but after a while you'll see how beautiful the arenas are. The real-time strategy will immerse you in the cartoony environment with the interesting and unexpected battle royale twist. 
A new mobile battle royale game to explore in 2022!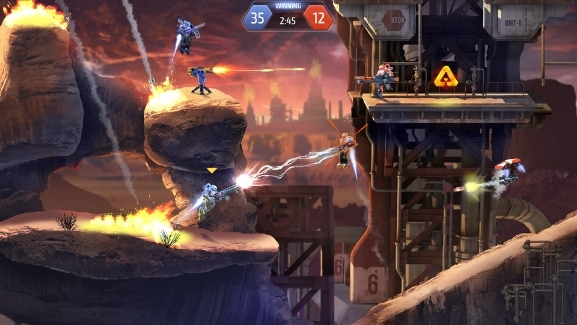 Image © Steam 
ARMAJET
Based on first impressions, people can say that ARMAJET looks suspiciously like one of the games like Terraria. However, the mechanics of the two games are quite different of course. ARMAJET came out in 2018 and was developed and published by Super Bit Machine. This MOBA game is set in a futuristic environment and every match lasts for three minutes.
The big difference between this MOBA and the other games on our list is the setting and heroes. The futuristic weapons and structures we see on ARMAJET are more or less unique for the genre. It's not like the completely cartoony experience of Heroes Strike (scroll up) nor the classic design of Wild Rift. If you're looking for a MOBA with a more contemporary vibe - try ARMAJET for sure.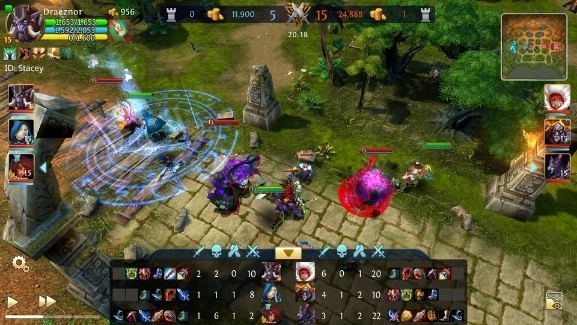 Image © Android Authority
Heroes of Order & Chaos
Now this is one of the ultimate MOBA games in 2022!
Heroes of Order & Chaos definitely looks more cartoony than Arena of Valor and Wild Rift but its charm is undeniable. The game came out back in 2012 but the developers and publishers Gameloft make sure it stays up to date, offering adequate design and features for 2022. The game belongs to the Order & Chaos series - a fantasy MMORPG mobile games by Gameloft. 
The 3D MOBA game provides users with exciting fast-paced battles with powerful champions. You can play with friends or alone - enjoy one of the most competitive and feature-rich MOBAs in 2022. There are over 60 HOC heroes to choose from and the game is definitely not lacking exciting features. You can choose a 3v3 or a 5v5 map and stream your game on Twitch directly from your smartphone. Cool!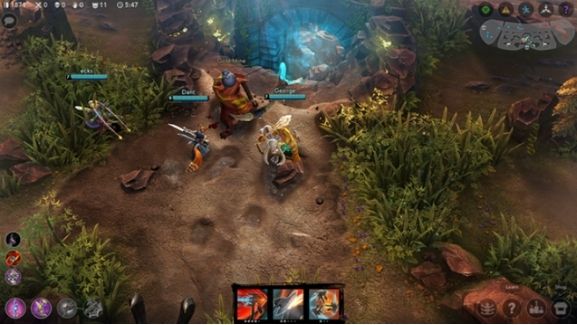 Image © Android Police 
Vainglory
This mobile MOBA game came out back in 2015 and it's still one of the best on the market today. Gamers complain that the developers Super Evil Megacorp are not publishing content consistently but the game is awesome nevertheless. There are 56 heroes in Vainglory and players can choose from a large number of skins for them. 
If we have to compare Vainglory vs Wild Rift (which is arguably the ultimate mobile MOBA on the market) in terms of graphics we can say that they feel quite similar although Vainglory features a warmer color palette. The Vainglory map and animations look amazing - if you're already playing Wild Rift you should totally give Vainglory a chance as well!  
Wrap up
Now you know the best mobile MOBAs of 2022. Did you already add one or more of the games on our list? Good! 
If you're new to the genre we recommend you start with the beginner-friendly League of Legends: Wild Rift. Or maybe you crave something more out of the box - then try Battle Bay or Heroes Strike which are both unconventional and innovative enough to satisfy a seasoned MOBA player. And if you're looking for a more conventional choice - go for Arena of Valor. There's no wrong answer! 
Visit TechACake.com for more awesome mobile games every week!