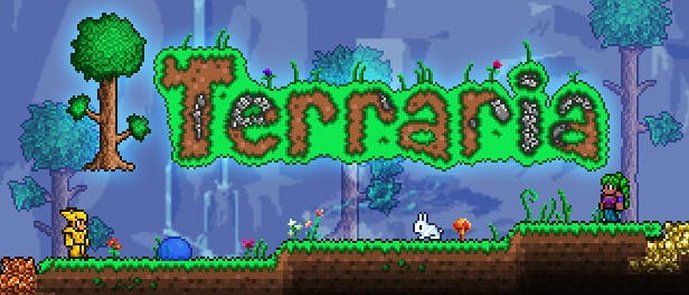 Terraria statistics 2021 [10th birthday anniversary edition]
Last updated: January 5, 2021

Featured image © Steam
Is Terraria still worth the money in 2021? This is one of the most popular sandbox games of all time. How many people play Terraria in 2021? And is the game still popular on Steam? How is it possible that a game that's a decade old is still on the Steam top 20 most played games in 2021? Join us and find out!
Today we'll share with you the latest Terraria statistics so we get the full picture.We here at TechACake.com LOVE Terraria! It's a journey without an end and it seems that many gamers still think so. After the 2020 Terraria update many people logged in and wanted to check out what's new.  And of course, during the coronavirus lockdown people revisited their favorite old-but-gold games.   
Terraria statistics 2021
Terraria is very popular on Steam in 2021. The 2D sandbox game was released back in 2011 and after a decade  The game is 9 years old in 2020. However, there was an update in May 2020 and the game reached a peak in popularity. 
1. After the Terraria update in May 2020, the game enjoyed its all-time peak in number of players - 486,918.  
(Source: Steam)
We have been waiting for an update since forever. Actually, we waited for the release of Terraria 2: Other World, but unfortunately it got cancelled. However, the update came and it brought many amazing additions. It's worth checking out if you haven't done it yet. 
The update is called Terraria: Journey's End and is free for all players that have already purchased the game. I've been playing it ever since the release and I keep discovering new things all the time. Later on they added a 1.4.1 update which includes a Princess NPC.
2. Back in 2011, Terraria sold 200,000 copies in 9 days. 
(Source: Gamasutra) 
It has been a hit since the beginning. The game is addictive and once you start you simply can't get enough. Apparently, many gamers felt that since the very beginning. (Personally, I started playing in 2015 - it's been 5 years, guys and I still have periods when I hurry back home from work, have a quick dinner and enjoy an evening in Terraria.) 
3. In April 2020, Terraria hit a milestone: 30 million copies sold.
(Source: Steam) 
Just before the update there was another major news in the world of Terraria - 30 million copies  have been purchased already in April 2020. Back in 2017 there were 20 million copies sold. Congratulations, guys!
When we talk about sandbox games and celebrity video games, we simply have to mention Minecraft. According to the latest Minecraft statistics, by 2020 there were more than 5.4 million copies of the game sold for Xbox worldwide. 
4. In January 2021, Terraria ranked number 23 on the list of Top Games by Current Players on Steam. 
(Source: Steam Charts)
According to the latest CS:GO statistics, Counter-Strike has been at the top of the Steam Charts for months now. It seems like a miracle that a 2D sandbox game like Terraria could be number 23 on Steam in 2021. However, the game is so immersive that people keep coming back for more.
5. May 2020 was the absolute record-breaker in Terraria's history. 
(Source: Twitch)
When the Terraria update was released in May 2020, many of the gamers who had at some point played Terraria logged in to see what the update included. 
This is how May 2020 looked for Terraria, according to Twitch:
An average of 13.3 million hours watched. 
An average of 520 concurrent streamers.
An average of 17.9K concurrent streams.
The update was a great success and we're looking forward to more amazing events and updates from the developers!
6. Terraria is currently ranking number 11 of the top paid iPhone games in the US. 
(Source: ThinkGaming)
Yes, guys. The Terraria game is very popular among smartphone users as well. The developers, Re-logic, have come up with a motto for Terraria: The World is Your Canvas. It can be said that the game conquered the desktop world as well as the mobile gaming community. 
7. By April 2020, 14 million copies of Terraria were sold for PC. 
(Source: Statista) 
Terraria has been most popular for PC. (Terraria is actually available for both Windows and Linux.) Gamers all over the world can enjoy the game on PC and Mac, as well as mobile and console. 
8. Terraria was nominated for a Steam Award in November 2020. 
(Source: Steam)
As 2020 was coming to an end, one of the most beloved games of all time was nominated for a Steam Award in the category 'Labour of Love'. It lost to CS:GO but anyway, we were very excited to see Terraria on the Steam Awards 2020.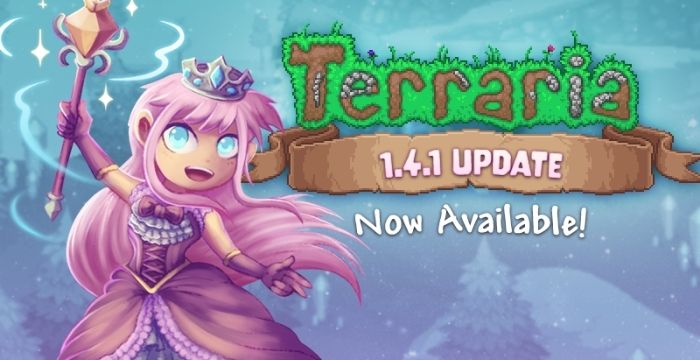 Image © Steam
Best things to do in Terraria
Building & collecting/forging materials and resources
Killing bosses & surviving the attacks of enemies
Fishing & going on fishing quests for the Angler NPC
Level up & enjoy what's new
Build a subway & metro stations for easy travelling around your world
Participating in Events (e.g. Blood Moon, Goblin Army, Solar Eclipse)
Crafting Terraria potions 
Trading with Terraria NPCs
Doing any of those things will guarantee an amazing Terraria experience. Every player has their own weak spots in Terraria. (For me, those are definitely Building, Fishing and Events.) Few gamers enjoy all of those activities at once, and they don't really have to. (I have a friend who only goes there for the bosses, and he doesn't enjoy building at all. That's another way to go, and many choose that path.) 
One thing is for sure: 
You can't just stay there and build fabulous constructions all day long (trust me, I have tried) without killing a couple of zombies and bosses. The bad guys will eventually come for you. (smirk)
Terraria buildings and constructions
If you wish to spend a couple of hours in a world that is entirely your own (in every sense) - the best pick is Terraria. Building in Terraria is not only a pleasurable activity but also a passion. 
The thing is that not every gamer is willing to spend hours on a single construction. However, if you're one of those guys I'm sure you understand what I'm talking about. From the very first moment you enter your new world you need to make sure you have a place to stay for the first several nights. 
After the update they added a new element - when you die and then (newly resurrected) try to remove your tombstone (because you don't want to live in a place with your own tombstone in it, correct?). There comes a ghost that is not very easy to kill with a pathetic copper sward and you will keep dying and it'll keep returning until you're able to eliminate it. The soundtrack will change because you're practically in a cemetery now and the ghost will keep appearing. 
In a nutshell:
You need to build in order to survive in Terraria. Whether you'll build the plainest little rooms or elaborate constructions worth mentioning at an architecture convention, it's up to each player. 
Terraria for Meditation & Relaxation
Personally, I have used the game as a place for meditation & relaxation. Some of my Terraria constructions have taken months to finish and I can say that gathering the resources for them and adding some final touches (like paintings on the wall, lamps, new fancy doors) has been a meditation-like activity. (Decorating with some special items is awesome, don't you think?) 
It does take time, but in that sense - which game doesn't? 
However, it's safe to say that Terraria is THE game that people spent an incredible amount of time in. Once I saw a person on Steam with the staggering 3,000 hours in it… (I bet he was a builder.) I myself have more than 1,000 hours in the game (that's around 43 days… so far!) and I can safely say that was time well spent.
Relax and enjoy your unique Terraria experience! 
Having a place where you can enjoy both killing some nasty stinking zombies and go fishing is a big deal. In a way one can say it's a unique kind of therapy - being able to spend some quiet time, think about life or don't think at all. It's a good way to leave all the real world behind and spend several hours inside your world. 
Explore Terraria and explore your feelings (if need be). Creativity can calm you down and take your mind off things. Also, after the update they added some new tunes to the Terraria soundtrack which are a great addition to the gaming experience (and some of them are quite relaxing as well.)
Enjoy!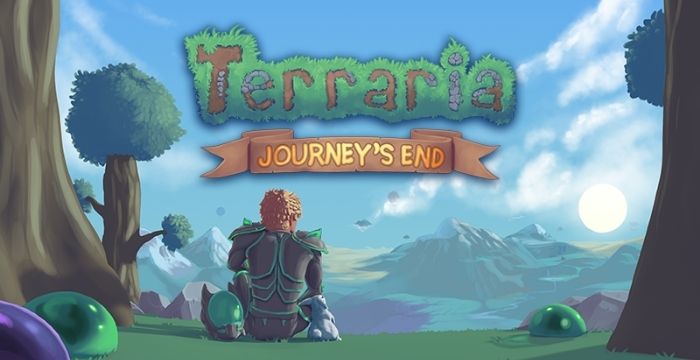 Image © Steam
Ways to play Terraria
One of the things which make the game so unique is that you can focus on different activities. Unlike battle royale games, like PUBG, where you're basically there to kill other players or die trying, Terraria is something completely different. 
Personally, I was totally hooked on building from the very beginning. And I strongly recommend the game to any student of architecture. The game offers practically limitless possibilities and unleashes a flow of creativity juice. 
You can always go and kill several monsters and bosses. Fighting is awesome in Terraria and that's what many gamers come for. There are bosses and special events, and if you're really only in for the killings you can always enter a mod and make sure none of those monsters survive. 
It's up to you!
Here come my personal recommendations:
Terraria houses
Builders of Terraria, welcome!
Building is not for every player, but Terraria building is one of the most enjoyable things in the game. As well as fishing, but we'll talk about that in a minute. 
Now, I have spent some really enjoyable hours in the game just expanding my base. Meaning, in every new world I choose a place to be my base, a place to throw an anchor. And it always happens spontaneously. In a Terraria Expert Mode you need to wait to Hard mode to get the full experience with every biome and you get more events. 
In the best case scenario, you enter the world with friends or just familiar players. One of you can definitely start building constructions while the others go around and fight evil. However, if you dedicate yourself to building here's what you need to make sure you have in your world:
Most Important Constructions to Build in Terraria:
Base camp — you simply can't go without one, make it fabulous
Subway system — quick transportation is a must, saves time and it's fun
Fighting arena — for those epic events and when you kill bosses
Fishing stations — so you can go fishing in different biomes
Storage room — for all the chests (you can make it an epic one where you don't put a single type of chest twice)
Crafting station — you need all your machines at one place (saves time and looks cool)
Now, there are some things that the creators of Terraria absolutely nailed. 
One of them is definitely: 
Terraria how to fish
Fishing in Terraria is something I discovered a bit later into the game. But when I did I just couldn't stop. It's like a slot machine, you can't have enough. Different kinds of fish, all sorts of crates, and if you're in for a big treat — you go to the Angler NPC and ask for a Quest. 
If you haven't tried fishing — now is the time. Get yourself some bait and a decent Terraria fishing rod and get started. 
Personally, I recommend the Sitting Duck's Fishing Pole. It's the 3rd best fishing pole and you can acquire it relatively early in the game, the Travelling Merchant sells it for 35 gold coins. Also, as you can see from the image below, you can fish with that pole on any device.
A quick tip: the moment it starts raining in the game, make sure you go to your favorite fishing spot and start fishing (you know how it is in real life as well). You have no idea what treasures the waters of Terraria have in store for you…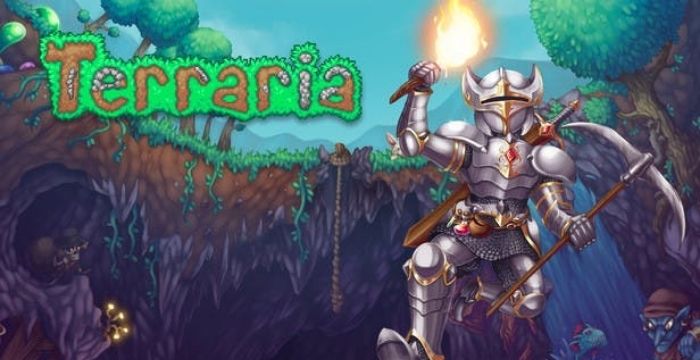 Image © Steam
Terraria Events
Don't you just love it when an event starts? You run to the nearest chest, loot all your items, drink a couple of potions to get you going through the event, pack some healing potion and mana potion… 
… and get out there to FIGHT!
There are Seasonal Events and Invasions - totally different! 
However, an Invasion can appear spontaneously or you can unleash one yourself. Some unique enemies get spawned and the party starts. According to Terraria Wiki, there are 4 kinds of Invasions.
Kinds of Invasions/Events in Terraria:
Peaceful Events (e.g. lantern night, party) 
Weather Events (e.g. rain, thunderstorm...don't forget to go fishing during those two!) 
Pre-Hardmode Invasions (e.g. Blood Moon, Slime Rain) 
Hardmode Invasions (e.g. Pirate Invasion, Pumpkin Moon) 
We love events and we can't wait for more! It's always a pleasure to jump right into the eye of the storm (so to speak) and test your Terraria weapons and skills. 
Just don't die too far from home (so you die in a convenient location)!
Next:
Terraria Mods
There is a difference between modded and not modded experience in the game. Many people say that the game is like a 2D Minecraft. And about 15 minutes later they enter Terraria and they say "they're proven wrong". 
(Need I remind you that Terraria is the only game on Steam on which players have spent the epic 3,000 hours? Yes, there is a reason!)
Now: 
If you're looking for new possibilities in Terraria (or if you're into shooter games and the building experience is just not for you, which is cool)...
… trying out different mods is an excellent way to keep playing the game. Mod is short for modification and that basically means that when you enter a mod you'll get a slightly different Terraria experience. 
In short: 
Choose a mod and get started. 
They are free and there's a wide variety to choose from. There are gamers who go so deep into the mods things that they download every single mod there is and explore. 
Take this 2D sandbox game to the next level and choose a mod that will change the way you play. We hear that Calamity Mod is really worth any gamer's time. It's the ultimate favorite mod of many fans who come to Terraria for the fighting experience. In this mod, you get:
Additional enemies and bosses
New crafts
New gear to collect
New abilities
Choose your favorite mod and enjoy!
Key takeaways
There aren't many games like Terraria! It's a many-layered game that gives players the freedom to engage in different activities and enjoy their time the best way possible. And according to the latest Terraria statistics, gamers are still into Terraria in 2021. 
Why do people still play Terraria in 2021?
Terraria is an amazing way to stay in touch with friends and family in times of physical separation. The game makes long distance relationships more bearable and keeps the sparkle burning.
Terraria is a must for every architecture student. 
Terraria is a safe space where you can spend some hours meditating & relaxing. 
Terraria is perfect for all kinds of gamers, regardless of age and preferences. 
You can play Terraria on basically any device. 
In the world of 2020, we need as much distraction from the real-life events as possible. If you're practicing social distancing but still want to spend time with your friends, gaming is an amazing way to keep in touch. I strongly recommend Terraria as a go-to place!
Visit TechACake.com every week for more awesome gaming content!
Happy gaming, guys!
Sources