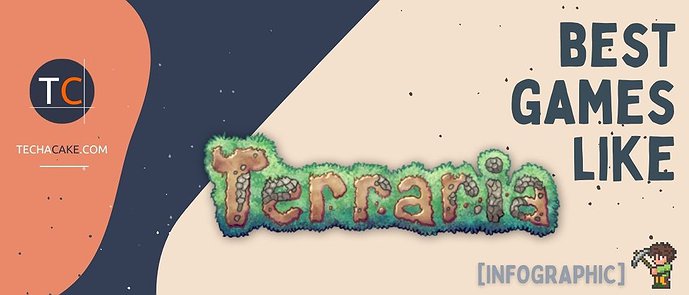 8 BEST games like Terraria in 2022 [INFOGRAPHIC]
Last updated: January 9, 2022

According to the latest Terraria player count, the game is one of the top 10 record-breakers on Steam by number of concurrent players. Do you need a NEW game but a similar gaming experience like Terraria? The best sandbox games of 2022 will have you stay late at night again for sure! Today we'll share with you our recommendations for the BEST games like Terraria in 2022. 
MANY people enjoy a Terraria game every once in a while, and there are those of us who keep playing and building and fishing and killing zombies. We here at TechACake.com LOVE every single thing about Terraria - the 2D sandbox game is so complex and immersive that it can hardly compare to many other video games out there. Scroll down and have a look at our INFOGRAPHIC and let's get started:  
Games like Terraria to play in 2022
In Terraria you need to CREATE in order to survive - structures, fishing spots, dungeons, lava waterfalls, you name it. On our list, you will find your next favorite game to replace the brilliant 2D sandbox Terraria and GUARANTEE you have an AWESOME time! Here are out top 8 recommendations for the BEST games like Terraria in 2022: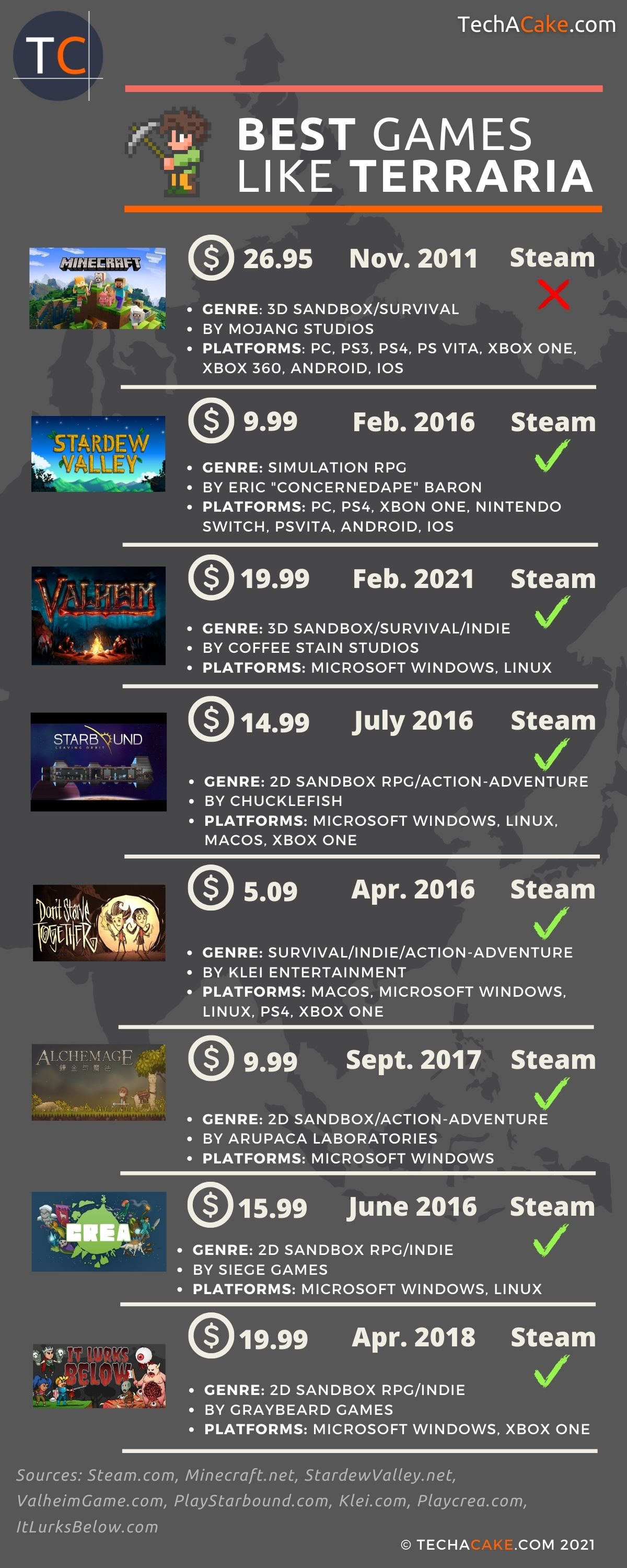 Now that you know which games we'll discuss today, we can say a bit more about Terraria first. Terraria is an action-adventure sandbox game which was released back in May 2011. It's ten years old this year and what a wild ride it's been! Since the very beginning, people were enchanted with the game and if you look at some Steam accounts you can find people with more than 3,000 hours in the game. Yes!
One of the reasons why people are interested in Terraria-like games is because the developers Re-Logic are not providing much fresh content anymore. The latest major Terraria update - Journey's End, was released in May 2020 and it immediately brought many players back to the game. However, except for Terraria events and several smaller updates, the game doesn't offer much new features. However, there are many other fascinating opportunities for gamers in 2022 - the beginning of a new great gaming experience is just around the corner! 
Sandbox games are without a doubt one of the most creative video game genres of all time. Playing a sandbox game means you will enjoy an open-world adventure which allows you to create as many buildings and structures as you like and with whatever shape you like. The player has a freedom of movement and often needs to fight enemies in order to survive. City-building simulations are super popular nowadays so let's have a better look at the games and see how they compare to Terraria: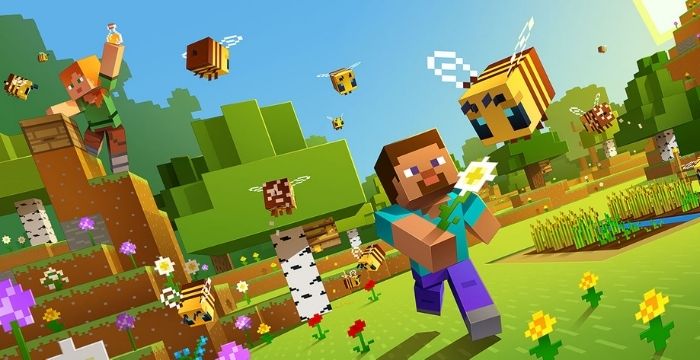 Image © Xbox
Minecraft vs Terraria
Minecraft is one of the most successful sandbox games of all time. According to the latest Minecraft player count, in 2020 the game had more than 126 million concurrent players. Minecraft is the most popular paid mobile game app and is one of the most downloaded apps on Google Store. And of course, Minecraft is one of the best games like Terraria. Ever.
The big difference between Terraria and Minecraft is of course the type of sandbox - Minecraft came out less than six months after Terraria as a 3D sandbox game as opposed to the 2D graphics of Terraria. And we can safely say that Minecraft is the most famous 3D sandbox game in 2022. We'll compare Minecraft vs Terraria in terms of price, lore, and gameplay. 
In terms of price, Minecraft is still a relatively expensive video game (and the most expensive one on our list) and Microsoft keeps the prize high even though the game is ten years old. Minecraft has no lore because the developers wanted each player to create a world that is entirely their own. Of course, players can enter Minecraft mods and enjoy the game from different angles. There are many Terraria mods as well, so the games are not very different from each other in this sense. 
When it comes to gameplay, Minecraft and Terraria players start from the same point - players start cutting trees and mining for resources (this first torch in Minecraft will take you forever to craft to be sure). However, getting started with Minecraft is a tad more complicated because of the 3D graphics. Even when you're consulting Minecraft Wiki for helpful tips and tricks, it still takes players time to get to know the game. Terraria is easier in the beginning and in our modest opinion - more complex and beautiful than Minecraft. 
Bottom line: 
Minecraft costs $26.95 and Terraria is $9.99.
Minecraft is a 3D sandbox game while Terraria is a 2D sandbox game.
Both games came out back in 2011.
Both games feature a day and night cycle.
There is no Minecraft lore, and Terraria's lore is really limited.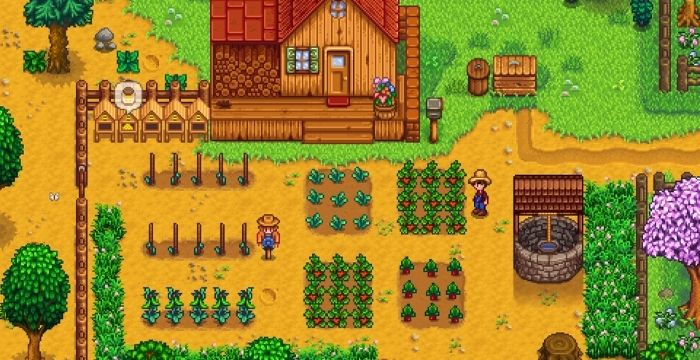 Image © Stardew Valley
Stardew Valley vs Terraria
Stardew Valley is a simulation role-playing video game. It's one of the best farming games of 2022 although it's a paid one for PC and as a mobile app (discover the best games like Stardew Valley in 2022 on our list of farming games). In contrast to Terraria and Minecraft, Stardew Valley is not a sandbox game but most players compare it with Terraria because of their similar features. Not unlike Terraria, the famous farming simulator Stardew Valley is so immersive you won't be able to let go. Literally.
Today, we'll compare Stardew Valley vs Terraria by number of players, characters, setting, lore, and gameplay. In terms of player count, Terraria is a record-breaker on Steam - the all-time peak of Terraria concurrent players on Steam is close to 500,000 and in 2020 Stardew Valley had already sold more than 10 million copies. As you can see, both games are quite famous and they both of them cost $9.99 on Steam. In terms of video game genre, Stardew Valley is a farming simulator and Terraria is a 2D sandbox game.
In both games, characters start from scratch - you need to cut trees down and gather resources in order to start a home. Now, in Terraria as in Stardew Valley there is a day and night cycle but the Terraria characters do not need "sleep" in contrast to Stardew Valley characters (they can stay up to 2 am in the game and then pass out). Both games are feature-rich, but in Stardew Valley the characters interact more with each other and have complicated lives. In Terraria, the characters themselves do not develop in any way other than clothing and general appearance and their interaction with Terraria NPCs are limited.
Stardew Valley is the only game on our list which features a change of seasons - in Terraria there is a Winter biome and several "warm" ones but the game doesn't feature a change of seasons at one place. In terms of fauna, Stardew Valley features farm animals as opposed to Terraria where players can encounter some wild animals (some of them quite dangerous especially during a Blood Moon event).
The backstory of Stardew Valley is simple - you inherited the farm from your grandfather and you need to make the farm work. The Terraria lore is also simple - only in 2019 did the developers add some short backstory of the different biomes players encounter on the map. In terms of gameplay, Stardew Valley resembles a farming simulator with a lot of planting and taking care of farm animals whereas Terraria is more dedicated to building structures and fighting bosses. One of the best and most beloved features of Terraria is the in-game fishing. 
Bottom line:
Both Stardew Valley and Terraria cost $9.99 on Steam.
Stardew Valley is a farming simulator and Terraria is a 2D sandbox.
Up to 3 people can play Stardew valley together (up to 8 in Terraria).
Both games feature a day and night cycle. 
Stardew Valley features a change of seasons. 
Both games feature simple lores. 
Fishing is more exciting in Terraria!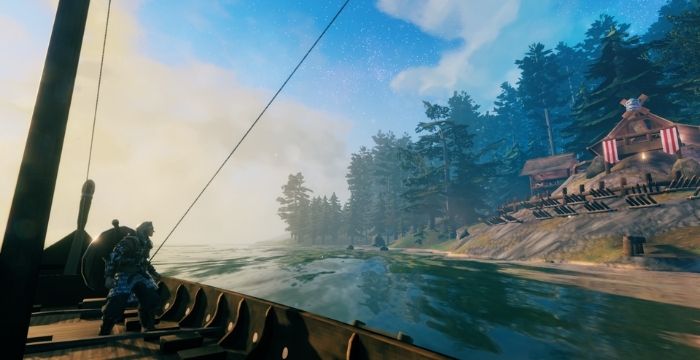 Image © Valheim game
Valheim vs Terraria
According to the latest Valheim player count, more than 5 million people played the game during the first month after the early access release. Valheim quickly became one of the record-breakers by number of concurrent players on Steam (and so has Terraria) and there is a good reason for that. Valheim combines the complexity of a 3D sandbox game with really beautiful graphics set in the Viking afterlife and the charms of a quality action-adventure game.
The reason we included the Viking game on our list of the best games like Terraria is not only because it's a sandbox game but also because Valheim is new and exciting and offers players a really awesome experience which, believe it or not, has many things in common with Terraria. We'll compare the games by price, gameplay, modes, lore, and best features. Here we go: 
In terms of price, Valheim is still fresh out of the oven and the Valheim price PC is around $20 in H1 2022. Terraria costs two times less than Valheim but the price doesn't seem to drive Valheim enthusiasts away. Terraria features a 2D open world with several Terraria modes to choose from (hardmore, expert mode, journey mode, etc.) In Valheim you can choose from a variety of user-generated mods but there are also Valheim creature levels assigned by level difficulty. 
When it comes to lore, the Valheim lore is way more developed than the Terraria lore. The game is based on Skandinavian folklore and it's set in the 10th Norse world, called Valheim. Players need to survive and fight mythical creatures and either prove their worthiness and go to Valhalla or fail and go to Hell. Compared to this, the simple Terraria lore (the story was released in 2019) includes only the backstory of the creation of each of the Terraria biomes. 
In terms of gameplay, both sandbox games feature a cooperative gameplay experience but you can also have a great time in a single-player mode in both. Valheim and Terraria are survival games where players need to fight bosses in order to level up in a way. Many Valheim reviews claim the game is the best 3D Terraria clone ever and they are not wrong. Both games feature a day and night cycle, planting trees and seeds, and fighting bosses. Terraria is definitely one of the best games like Valhaim in 2022.
Bottom line: 
Valheim costs $19.90 (€16.79) on Steam and Terraria is $9.99 (€9.99).
Valheim hosts 1-10 players whereas Terraria hosts up to 8 players.
Both games feature a day and night cycle.
Both games feature killing bosses, fishing, building, and exploring an open-world map.
Valheim's lore is much more intricate than the Terraria lore.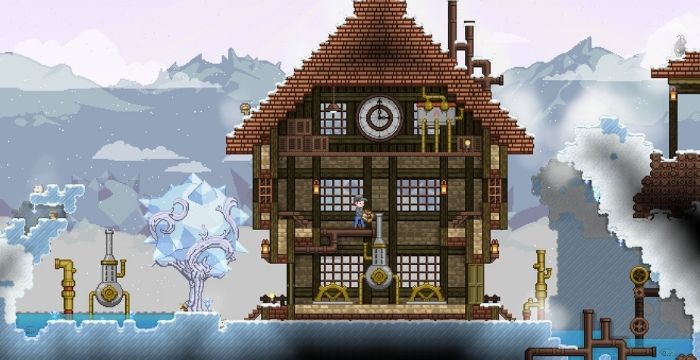 Image © Steam
Starbound vs Terraria
Starbound is very similar to Terraria in terms of graphics and representation. However, there are some differences which we'll try and cover today. Starbound and Terraria are both 2D sandbox games which feature an open-world map which characters explore and shape as they like, fight enemies and bosses, and build structures of all shapes and sizes. So, in terms of video game genre, Starbound is closer to Terraria than Minecraft, Valheim, and Stardew Valley and many gamers believe that Starbound is one of the best Terraria clones. We'll compare the games by price, player count, lore, and gameplay. 
Starbound came out in 2016 as an action-adventure video game, almost five years after the initial release of Terraria. It was developed and published by Chucklefish and still costs $14.99 on Steam. According to the Starbound Steam Charts, an average of 1,800 people play Starbound and 26,000 people play Terraria concurrently on Steam in May 2022. So, based only on Steam statistics - Terraria has a larger fanbase than Starbound.
In terms of lore, the two sandbox games have quite a different background. Terraria's lore is very simple - the only thing we know is the history of each Terraria biome. According to the Starbound Wiki, players can access the Codex Library and examine available character descriptions.
One of the most important components of Starbound is mining - you can get all sorts of weapons, armor, and ores in the depths of the Starbound biomes. (Which can be a very dull activity unfortunately.) Terraria players can go fishing in different biomes and during Terraria events and they can receive all kinds of rewards in the form of loot boxes. To be honest, Terraria fishing is one of the best things to do in the game - it's both meditative and fun and who knows what you can win from a Jungle crate… 
Bottom line: 
Both Terraria and Starbound are 2D sandbox games.
Starbound costs $14,99 (€13,99) and Terraria is $9.99.
Terraria's player count on Steam is more than 10 times larger than the fanbase of Starbound.
Starbound has a more complex lore than Terraria.
Fishing in Terraria is more fun than mining in Starbound.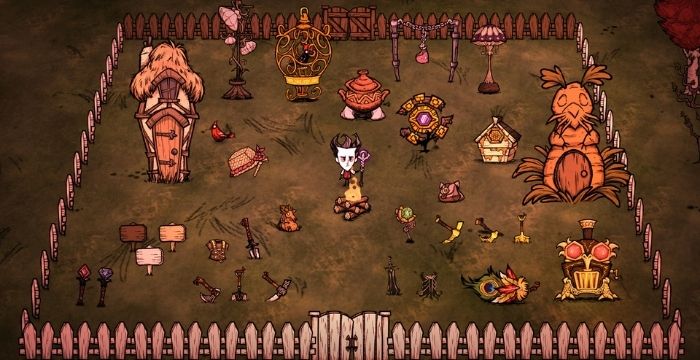 Image © Moby Games
Don't Starve Together
This is a creepy (!) little game like Terraria and if you're into darker scenarios - this is totally the game for you. (You can also scroll down to It Lurks Below - another delightfully creepy sandbox game.) The basic idea is that the more you starve - the more the shadows around you become more real and at the low point they start attacking you and causing some serious damage.  
Don't Starve Together is still quite popular on Steam - more than 44,500 people played the game concurrently on Steam in May 2022. As you may know, the game is the sequel of Don't Starve and features multiplayer mechanics. How many people can play Don't Starve Together? The game supports up to 6 players at a time.
Not unlike the Terraria gameplay, Don't Starve Together players can grow crops and fight monsters. The game features an adequately creepy soundtrack (actually, after the last Terraria update they made changes in the soundtrack and you can say that it's added more of a suspense feeling to it). We definitely recommend Don't Starve Together as one of the best games like Terraria in 2022.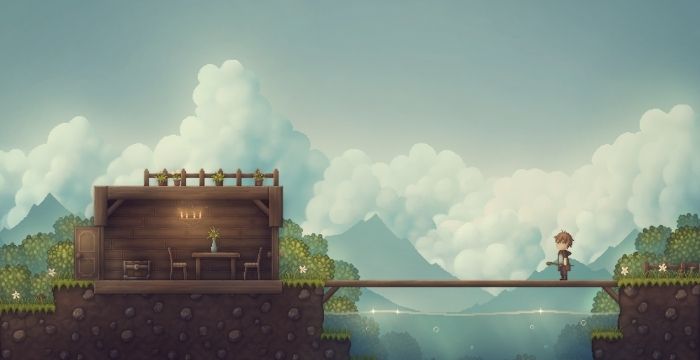 Image © Steam
Alchemage
Alchemage is definitely one of the most beautiful games like Terraria and Starbound - a proper Terraria clone and there's nothing wrong with that. On the contrary - while there are many similarities, the game does feel a tad different from Terraria. Like in Terraria, Alchemage players get to explore biomes, fight enemies, and dig for resources. However, the game feels more relaxing than Terraria but it's definitely not so feature-rich.
Both sandbox games feature an open-world map with plenty of opportunities for the player to explore. One of the most amazing features of Terraria is the way the game allows players to create a place of their own and design it as they like - this is a meditative experience that can be explored further with Alchemage. The soundtracks of both games are incredibly relaxing and create the perfect atmosphere for a night of building and fishing and fighting monsters.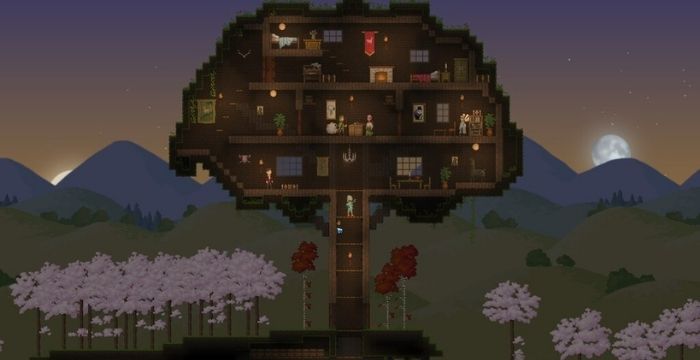 Image © Steam
Crea game
This crafting and survival sandbox RPG is a must for every Terraria fan out there. Not unlike Alchemage, Crea is a Terraria clone and we love what the developers and publishers Siege Games have done with it. Up to 8 people can play Crea together as an online co-op game.
The last big Crea update came in 2019 and was called the Chaos Awakening Update Release. The new high difficulty boss that came with the update was definitely one of the reasons many people decided to revisit the game three years ago. 
The graphics of Crea are definitely more basic than what we're used to in Terraria but in terms of gameplay both games share the same basics. For some reason the Crea characters seem way less cartoony and 2D than Terraria characters and of course, just like in Alchemage, the enemies look quite different compared to Terraria's zombies, different colored slime, etc. There is a crafting menu in Crea which helps you with guidelines for new items which is something that Terraria lacks (you need to go to the Guide in order to see what you can craft with a certain material). 
Biomes definitely look more convenient in Terraria but Crea monsters are just as dangerous and menacing like in Terraria for sure. Crea features a day and night cycle just like most sandbox games and if you're in for a new Terraria alternative - this is a wonderful option!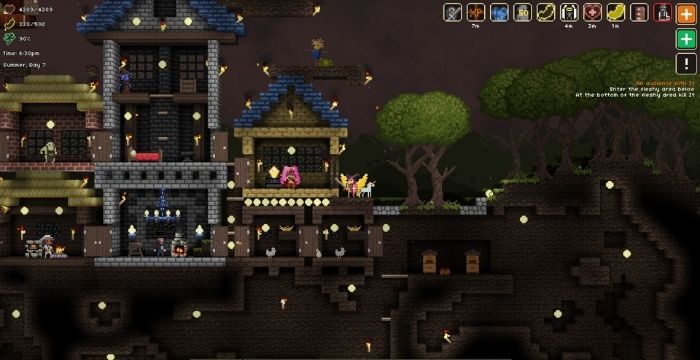 Image © Steam
It Lurks Below
This Terraria-like game certainly feels darker and gloomier than most of the other games we included on our list. It Lurks Below is a Terraria clone with less perfect graphics but it's super immersive and provides players with a one-of-a-kind gaming atmosphere. The game was created by one of the developers behind Diablo and it certainly is with your time.
In terms of graphics, the game is not so beautifully designed like Terraria - the surface level is definitely lacking some grooming. But building in It Lurks Below looks awesome! Many players claim this is one of the best games like Starbound because of gameplay similarities and we couldn't agree more and it definitely found its way on our list of top games like Terraria because of the 2D sandbox-survival-action-adventure genre. 
Wrap up
This was our list of the 8 best games like Terraria in 2022. Each game we recommend to you is a great fit for your next best favorite game like the legendary Terraria and we wish you to spend many happy hours playing them. 
Each of the best sandbox games we selected for you today are carefully chosen to be just what you wanted to play after Terraria. There are many lists out there with games like Minecraft, Terraria, and Starbound. Those three seem to always go hand in hand and there are many sandbox enthusiasts who play all of them. There was certainly one game on our list that you favored more than the others? Did you find your next favorite game like Terraria today? Excellent!
And now, have a look at some of the hottest questions regarding Terraria in 2022:
FAQ
Is there going to be a Terraria 2 in 2022?
There is currently no release date for the second installment of Terraria. Fans of the sandbox game have long been craving a Terraria 2 but so far the developers Re-Logic have not spoken about it. 
Are there any games similar to Terraria in 2022? 
Minecraft
Stardew Valley
Valheim
Starbound
Don't Starve Together
Alchemage
Crea
It Lurks Below
Is Terraria free in 2022?
No, Terraria still costs $9.99 (€9,99) in 2022. Even though the game is 10 years old already, the Steam Terraria price hasn't changed.
Is Terraria a rip-off of Minecraft?
Terraria and Minecraft were released in the same year, just a few months apart. The two games share a video game genre but they take a different approach to sandbox gameplay. Terraria is much more adventure-oriented when Minecraft emphasizes on building 3D structures. 
Is Terraria better than Minecraft?
It depends on the player and their preferences. The 2D sandbox might seem outdated to younger players who're already used to the more advanced 3D graphics of other video games. On the other hand, getting started with Terraria is easier than making those first steps in Minecraft. Regardless of their differences, Minecraft is still one of the best games like Terraria in 2022. 
Visit TechACake.com for more awesome lists of games and video game statistics in 2022.