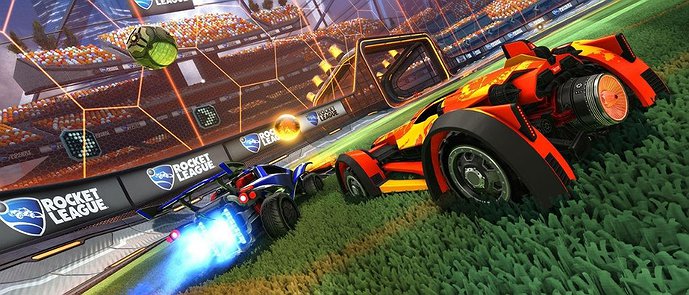 Rocket League player count 2021: how many people play Rocket League?
Last updates: March 19, 2021

Featured image © Rocket League
The eSports video game developed by Psyonix is one of the favorite games of players all around the world in 2021. We're all enchanted by the Rocket League battle cars, stunning arenas, and the overall awesome atmosphere. Today, we'll have a good look at the most recent Rocket League player count and answer the question: how many people play Rocket League in 2021? 
One of the most popular soccer video games has made its way to the hearts of players all over the world. The game is extremely competitive and anyone who's up for a challenge might have some pretty good time on Rocket League. We here at TechACake.com decided to explore the latest statistics and dive into some Rocket League facts to spice things up. Here we go: 
Rocket League player count: latest stats 2021
Rocket League is without a doubt one of the best car games in 2021. Epic Games describe it as a high-powered hybrid of arcade-style soccer and vehicular mayhem with easy-to-understand controls and fluid, physics-driven competition. It's uncanny how accurate that sounds to anyone who's played the game. Even for the most experienced virtual drivers on our team, there was a learning curve at the beginning but once you get past that moment, the game turns out to be quite addictive and entertaining. 
So, without further ado, here are the top statistics you need to know about Rocket League in 2021: 
1. In March 2021, Rocket League ranked #10 on Steam. 
(Source: GitHyp)
According to the latest Rocket League statistics, in March 2020, the game was #6 on Steam. Having in mind what games came on the list before that (e.g. CS:GO, Dota 2, GTA V, etc.) number 10 seems like a pretty big deal. After the shocking arrival of Valheim on the scene, the Steam top 20 looks a bit different. According to the latest Valheim player count, the game currently ranks #3 on Steam. Rocket League has been in the Steam top 20 for a long time, but just recently upgraded to the top 10.
2. By January 2021, a total of $11,500,000 were awarded on 1341 Rocket League eSports tournaments globally.
(Source: Esportsearnings) 
Many professional eSports players are addicted to Rocket League and there's a good reason why. Hundreds of gamers all over the world compete in Rocket League tournaments and the best of them win some good money. 
3. In January 2021, 23.95% of all Rocket League players came from the US. 
(Source: Playercounter)
Rocket League is most popular in the US, followed by Germany, the UK, France, and Brazil. The US is famous for the number of people who play video games - if you have a look at the latest CS:GO statistics you'll see that the most CS:GO players come from the US as well.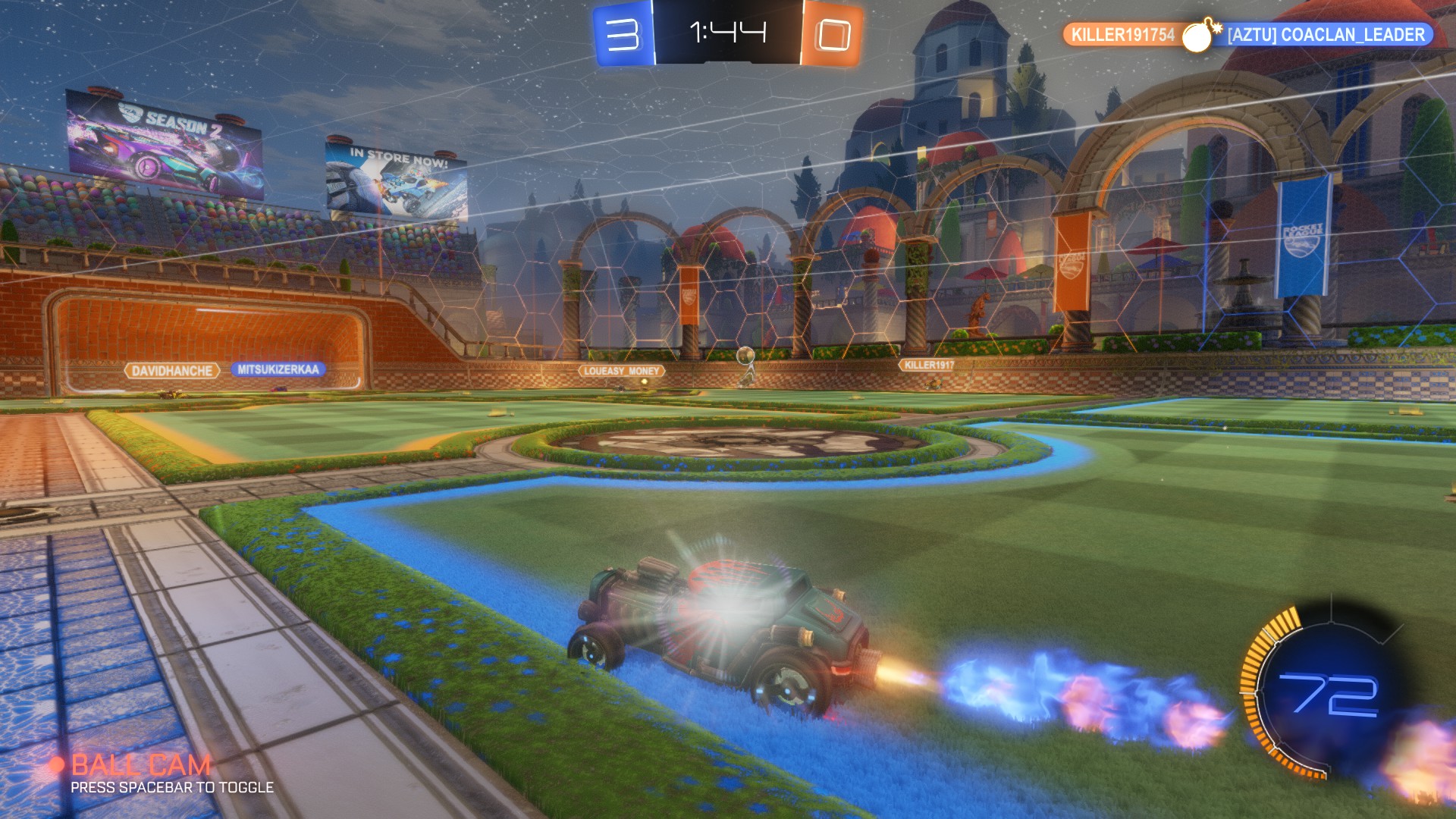 Rocket League stats
We continue with the statistics from 2020 now. Number 7 might surprise you: 
4. As of November 2020, a total of 53,200,000 people had played Rocket League altogether on PlayStation 4. 
(Source: Gamstat)
The game was released back in 2015, and has attracted a large fanbase already. According to Gamestat, more than 49 million of all the players earned at least one trophy. Also, 22 is the median number of games on each Rocket League account, and the median retention period for an account is 40 days.  
5. In November 2020, 128,000 gamers played Rocket League on Steam. 
(Source: Statista)
In November 2020, Rocket League broke the record in number of concurrent players on Steam. The previous peak was May 2020 with 119,000 players, and before that (wait for it) - April 2016 with 102,000. 
6. In November 2020, gamers watched over 19 million hours of Rocket League gameplay on Twitch. 
(Source: Statista)
The game is popular on Twitch for many reasons, and we'll just cover two of the most important. One, it's like watching a soccer match - how cool is watching people playing eSports soccer, commenting the score and the players. Second - the matches are short and viewers can watch an entire game within five minutes. It's not a time-consuming engagement watching those Rocket League matches. But they are definitely addictive! 
7. In September 2020, there were 146,902 Rocket League players on Steam.
(Source: Steam Charts)
Rocket League became free-to-play in September 2020 and of course, the number of players skyrocketed. This is definitely one of the games which we missed at the Steam Awards 2020, but in all fairness, the competition last year was really strong!
Have a look:
8. In September 2020, there were 1 million concurrent Rocket League players across all platforms for the first time ever.
(Source: Screen Rant) 
After the game became free-to-play on all platforms, gamers just wanted more. One million gamers played the game concurrently on all three platforms and three operating systems the game is available in. 
9. The 24-hour peak of concurrent Rocket League players on Steam is 107,123.
(Source: Steam Charts)
This is as much as the monthly top in 2022 (see stat number 5). That happened in September 2020, of course. In the months after that there was a slight ebb in the number of players, but nothing drastic.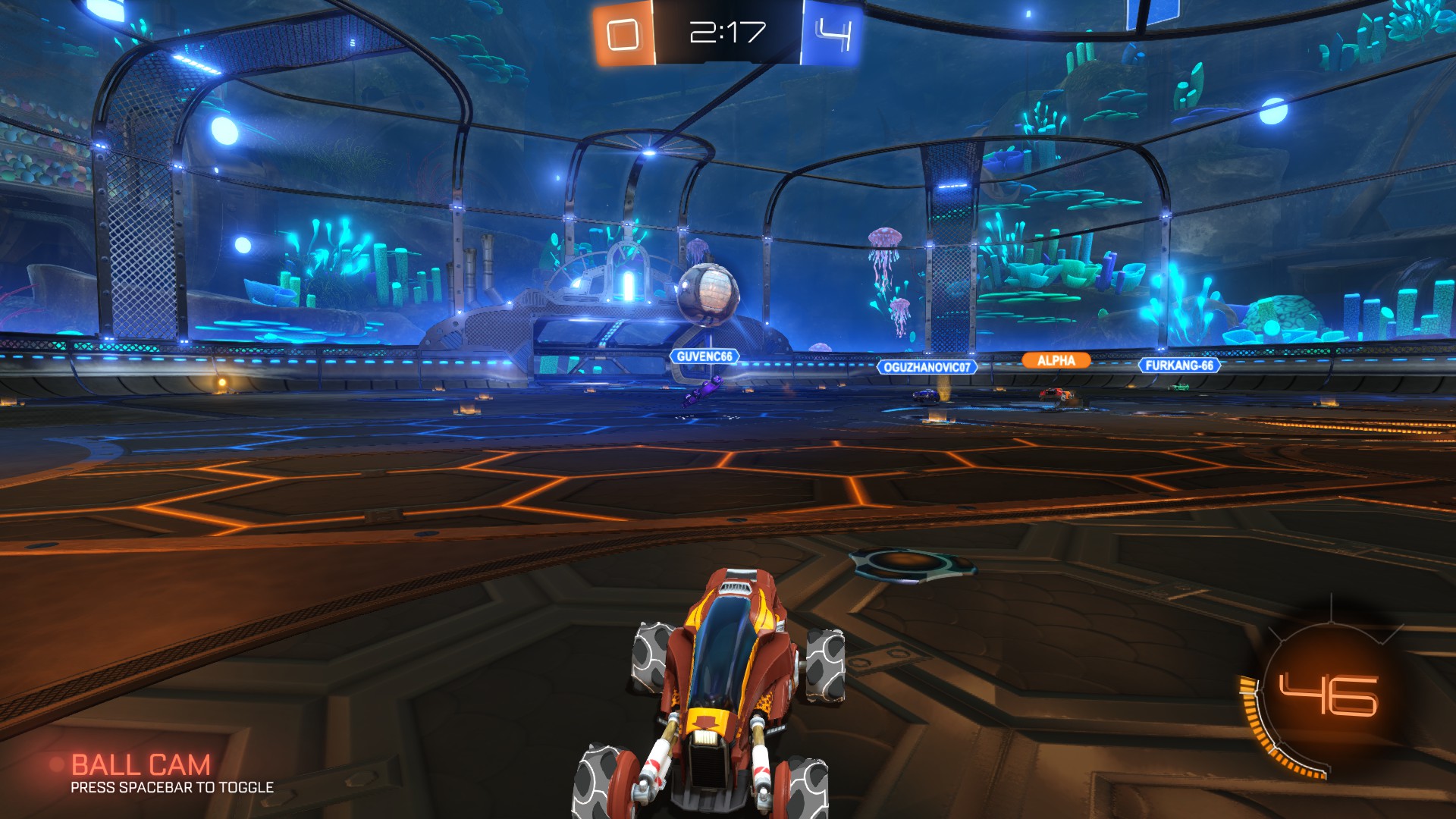 Where is Rocket League played the most? 
10. The bulk of professional Rocket League players come from the US.
(Source: eSports Flag)
84 professional Rocket League players come from the US. Next comes Australia with 36 players, and Spain with 26 professional representatives. 
11. 93% of critics recommend Rocket League. 
(Source: Epic Games)
The rating of the game is 4.5 stars - critiques love Rocket League and it seems that the game is more popular than ever in 2021. 
Rocket League facts 
Now that we know how much of a fans' favorite Rocket League is, we can have a quick look at some of the facts you might have missed about the game. 
12. Rocket League was released back in 2015. 
(Source: PlayStation)
The game was initially released on July 7, 2015. And in contrast to games such as Overwatch, the developers Psyonix keep adding new features and gameplay options to this day. Keeping the interest of the audience high is not something many developers can pull off these days and we certainly admire those who make an effort.
13. Rocket League is currently available on 3 consoles and 3 operating systems. 
(Source: How Long to Beat)
The game is available on Nintendo Switch, PS 4, and XBox One as well as PC, MacOS, and Linux. Rocket League is one of the most popular games to play for free on PS4 and on all platforms and operating systems. It allows cross-platform play between different versions 
14. Rocket League is free-to-play on all platforms in 2021. 
(Source: Epic Games)
No need to worry about the Rocket League price anymore. One of the iconic vehicula-soccer video games of all time, Rocket League, is free to use on all platforms (even on Steam) since September 2020. 
15. There are 10 standard types of cars in Rocket League. 
(Source: Rocket League Fandom)
The competitive football game controlled by cars keeps us coming back for more after every Rocket League match. Of course, the car you drive makes all the difference. Unlike Gran Turismo though, here the cars are anonymous (no brand) and that's one of the cool things about the game actually. Some models you need to unlock before you can use them, of course. (Speaking of Gran Turismo, did you check out our list of the most anticipated games of 2021? It's quite awesome!) 
Every gamer personalizes their car(s) so no cars are the same in any match. The 10 standard types of cars function as the basics for what would become fancier cars as players make progress in the game.
16. There are 14 standard arenas with 21 alterations so far on Rocket League. 
(Source: Rocket League Fandom)
The Rocket League arenas are one of the coolest features of the game. There's an underwater arena (AquaDome) where you play in an illuminated dome at the bottom of the ocean and sharks swim above you. There's also a Japanese-themed arena (Forbidden Temple) decorated with sakura trees in full blossom and traditional Japanese architecture. Rocket League delivers in gameplay, features, and design!
17. We can play Mario Kart on Rocket League now. 
(Source: Steam Community)
The Workshop map is called Yoshi Circuit - MKRL. The map is of course, similar to the Mario Kart maps, you get to drive your Rocket League car of choice, you get the Rocket League boost pads and demolitions, and of course, the Rocket League ball. We recommend it if you haven't tried it already - it can be fun! 
18. Rocket League Season 3 is expected to start on April 1st, 2021. 
(Source: Talkesports)
With Rocket League Season 2 ending on March 31st fans assume that the next season will start the next day - April 1st. Fans are expecting a summer-themed season with new cars and players' titles, banners, and challenges. The more competitive the game becomes - the better!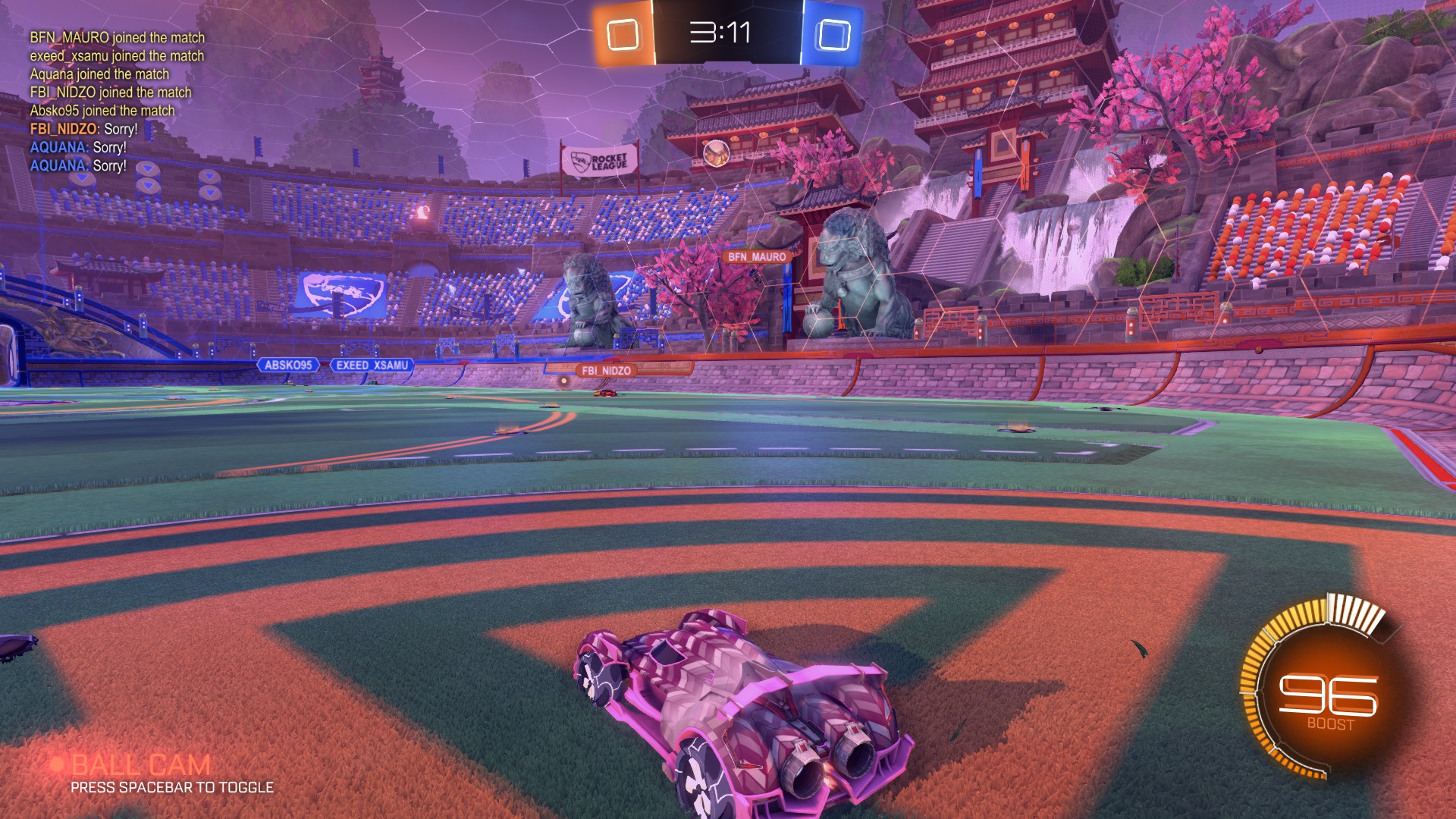 Rocket League cars
We can't talk about Rocket League and not mention the stars of the show - the spectacular Rocket League garage. A player's car is customisable and if you're a serious player, the car you drive in the game does matter. If you didn't know that by now, people pay real money for other player's cars on the game. 
Cars are one of the aspects of the game which makes players compete among each other. When you enter the game, you start with one of the unlocked cars which of course are basic and very far from fabulous. The more you play, the more awards you get and the better cars you unlock. 
Players can demolish other player's cars if they drive fast against them and win points. If you want to boost your speed, you have to collect golden spheres from the active boost pads and the more you collect - the better. You can check out how much boost you have on the boost meter located in the bottom right corner. 
Scoring goals in Rocket League is the ultimate challenge to be sure. You score goals with your car and you need several hours in the game to start doing that. Learning to control your car is tough in the beginning, but it's nothing in comparison to the effort it takes to hit the ball with your car, keep the goal from the other players and eventually start scoring yourself. The player who has scored the most goals during the match wins first place in the team. 
Boom!
Key takeaways
Rocket League is still super popular after five years on the video game market. Most of the players (both amateur and professional) come from the US. After the developers announced that the game becomes free-to-play on all platforms, gamers all over the world turned their heads towards the interactive soccer video game with awesome customizable cars. 
Now that you know what the Rocket League player count is you can answer the question: how many people play Rocket League in 2021. Are you a Rocket League player yourself? If not - give it a shot. It's free, competitive, beautifully designed and highly acclaimed by the critiques. Visit TechACake.com for more awesome gaming content every week!  
Sources