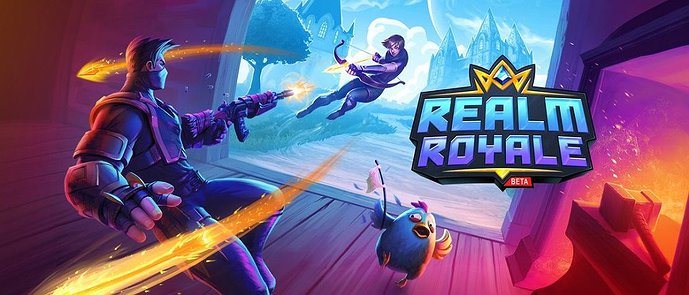 Realm Royale player count 2021: how many people play Realm Royale?
Last updated: April 8, 2021

Featured image © Realm Royale
Realm Royale is cartoony and colorful, and thanks to the chickens - quite adorable actually! The free-to-play first-person shooter battle royale game follows in the steps of games like Fortnite, Apex Legends, and Counter-Strike: Danger Zone. How many people play Realm Royale and what is the Realm Royale player count 2021? Read on and find out!
Battle royale games are a favorite of millions of gamers all over the world since PUBG and Fortnite made their spectacular entrance into the video game industry in 2017. We here at TechACake.com would like to pay our tribute to the best battle royale games out there and answer the question: is Realm Royale dead in 2021? Here we go:
Realm Royale player count 2021
Realm Royale was released back in June 2018. It's not one of the most popular battle royale games of 2021 for sure, but there are still enough Realm Royale concurrent players out there who love the game and keep playing it. How many people play Realm Royale in 2021? Let's see:
1. In Q1 2021, there were around 1,700 concurrent players on the Realm Royale Steam Charts.
(Source: Steam Charts)
Realm Royale is one of the less popular games from the publishers Hi-rez Studios. Those guys are responsible for games like Smite and Paladins. According to the latest Paladins player count, more than 18,000 people played Paladins concurrently on Steam in Q1 2021. As you can see, Realm Royale is nowhere near this number. Currently, Realm Royale is available on PC and macOS, PlayStation 4, Xbox One, and Nintendo Switch.
However, have in mind that the game is very popular on console and the Realm Royale PC statistics might be deceiving. Anyway, the Realm Royale Steam Charts are really not flattering nowadays. Have a look:
2. In April 2021, Realm Royale ranks #411 on Steam. 
(Source: Steam Charts)
It took us some time to find this out but it paid off. As it turns out — Realm Royale is among the Steam top 500 games in 2021. If you want to know more about how many games are there on Steam — make sure to check out the latest Steam player count. Brace yourself — they are quite unexpected! 
3. In April 2021, Realm Royale ranks #297 on Twitch.
(Source: Twitch Tracker)
Well, in all fairness it could have been worse (seriously, I still can't wrap my head around #411 on Steam). Realm Royale is totally not popular on Steam and Twitch in 2021. Have a look at the next stat:
4. In April 2021, an average of 180 people watched Realm Royale concurrently on Twitch.
(Source: Twitch Tracker)
According to the PCGamesN Realm Royale tips, the game is still one of the most popular battle royale games of 2021. There are features of this game which make it worth your attention - like turning into a live chicken once you lose some amount of hit points, or the classes you can choose from before you start, the horses and the beautiful setting (try the swamp - it's awesome!). All those features make Realm Royale a unique addition to the battle royale family of games.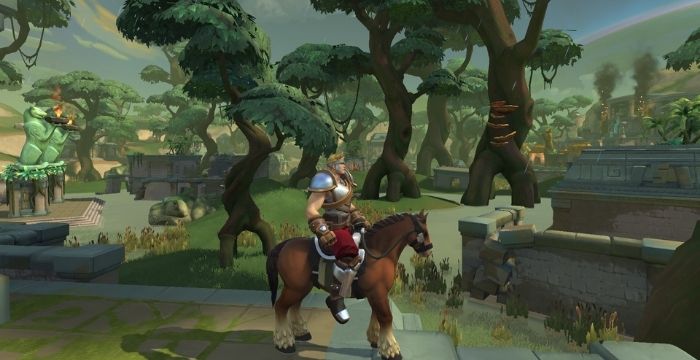 Image © Gamepur
Realm Royale stats 
The Realm Royale gameplay is no different from the other battle royale games in the video game industry. 90 players are airdropped onto a map with several biomes to explore and when you hear the signal you need to start moving towards the circle. As the game progresses, the circle becomes smaller and smaller and it gets more difficult to survive. 
At the end, when only 3-4 players remain the Realm Royale gameplay might get slower due to the fact that those were the best gamers out of the whole party and it takes them more time to eliminate each other. The last man standing is the battle royale winner. 
5. As of November 2020, the estimated number of total Realm Royale players on PS4 is 8.5 million people.
(Source: Gamstat)
The game was released for PlayStation 4 and Xbox One back in 2019. And it's free-to-play on all devices in 2021. According to the publisher:
6. In 2019, the publishers Hi-Rez Studios announced that Realm Royal has over 10 million fans. 
(Source: Hi-Rez Studios)
The game is popular among console players (PS4, Xbox One, and Nintendo Switch). As of 2019, more than 10 million people had already played Realm Royale. The game is not famous with the frequent Realm Royale updates though — the developers are not consistently adding new content to keep people interested and that's definitely one of the reasons for the drop in popularity.
7. In June 2018, more than 104,000 people played Realm Royale concurrently on Steam.
(Source: Steam Charts)
The peak number of Realm Royale concurrent players came and went during the first month after the Steam premiere when more than 104,000 people played the game concurrently on the online web-based digital store. However, the Realm Royale player count quickly dropped after the initial release. During the first coronavirus lockdown, there were around 3,000 Realm Royale concurrent players on Steam but since August 2020 this number hasn't gone over 1,800.
8. In 2018, Realm Royale was nominated for a Gamers' Choice Award.
(Source: The Escapist Magazine)
That same year the most awards were won by everybody's favorite free battle royale game Fortnite, but we'll talk more about Fortnite in a minute. Realm Royale has never been nominated for one of the prestigious Steam Awards, but if you've seen the competitors for the 2020 Steam Awards you'll know why. The star of the last Steam Awards was without a doubt Red Dead Redemption 2 which also won the Steam 'Game of the Year' award.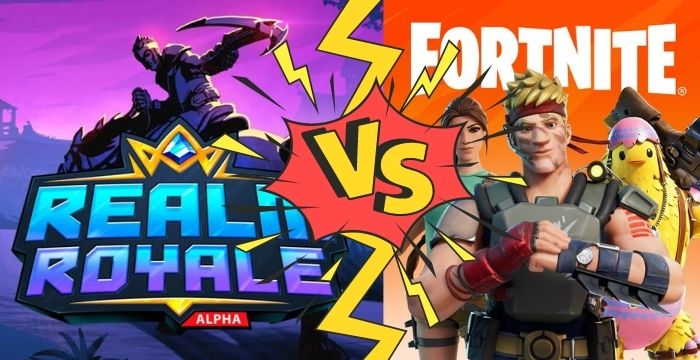 Realm Royale vs Fortnite
We like comparing video games on our website, and we've done it often in the past - TF2 vs Overwatch, GTA 5 vs Watch Dogs, Apex Legends vs Fortnite, Destiny 2 vs Warframe, and of course Paladins vs Overwatch. It's time to shed some light on the similarities and differences between Fortnite Battle Royale and Realm Royale. We don't even need to state the obvious - both games are free-to-play and the video game genre of both is battle royale. That gives us plenty of features to compare. Let's get started:
One thing is for sure - Fortnite has one of the largest fan bases in the video game industry and according to the latest Fortnite player count, the game attracts more people every year. Fortnite was an immediate success when it was released back in July 2017 and in May 2020, there were 350 million Fortnite players worldwide. As you already saw, the Realm Royale statistics 2021 are not quite impressive. 
Based on first impressions, the graphics of both games are more fictional and colorful than the more realistic games like Modern Warfare and Battlefield. However, the atmosphere in Realm Royale feels more medieval and somehow more cozy. The maps of both games are divided into segments — however, those are more diverse in Realm Royale for sure.
In both games, players are air dropped on the map in an almost identical way - players can choose where to land by placing their marker while still in the air. One of the few differences is that Realm Royale players see the location they have chosen while they are flying down the map with the colored beams that mark it. The other one is that in Realm Royale the characters don't use parachutes in order to land on the map. (They feel like titans when they're landing actually. The landing feels much more believable in Fortnite.)
In terms of gameplay, both battle royale games are absolutely similar in the goals of the game - the last man standing is the winner of the battle royale. However, we can spot several differences along the way. One of them is, of course, the means of transportation in both games. In PUBG for example, there are all sorts of vehicles - from buggies and motorbikes to fancy trucks and UAZ jeeps and busses. In Fortnite, players can have fun riding a shopping cart which seems a little weird at first. One of the features of Realm Royale which fans love the most is that you mount a horse for transportation.   
Bottom line: 
The Fortnite player count is enormous.
Both games are free-to-play.
There are many similarities between the graphics of both games.
Slight advantage of Realm Royale in terms of graphic design
Similar gameplay - battle royale genre
More diverse map segments in Realm Royale
Transportation: shopping carts in Fortnite vs horses in Realm Royale.
Is Realm Royale one of the games like PUBG in 2021?
Both games are very different from each other, but they are both battle royale games so the basics are the same. If you love games like PUBG — you will definitely enjoy Realm Royale. And it's free-to-play so you don't have to worry about that. According to the latest PUBG player count, more than 170,000 players played PUBG concurrently on Steam in Q1 2021. However, if you'd like to try something new — there's always Fortnite and Realm Royale, and don't forget the awesome Counter-Strike: Danger Zone and Apex Legends.  
Key takeaways
Is realm Royale dead? It seems that Realm Royale has some devoted fans in 2021. More than 1,700 people play Realm Royale concurrently on Steam in Q1 2021 and many other players enjoy the free-to-play battle royale game on console. How many people play Realm Royale in 2021? The Realm Royale player count is not very impressive to be sure, but the game isn't dead yet.
Visit TechACake.com for more incredible video game statistics every week!
Sources