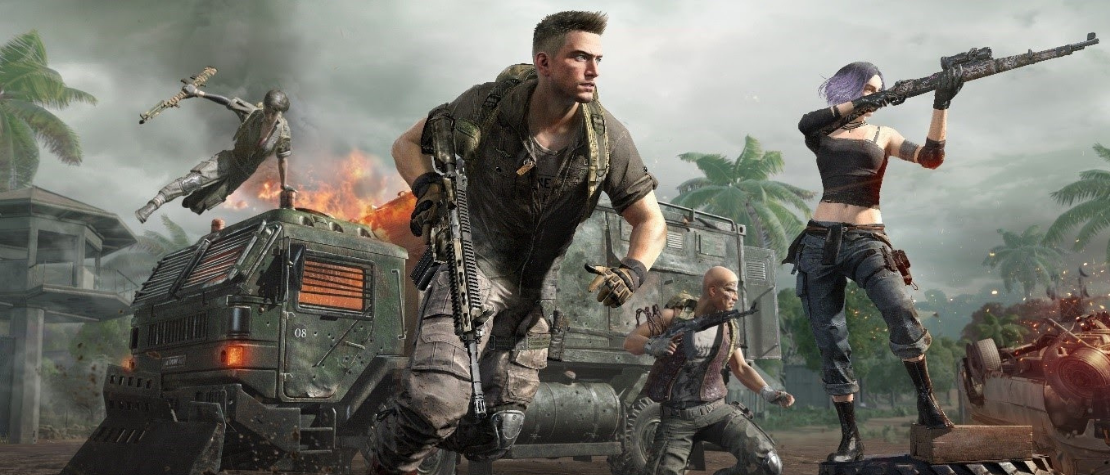 29+ PUBG stats and facts 2021: a battle royale to die for
Last updated: January 12, 2021

Today we discuss one of the most popular games on Steam. Millions of gamers all over the world play PUBG online. Three years after the release this is still one of the most popular battle royale games in the world. Need I mention a nomination for Best Mobile Game 2018?
Our question of the day is:
How popular is PUBG in 2021?
We here at TechACake.com decided to dive deep into the realm of PUBG stats. When it comes to PlayerUnknown's Battleground (a.k.a. PUBG), there's definitely more than meets the eye. We'll leave no stone unturned. 
In this article: 
The latest PUBG statistics 
PUBG prices for different devices & platforms
PUBG mobile stats & PUBG tournament prize pools 
How well do you know one of the best games of the century?
Look:
How many people play PubG in 2021?
Now, there are several games that are fighting for the Nr 1 position for the best battle royale game of 2021. There's Fortnite, Cuisine Royale, CS:GO Danger Zone, Realm Royale, and Apex Legends. The list goes on. However, there's no doubt that PlayeruUknown's Battlegrounds has made its way into the history of battle royale games. Today we pay homage to one of the favorite games of millions of gamers out there. 
Let's see a PUBG timeline to put things into perspective: 
(Image Credit: Wikipedia) 
Let's dive in: 
PUBG stats
100 players. One map that gets smaller and smaller. Only one 1 Chicken Dinner. 
What do you have to lose? 
Let's do this: 
1. In September 2020, 403.69 thousand concurrent gamers played PUBG on Steam.
(Source: Statista)
PUBG PC, PUBG Xbox, PUBG Steam, PUBG mobile, what else? Oh yes, PUBG Stadia has been available since April 28, 2020. You don't need to download anything, it's all there for you - on the cloud. 
(Image Credit: PUBG)
During the COVID-19 lockdown the number of concurrent PUBG players was around 800 thousand. The game peaked in January 2018. Some rumours say the drain of players is due to the rise of the Fortnite battle royale. 
Next: 
2. PubG ranks number 3 on Steam's Top Games in October 2020. 
(Source: Steam Charts)
The massively popular battle royale game is still extremely popular after almost 3 years on the video game market. In the fight for battle royale dominance there seem to be several contestants that are fighting (pun intended) for the privilege to claim the 1st prize. However, Fortnite is not on Steam. The top 3 most played games on Steam (for many months now they stay the same and in the same positions.
(Image Credit: Steam Charts)
If you're into watching PUBG gameplay - there's no better place than Twitch. Esports viewers are also huge fans of PUBG. According to PUBG Twitch statistics: 
3. In September 2020, there were 11.47 million hours of PUBG events watched on Twitch.
(Source: Statista) 
With games as popular as PUBG, Twitch is the place to be. According to Twitch statistics,  in September 2020, there were 11.47 million hours of PUBG gameplay watched. And in January 2018, which was arguably the peak of popularity of the game, Twitch users watched the amazing 53.7 hours of PUBG on Twitch. 
Next: 
4. In July 2020, PUBG crossed the 70 million copies sold milestone. 
(Source: Statista)  
In October 2017, the creators had already sold 10 million copies of the game. Having in mind that the game sells at $29.99 a piece, well… you do the math. And in July 2020, the creators had sold the incredible 70 million copies.
(Image credit: Statista)
5. In December 2019, there were a total of 600 million PUBG all time players.
(Source: IGN India) 
The game is one of the best battle royale games in the video game industry. According to Statista, 66% of the population of the US play video games. 600 million players in the world doesn't sound bad now, does it? 
6. In January 2018, PUBG was played by 3.24 million concurrent players. 
(Source: Statista) 
The highest number of PUBG players on Steam was 3,236,027 million. That was back in January 2018. It is one of the favorite games of millions of devoted fans on Steam. 
(Image credit: Statista) 
7. In January 2018, more than 1 million PubG cheaters were caught. 
(Source: Polygon)
Now, cheating in video games is becoming a real issue in 2021. Every gamer who has spent some quality time on CS:GO, or Overwatch, or Valorant, or Rainbow 6: Siege, or PUBG… well, all the competitive shooter games you can think of have the disadvantage of sharing the game with a cheating lot. It's infuriating to those who don't use any aimbots (or whatever) to compete against those who prefer to save some gaming time and enjoy the spoils of war.
(Image credit: Steam Charts) 
Next: 
8. During the first year after the release of PubG's, there were 40 million copies of the game sold. 
(Source: Polygon)
The game was released in December 2017. Well, the numbers speak for themselves.
9. In August 2020, the game hit the lowest number of players since its release - 15.41 million. 
(Source: Statista)
In October 2020, the number of PUBG players is on the rise. It seems that the game is starting to attract more players again. Maybe summer is just not the
10. 24% of all PUBG players come from the US. 
(Source: Statista) 
The game is most popular in the US and China. Have a look:
(Image credit: Statista)
PubG mobile statistics
PUBG is one the 5 most downloaded apps in 2020. However, after the Chinese government increased its control over the video game industry in the country, the mobile version of PUBG was shut down because of its hostility. A more patriotic and less violent game called Heping Jingying or Elite Force for Peace was chosen to replace the massively popular PUBG mobile.
Still, PUBG's popularity on mobile is a worldwide phenomenon.  
According to PUBG mobile analytics:
11. In April 2020, 58.8% of the total player spending on the PUBG mobile app came from China.  
(Source: Statista) 
PUBG China is a video game phenomenon. There's an average of 70 million PUBG players in China in 2020. In fact, the creators expect a raise of in-game spending in PUBG China in the near future. Game for Peace, the Chinese mobile version of PUBG, could potentially earn around $1.48 billion a year. 
12. In 2020, the PUBG mobile app has been downloaded 734 million times. 
(Source: NDTV)
In terms of player counts, in 2018 there were as many players of PUBG mobile as Fortnite mobile. 
Online game cheating has become a problem in recent years. Look at that: 
13. In August 2020, there were 2.2 million cheaters banned from PUBG mobile. 
(Source: Forbes) 
CS:GO cheaters are famous for their attitude, wall hacks, triggerbots and aimbots. And of course, cheaters have infiltrated every other game there is. 
Evidently, getting around the game rules has become somewhat of a trend these days. However, there are consequences. Tencent revealed that during the last week of August 2020, 1.4 devices have been banned because of cheating.
14. In May 2020, PubG had the HIGHEST mobile gaming revenue. 
(Source: Sensor Tower) 
The PUBG creators, the Chinese tech giant Tencent Holdings LTd, reached a revenue milestone in March 2020 for PUBG mobile and Game for Peace. Because of the COVID-19 pandemic the gaming industry boomed and both mobile versions of PUBG gained a staggering $232 million out of sales in March 2020. 
(Image credit: Sensor Tower) 
Also, let's not forget that the massively popular Honor of Kings is also at the leading positions. 
15. There are 50 million active PUBG players in India. 
(Source: NDTV)
Gaming in India is on the rise and it is said that by 2021, there will contribute an amazing $1 billion to the global spending on games.  
However, PUBG has been recently banned in India due to political reasons. 
16. Mobile PUBG players spent $168 million on in-game purchases in June 2020.  
(Source: Statista) 
Also:
17. In 2019, PUBG surpassed 1 billion revenue from mobile.
(Source: Venture Beat) 
PUBG mobile is one of the most successful smartphone games ever. No doubt about it: 
(Image credit: Statista) 
According to PUBG demographics: 
18. In 2019, 57.4% of the PUBG Android mobile gamers were male. 
(Source: Statista) 
Now this is kind of surprising. Listen to this: according to Fortnite statistics, between 72% and 83% of all Fortnite players are male. So, it turns out that the male to female ratio of all the PUBG players out there is almost 3:2. The ladies like PUBG and they own it!
Next: 
19. In March 2018, 5 million gamers played PUBG on Xbox One.
(Source: USGamer)
In February 2018, the overall popularity of Fortnite and PUBG was almost the same. Depending on the country, both games were among the first choices of gamers who are into shooter games. They are both battle royale games, one of the main differences being the price range of the games itself and the in-game purchases. 
Both games are available on most gaming platforms. Here's some stats from the 2018 PUBG gaming on XBox One:
(Image credit: USGamer)
Also, PUBG is famous for its huge audience in Asia and the US, whereas Fortnite is more popular in Europe.
In May 2020, there were 350 million registered Fortnite players. The game is a global  phenomenon, no doubt about it. We can say that some of its popularity is due to the fact that it's free to play, compared to the $29.99 - the price of PUBG on almost any device and platform. Here we can safely say that many kids are not allowed to spend such kind of money on a single game and they go for the alternative. And as we know, kids play a lot of video games.
Good. So now we move on to a topic that most of us are curious about: 
PUBG tournaments
ESports are bigger than ever. Gamers from all over the world compete against each other in esports tournaments and win the big bucks. Those guys spend a minimum of four hours a day playing their favorite game. PUBG esports is no exception. 
After the PUBG tournament in Berlin in August was postponed due to the coronavirus pandemic, we can have a better look at the past tournaments. Let's put things in perspective, shall we:
20. In 2019, the PUBG mobile Club Open gave away a prize pool of $2 million.
(Source: Forbes) 
During the Spring Split Global Final in Berlin the prize pool amounted to $400,000. The Fall Split in Kuala Lumpur awarded the players with the prize pool of $500,000.  
21. By August 2020, the amazing $22.1 million have been awarded in 244 PUBG tournaments globally. 
(Source: Statista)
Yes! And have a look at that: 
22. In 2019, the cumulative pool prize of PUBG was $13.8 million. 
(Source: Statista) 
Amateur and professional eSports players from all over the world competed in PUBG tournaments and the cumulative prize pool for all of those events amounted to an amazing $13.8 million. In 2019, PUBG was the fourth leading eSports game. In 2018, the cumulative pool prize was $8.19 million.
(Image credit: Statista)
Next:
23. The estimated cumulative pool prize for PUBG tournaments in 2023 is $27.53 million. 
(Source: Statista) 
Ouch! Those online gamers are looking sexier as we speak, ha?
Oh, well… 
Bonus: PUBG facts
They used to sing: 
The winner takes it all…
The loser standing small.
In PUBG they say:
Winner Winner Chicken Dinner 
(The winner of the battle royale gains the famous Chicken Dinner in PUBG. It's the most desirable PUBG award that the game offers. Even KFC was involved at some moment, providing chicken meals to winners. No comment!)
We simply can't get enough of PUBG. It creates a sense of community that is somehow irresistible. And being the sole winner over 99 other players is a real treat, don't you agree. 
Did you know:
24. In 2018, there have been more than 130 million Chicken Dinners won in the game.
(Source: PCGamesn)
During a Chicken dinner challenge in 2018 that took 28 days to complete, the awesome 130 million Chicken Dinners were served. 
25. In 2019, China allowed a less violent version of PUBG called Game for Peace.
(Source: Newzoo)
The game finally got accepted by the Government of China when the creators Tencent made a more child-friendly version. PUBG has been a favorite of the Chinese mobile users ever since. 
26. In 2018, PUBG was announced "Fan's Favorite Mobile Game of the Year" by Google Play. 
(Source: Google Play)
Can you blame them… 
27. The PUBG Price is the same for every device/platform.
Disclaimer: Those prices may vary in time. The source of every price is in the respective link. The prices may differ according to the country you're in. The price for the PS4 on Amazon was valid at the time of writing of the article. 
Many things were said about PUBG already. Now we can come back to the one thing we need to know before starting the game - the price. Having in mind that PUBG is available on many devices and platforms, we can get started.
How much does PUBG cost?
Now, let's move on to the newest PUBG releases:
28. The latest PUBG Season 8 is live in September 2020.
(Source: PUBG)
The 8th season of PUBG is live now. The new features include an remastered version of the Sanhok map: an amazing looking four square kilometers jungle inspired by rainforests in Asia, an awesome Loot Truck to savage the island and a Survival Pass to allow you to unlock special items and get rewards. 
There are currently 5 PUBG maps. Why did the creators choose the Sanhok map to improve for this season? This is one of the most popular maps in the game because it's a smaller map. It used to be the smallest PUBG map before they added the Karakin map. It's half the size of the Sanhok map - 2x2 square kilometers. 
(Image credit: Sportskeeda)
PUBG season 8 was released on July 22, 2020 on PC and on July 30 on Xbox and it focuses on jungle combat. Which sounds kind of cool - jungle, summer, get it? Let's return to Sanhok and see what you've got!
There's new things happening on mobile as well:
29. PUBG Mobile Season 15 came up in September 2020. 
(Source: Fanbyte)
PUBG Royal Pass 14 has ended already. We're looking forward to the new mobile Season 15, which started on September 15, 2020. 
Wrap Up
There are many popular battle royale games nowadays for sure.
(Did you try out Cuisine Royale already? Running half naked in those fields looks pretty awesome if you ask me.)
Today we shared with you the latest stats on PUBG. As you can see, the game lost some of its popularity due to the rise of Fortnite, but it's still going strong!
And last but not least: 
FAQ
What is PUBG mobile Chinese version? 
The PUBG mobile Chinese version is known as Game for Peace and was released in 2019. It gets updates prior to the global updates, and is also popular among gamers all over the world. The latest update of PUBG Game for Peace is Erangel 2.0. There are differences between PUBG mobile and Game for Peace which are worth exploring in 2020. 
Which country plays PUBG the most?
The US boasts the most PUBG players in 2020. 24% of all PUBG gamers come from the US. China comes second with 19%. Next are Germany and Russia, each with 6% of the total number of PUBG players.Gamers in the US apparently love playing PUBG.
How much is PUBG on Xbox?
In 2020, PUBG costs $29.99 on Xbox. Make sure you've checked for discounts on Amazon before you make a purchase. 
Who is the owner of PUBG?
A South Korean video game company called Bluehole is the owner of PUBG Corporation. The mobile version of the game was developed by the tech giant Tencent.
How did you like our PUBG stats today? 
See you around on TechACake.com, everyone!